Interview with David Merry from Castle Affiliates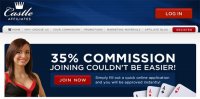 1. With well over 100 affiliate managers to choose from, our affiliates selected you as one of the trusted affiliate managers they prefer to deal with, how does this make you feel?
This makes me feel excellent; it makes the whole job a lot more worthwhile.
I know the key factor in any affiliate/affiliate manager relationship is trust, so to be recognised as one of the most trusted is a massive honour for me.
2. Castle Affiliates year after year seems to be getting stronger with more affiliates promoting the Castle Casino brands. Tell us why you think affiliates are sticking around and what you are doing right at your program.
I think that the key thing we have over anyone else is one on one management and help, not just for the big guys but also for the small.
I've been a casino affiliate since I left school and I've always been frustrated with the basics not being done correctly. As an affiliate I want 4 key things from my affiliate manager:
The right information on the casino I'm promoting and the promotional materials to match.
To ensure that all the traffic is being utilised by the CS team and that their website/tracking is working correctly.
Payments are issued promptly and on time. That any issues that arise around the above 3 areas are resolved quickly and smoothly with easy communication (not speaking to a brick wall).
As long as you've got those 4 I can't see any reason why an affiliate wouldn't want to promote the brand.
I think that too many programs focus on acquisition and not maximising what they have already, our ethos is that if you maximise our current affiliates revenue others will find out eventually.
3. Live dealer casinos have become popular again in the last few years. Why do you think live dealer games have become popular again?
I don't think they've ever not been popular, although over the last few years the increase has certainly been a lot sharper.
I'd put this down to the knowledge that game interfaces have developed massively since live games where first released as well as internet speed generally becoming a lot faster, making the whole experience a lot more seamless for players.
4. Do you find players from certain countries prefer the liver dealer table games over the RNG casinos?
One of the trends we've noticed massively is the variance between Germany and Greece.
Greek players will move to the RNG side of our site the vast majority of the time, however German players won't touch it, they will always go to the live side no matter what.
Looking at the user path through analytics makes it look like they're 2 different species navigating!
5. What are some of the planned improvements you have for 2013 for both the casino and affiliate program?
We've got some massive changes coming up.
A huge overhaul of design, both on the casino and affiliate side, we're launching in 15 new languages and a new suite of games is on the horizon – that's just to name a few!
There is plenty to be excited about at Castle Casino in the coming year.
6. What can affiliates expect when working with Castle Affiliates?
People should expect to work with people who are similar to themselves.
We're a driven team who aren't filled with quotas or targets, we want to help you and believe that in the future that will help us in return.
Of course an excellent converting product and fast payments come with that, but that should be as standard at every program right?
About Castle Affiliates
Castle Affiliates is a casino affiliate program offering a starting 35% revenue share commission.
They also have an excellent affiliate promotion where they pay for your Stats Remote subscription if you promote the program on your home page! Click here to learn how to get Stats Remote for free!
Their program is lead by affiliate manager David Merry who has also won a Gaffg Awards for Trusted Affiliate Manager.