StatsDrone launches awards for Best Awards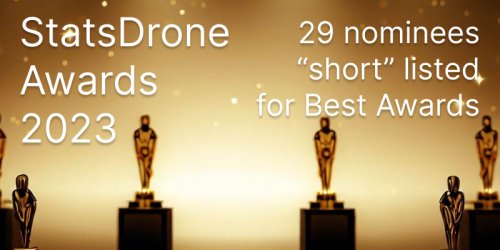 StatsDrone has announced their first ever awards show called the StatsDrone Awards. The awards are straightforward and acknowledge all the other iGaming and affiliate marketing conferences that also have awards.
Some of the most notable awards nominees include iGB Affiliate, iGaming Idol, SiGMA Awards and EGR Awards as well as 25 others.
EGR was the proud winner for having the most awards with 6 in total.
This is what StatsDrone Co-founder and CEO has to say about these new prestigious awards.
"I've been to numerous awards shows in the past 15 years and they have always been a highlight of any conference. They have been in high demand that more conferences have catered to this need by creating awards shows for most of their events.

After counting a paltry 29 awards shows, we felt by having one more wouldn't hurt and to hit that magical milestone of 30. I mean there are so many awards ceremonies that there must be an award for the best awards. There are always awards for the best conferences so I felt there was a real gap in the market. I've had numerous operators approach me saying 'John, we've run out of awards events to sponsor as they are all sold out, since you know so many people, can you ask around to see if any other events have any sponsor spots available?'. I mean how amazing is it that now all the conference and events organizers can now pay us to be a sponsor for the award for the Best Awards?!"
One conference organizer, who prefers to remain anonymous, had this to say about the demand for awards.
"I know some people think awards ceremonies are just part of business but that is far from the truth. By far the most common requests we get for any conference we create, are all to do with awards! I can tell you the awards have nothing to do with the revenue or the valuable data acquired in the nomination process, I mean yes that is nice, but it is really about the spirit to celebrate the most profitable businesses in our industry. I mean how else do we acknowledge these achievements? With Awards!".
Since announcing the awards on April 1st, John Wright was bombarded with complaints of other awards not featured in the list of the 29 nominee shortlist. There were at least 9 more awards not presented on the short list and they will be considered in the listing process but probably not.