The new face of SlotsMillion Casino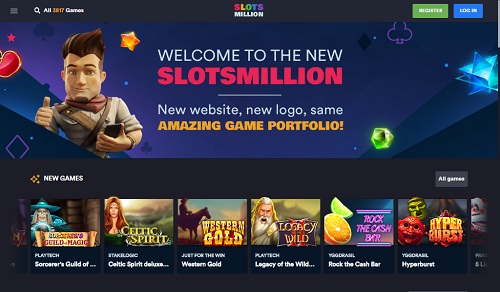 If you do not know who is SlotsMillion Casino, then you are missing one of the biggest slots game providers of the entire world.
This casino was released in 2014, and since then it has become a titan in the online slots industry. Right now, this brand is owned by Alea Gaming Ltd Casinos, which is licensed and regulated by the Malta Gaming Authority (MGA) and the UK Gambling Commission (UKGC).
The online player's community loves SlotsMillion because they offer over 3,800 amazing games accompanied with outstanding bonuses and promotions.
Right now, the casino is under a process of reconstruction, which means that, to offer their clients the best gambling experience possible their website and services will experience important changes in the near future. These changes are not limited to a more attractive logo, but the entire brand will be aimed at promoting a sense of freshness and modernity.
One of the most important changes is that SlotsMillion Casino offers an even more optimized mobile experience for all its users.
All those who enter your website will be able to do so without the need to download annoying additional applications. The only requirement is to have an internet connection and use a web browser such as Mozilla Firefox, Google Chrome, Microsoft Edge, or Safari.
We should also mention that with this renovation, one of the goals that SlotsMillion achieved surprisingly was to make the site lighter so that you can enjoy the ultimate online slot game experience even if you do not have the best internet connections.
The navigation of the site, as well as the navigation through their extensive library of games, was also modified to make it easier to find what you need when you need it and not feel overwhelmed by the number of games they offer.
Now players at SlotsMillion can filter their results by the provider, number of paylines, your favorite features of each game, or even by theme.
Improvements in searching for the games we want to find in a casino are always appreciated, especially if we take into account that SlotsMillion has about 80+ online game providers.
All of the above changes were made using a progressive web application model to optimize the overall experience of their users when interacting with the site and the games they offer.
Of course, this is not the end of the story, as we have only mentioned the most important changes that have been made to the brand so far.
We can expect to get even more surprises as SlotsMillion Casino keeps implementing these changes to their entire platform. For now, these changes are only available in three countries including Canada, Finland, and Norway.
However, we can expect that this new design will soon be expanded to the rest of the countries where SlotsMillion Casino offers its services, as this objective was announced in conjunction with the launch of their new commercial image.
We are nothing but excited to see what amazing things Slots Million casino has prepared for their community of players and affiliates.
SlotsMillion Casino building a fresh look
SlotsMillion Casino has been drawing attention on the iGaming industry since 2014. The betting platform has amassed more than 5,000 registered users since its launch and the number seems to be increases each and every day.
As a betting site, SlotsMillion Casino has everything that a player can ask for. The site is appealing to the eyes, user-friendly and the catalogue of games and offers is simply mind-blowing.
Overall, SlotsMillion Casino is a top quality online casino that any player looking for a chance to gamble safely should be part of without doubts.
At this moment, SlotsMillion Casino is looking to rebuild and improve its overall design so that the platform can catch up with the latest trends and innovations that have been used on the iGaming industry.
The new changes are expected to bring more joy and excitement for the players worldwide, since the interface is meant to be quicker and easier to understand for every user.
This new look that SlotsMillion Casino is working on comes at a perfect time since the betting platform had the same logo and interface for the past few years and many players were eager to see SlotsMillion Casino making use of new animations and features.
SlotsMillion Casino is upgrading its list of markets as well
SlotsMillion Casino is not only looking to improve its platform, the acclaimed betting site is also looking to enter new jurisdictions so that the brand can become more popular and relevant on the iGaming industry.
As of this moment, SlotsMillion Casino is focusing its services on Canada and the European countries where online gambling is authorized and regulated.
Even though these jurisdictions have given SlotsMillion Casino great success, new horizons are part of the innovative business strategy that the betting site is working on.
This may be the best time for SlotsMillion Casino to try its luck in America or Asia, where online gambling has become more popular in recent years.
Moreover, Africa is not a bad option to take either since plenty of new countries have started to regulate gambling activities and there are a lot of active players every day as well.
In general, SlotsMillion Casino has several alternatives on the table and given the massive success that the platform has been worldwide, it would not be a surprise to see it offering its services in new areas.
The importance of innovation and creativity on the iGaming industry
The news of a successful gambling platform such as SlotsMillion Casino renewing its interface might have come off as a great surprise for some members of the iGaming community.
For them, it may have seemed unnecessary, but the statistics indicate otherwise. That is because, according to several iGaming portals, the platforms that stick to a single interface for a long period of time have higher chances of losing active players.
More than 10% of experienced gambling platforms have experienced a big loss of active players due to the lack of innovative animations and creativity on their designs and offers.
The players start to feel bored and simply decide to invest on other sites that they consider newer and more interesting.