Torstar sets to launch Online Casino in Ontario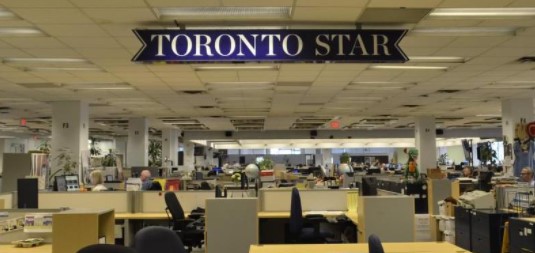 In these days of global economic crisis one of the few industries that has experienced huge revenues instead of losses is the industry of online gambling sites such as online casinos, bingos, lotteries or sportsbooks. Many important companies know this fact, and they are willing to switch their activities to online gambling activities looking to have a bounce up from their losses.
Entering the gambling market
Nordstar the current owner of Torstar Corporation announced March 1st that they are planning to launch their own online casino brand in Ontario before the 2021 ends. This new has brought a lot of critics and debates between the Ontario communities since Torstar is a world-class news company and perhaps should not have anything related to online casinos, however, there are others that are excited and happy with this announcement since if the company brings the professionalism, honesty and commitment from the journalism to an online casino players will receive it with enthusiasm.
Additionally, it is widely known that people from Ontario spend more than 400 CAD every year on online gambling sites and almost of those gambling sites are outside Canada which means that the money it is leaving Canada plus many of those offshore gambling sites do not have a gaming license, are shady and even have a bad reputation, so it is not a bad idea for Ontarians to have new dedicated online casino which is regulated and licensed by the Canadian government and part of the revenues will be reinserted into the Canadian economy or local charities.
What will they offer?
It is not clear when Torstar will launch the online casino, what kind of games will have or if its only exclusive for Canadians, but we do have to say that for this new online casino to be successful, it will indeed have to offer good welcome bonuses, free spins, regular bonuses, cashback bonuses, a VIP program or loyalty rewards and other kind of incentives and when it comes to the games it should have lots of slot games, table games, bingo, classic casino games and of course live dealer games and the most important of all, it must have many banking options including cryptocurrencies like Bitcoin, Litecoin, Ethereum and Ewallets such as Neteller, Skrill, Interac and other kinds of banking options because the more, the better it will be.
It should also accept players from other countries too like the United Kingdom, United States, Italy, France, Australia, and even South America. As you probably know by now, the previous statements are the basic features that a typical and successful online casino offers to their players and, moreover, the competition is so tough that every week there are many new online casinos overseas offering their services to Canadians and many of those new online casinos will go out of business and other old ones too.
Regardless of that, the online gaming industry has nonstop grown since the last 2 years, and it is a good opportunity for Torstar to try out, and you can be sure that with a good marketing campaign and the support of the Ontario gaming community it should be a successful casino.
From journalism to iGaming, the new era of business
It is certainly not common to see a company that has been dedicated to a specific area to switch suddenly and abruptly to a completely different one in a short period of time.
Torstar Corporation is one of those special cases that display the new era of business that is taking place worldwide at the moment.
Torstar Corporation has been delivering news to all the Canadians for the past few years and given the great losses that the economy is suffering due to the global crisis, the news company is working to enter new horizons in hopes of immediate success and economic recovery.
Since the iGaming industry is one of those few sectors that have experienced more gains than losses since the beginning of the crisis, Torstar Corporation chose it as its method to bounce back.
The sudden change has left the whole community stunned but at the same time, excited to know that such a trustworthy and professional company like Torstar Corporation will be part of it in the near future.
The idea is surely not bad at all. The iGaming industry is growing rapidly, and the Canadian market is more than large enough to help a new and inexperienced gambling platform to grow and develop in a short amount of time.
Its prior reputation could help it grow even faster
As it was mentioned previously, Torstar Corporation has been dedicated to searching and delivering national and international news to the Canadian citizens since its launch.
From the moment it started offering its services, Torstar Corporation has shown dedication, professionalism, punctuality and honesty among other important values to its entire audience.
Thanks to that, the company has been able to gain a mind-blowing reputation that could definitely help it skyrocket its development and overall growth within an industry like iGaming that depends a lot on the level of trust that exists on the platforms.
Lots of Canadian citizens that considered the iGaming industry a fraud have changed their minds recently after the news was announced. They have now claimed to give it a chance once Torstar Corporation launches its own betting platform.
Expansion is crucial for the new betting platform as well
Despite the fact that the Canadian market is big and lucrative enough to make any betting platform a total success quickly, expanding the brand's reach is an important part in the development and growth of any type of betting site.
Therefore, Torstar Corporation should already be looking into the possibility of entering other jurisdictions, instead of staying on its comfort zone that is the Canadian borders.
There are plenty of other great markets available such as the United Kingdom, Brazil and Germany. Managing to enter these jurisdictions could surely boost the brand's popularity and earnings easily.
Additionally, the expansion in other aspects is relevant as well, details such as the number of games available or the offers that the players have access to can turn a betting site into a success or a failure in a blink of an eye.
The variety of content and betting alternatives must be a top priority for Torstar Corporation if the company wants to succeed in the iGaming industry.