Why 21 Partners is a casino affiliate program you should join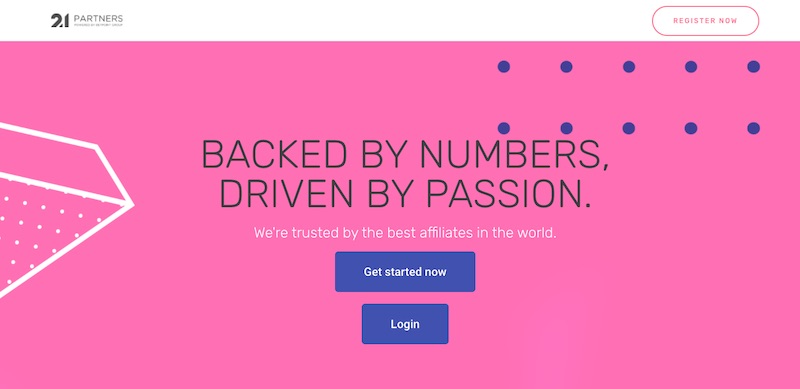 If you are a webmaster or you have a reasonable amount of online influence, then, you should consider affiliate marketing as an option to get an extra income out of your website or social media traffic. For those who don't know what an affiliate program is, or don't even know what being an affiliate means, don't worry, the answer is very simple:
An affiliate program is an association that a webmaster does with a brand or brands to promote them and refer traffic from the affiliate's website to the brand's website. In the case of online casinos, a webmaster promotes the casino brand in its website/social media, and for every referred player that goes to the casino, creates an account, and plays there, the affiliate will receive monetary compensation (this is what we refer to when we talk about becoming an affiliate).
Now that you know what affiliate marketing is in simple terms, you might be wondering, which is the best affiliate program, so that you can join it right away and start making some extra income. Well, the sad part of the story is that there is no such thing as the "perfect" affiliate program, but there are a lot of amazing ones that offer incredible perks and deals.
If you are new in this affiliate marketing world, our advice is to look for the affiliate program that adjusts better to your business idea, to know this, you should ask yourself: why do I want to become an affiliate? If the answer is "to make money fast" then you should look for affiliate programs with high deals that pay more for simple tasks; but if you are looking at affiliate marketing as a way to make a living, then you should focus on affiliate programs that give lifetime revenues, even if they pay less than the first case scenario.
Also, the brands that an affiliate will promote are a very important part of choosing the best affiliate program, because if the casinos are not attractive, you won't get any money as no players would stay long enough.
Now, let's talk about an amazing affiliate program called 21 Partners. This affiliate program will pay you real money to promote their four (4) outstanding online casino brands: 21.com casino, JustSpin Casino, Nitro Casino, and Neon Vegas Casino.
These brands offer a lot of attractive perks for their players including a huge welcome bonus, large bonuses and promotions, regular tournaments, and a massive catalog of games powered by almost every game developer in the market including Play n' Go, Microgaming, NetEnt, Evolution Gaming, Red Tiger, Elk Studios, and over 40 more companies.
About these casino's promotions, we can say that they offer a huge welcome bonus package that consists of four bonuses for the first four deposits that any new player makes at the casino. The bonuses contain free cash up to €1,000 plus 1,000 free spins. Other promotions at these casinos include weekly and daily bonuses.
Also, we mentioned that this casino has a huge game library powered by almost every game developer company in the market, right? Well, all of these casinos only offer the best of the best games available. At these casinos, players will enjoy games such as slots, progressive slots, video poker, table casino games, and live casino games from a bast game library.
Another important aspect of these casinos is their accepted payment methods, these methods ensure that a player will stay at the casino or not; because let's face it, nobody would stay at a great casino if you cannot feel comfortable while making a deposit or requesting a withdrawal.
Because of this, all of these casinos accept several payment methods specifically chosen to adapt to their player's needs. These methods include credit and debit cards from Visa and MasterCard, Bank Transfers, and e-wallets such as Trustly, Skrill, Neteller, Klarna, and Interac.
These are the things that you should look for when selecting an affiliate program, as every perk that we have mentioned so far was created specifically to make players "fall in love" with these casino brands.
Now that you have a general idea about what these casino brands will offer to your referred players, let's talk about what 21 Partners can offer to you.
First, we must say that with four amazing casino brands, this affiliate program focuses on having high and optimized conversion rates for each one of its brands. So, this means that you will promote 4 outstanding casinos that will generate a stable income for a lifetime.
According to the information on their website, their "products are carefully designed and backed by long years of casino experience" with this simple phrase, affiliates can rest assured that they will receive nothing but the best of the best regarding online casinos.
Also, with 21 Partners you won't have to worry about good or bad months since they are currently offering a flat 35% revenue share deal. With these numbers affiliates just need to focus on getting as much traffic as possible to refer to the casino brands, and even if it might sound like a lot of work, the reality is that with these four titans backing you up, referring players that stay at the casinos is an easy task, which gets easier is you consider that this affiliate program offers the best marketing tools available for all of its affiliates. The available marketing tools include mailers, logos, links, and social media designs.
At 21 Partners there is a no negative carryover policy. This means that even if you get red numbers when a lucky player manages to get its hand on a jackpot, you won't be affected by it since these numbers will be erased at the end of the month.
Additional plans or deals like CPA (Cost Per Action/Acquisition) deals, Hybrid deals (a combination between revenue share and CPA), and even sub-affiliates (revenue share earned for referring other affiliates to the program) might be available at 21 Partners; however, they must be discussed directly with an affiliate manager.
About 21 Partners