WilliamHill Marketing Officer resigns, support staff walkout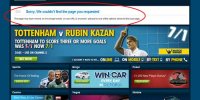 William Hill online division has been seriously disrupted as Chief Marketing Officer Eyal Sanoff has resigned and nearly 200 support staff have walked out in Tel Aviv. The news casts a shadow over the company that may have negative long term affects for players and affiliates.
When your CMO resigns it could be a problem to replace that person however when 200 player support staff walkout of the job, it leaves your business crippled and it will have short term and long term losses. Learn more about William Hill in our brands reviews.
For a company that supposedly pulls in $100 million per year from their WilliamHill.com online brand this could easily wipe out 25% of that amount in a short span of only 2 months.
A small 404 page appears when you go to WilliamHill.com although it appears to be fixed.
A call to Affiliates United phone number had no agent responses and only an answering machine.
Player support email appears to not work at all with emails getting bounced with the message below:
Delivery has failed to these recipients or groups: [email protected] The e-mail address you entered couldn't be found. Please check the recipient's e-mail address and try to resend the message. If the problem continues, please contact your helpdesk.
Why is this happening?
According to many news sources such as BusinessWeek.com and TheSun.co.uk the staff in Tel Aviv heard rumors that they were going to be made redundant as marketing offices would be moved to Gibraltar or London.
Alex Pratt wrote on GPWA.org that marketing staff have their phone numbers and emails disabled.
More rumours are flying around that this is all based on problems of WilliamHill and Playtech working together.
The executives in London appear to be scrambling to at least convince the support staff to remain to keep the support centre running.
However as long as service remains disrupted this will certainly hurt the retention efforts of the brand and that is bad news for affiliates.
On October 18th WilliamHill plc has published a press release following the news of the recent events.
It claims that customers won't experience any problems with service and the company is committed to remaining in Tel Aviv contrary to reports.
http://www.williamhillplc.com/wmh/media/releases/2011pr/2011-10-18/
Looking for some sportsbook affiliate programs?
Click the banner to see our full directory.

WilliamHill experiencing problems after more than 70 years
WilliamHill is possible one of the most experienced gambling brands that still operate to this day. This British firm has been around since 1934 when it started offering its services to all the players across the United Kingdom.
Now after more than 70 years in the gambling industry, WilliamHill keeps on being a renowned name that any player, affiliate or operator knows about. This betting firm has also become one of the most powerful betting platforms worldwide.
Thanks to that, many players and affiliates are able to work with WilliamHill while residing in different countries and continents such as North America, South America and Africa.
Up to this point, it all seemed simple and well-organized for all the departments that form WilliamHill. However, the latest news about the marketing officer resigning along with 200 other key workers has left the whole iGaming industry to wonder what could happen to WilliamHill in the near future.
The lack of employees in the marketing department located in Tel Aviv, Israel has weakened the whole company, leaving players and affiliates with serious malfunctions at the moment of accessing to their respective accounts or requesting assistance to the non-existent customer service agents.
Despite its great reputation and experience in the industry, fixing its posture will surely take some time, time that plenty of players and affiliates cannot afford to grant WilliamHill at this particular moment.
The consequences of the issue
This scandal that has already cost WilliamHill a total loss of 200 workers plus its Marketing Officer has lots of other consequences that could re-shape the vision of the whole firm for the future.
First off, the great reputation that WilliamHill has had as a flawless betting company has been lost. Now, the whole iGaming community considers WilliamHill to be just as flawed and reliable as all the other betting platforms available nowadays.
To make matters worse, WilliamHill is set to lose a great deal of players and affiliates in the near future. This is because of the high number of issues and malfunctions that they experience while accessing the WilliamHill platform.
Many of them are already looking for a reliable betting platform that could substitute WilliamHill. Given the high number of alternatives available nowadays, it will not be difficult for any of them to find another good-quality betting platform in a short period of time.
Additionally, WilliamHill has to work hard and quickly to find the best candidates available for the vacant positions in its Marketing department. Every minute that the firm wastes looking for qualified candidates, represents the loss of many active players and affiliates.
The calm after the storm
WilliamHill is one of the biggest names in the iGaming industry as of this moment. This particular issue surely could represent a big loss in many aspects, but the firm is surely bound to recover and keep on offering its services across the whole world.
The short-term goals and plans that WilliamHill had before this problem happened definitely have to be changed, but given the great experience of the company, it will not be that much of a big deal anyway.