William Hill online division has been seriously disrupted as Chief Marketing Officer Eyal Sanoff has resigned and nearly 200 support staff have walked out in Tel Aviv. The news casts a shadow over the company that may have negative long term affects for players and affiliates.
When your CMO resigns it could be a problem to replace that person however when 200 player support staff walkout of the job, it leaves your business crippled and it will have short term and long term losses. Learn more about William Hill in our brands reviews.
For a company that supposedly pulls in $100 million per year from their WilliamHill.com online brand this could easily wipe out 25% of that amount in a short span of only 2 months.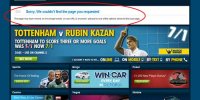 A small 404 page appears when you go to WilliamHill.com although it appears to be fixed.
A call to Affiliates United phone number had no agent responses and only an answering machine.
Player support email appears to not work at all with emails getting bounced with the message below:
Delivery has failed to these recipients or groups:
support@williamhill.com The e-mail address you entered couldn't be found. Please check the recipient's e-mail address and try to resend the message. If the problem continues, please contact your helpdesk.
Why is this happening?
According to many news sources such as BusinessWeek.com and TheSun.co.uk the staff in Tel Aviv heard rumors that they were going to be made redundant as marketing offices would be moved to Gibraltar or London.
Alex Pratt wrote on GPWA.org that marketing staff have their phone numbers and emails disabled.
More rumours are flying around that this is all based on problems of WilliamHill and Playtech working together.
The executives in London appear to be scrambling to at least convince the support staff to remain to keep the support centre running.
However as long as service remains disrupted this will certainly hurt the retention efforts of the brand and that is bad news for affiliates.
On October 18th WilliamHill plc has published a press release following the news of the recent events.
It claims that customers won't experience any problems with service and the company is committed to remaining in Tel Aviv contrary to reports.
http://www.williamhillplc.com/wmh/media/releases/2011pr/2011-10-18/
Looking for some sportsbook affiliate programs?
Click the banner to see our full directory.