5 Best Lottery Affiliate Programs 2019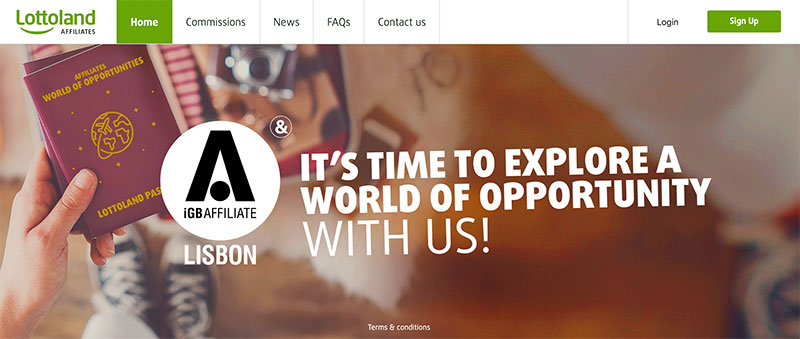 If you take a look at the latest statistics, you will notice that online lotteries are booming. When the first online lotteries were launched in the 1990s, many people were skeptical. However, nowadays, online lotteries are becoming as normal as betting on sports or online casinos. This makes sense because this form of lottery comes with many benefits including access to a wide selection of games, safety, bonuses, availability (24/7) and more.
To get the most from this trend, it might be a good idea to learn more about the best affiliate programs and best lottery affiliate programs. These programs pay registered affiliates for new players that they have introduced to the lottery site they are marketing. If you are interested in using a lottery affiliate program, you should definitely check our list that contains the best options you have at the moment.
Lottoland Affiliates
Good net revenue share commissions
Two licenses from established agencies
Unlimited earnings
Lottoland Affiliates is the official affiliate program that's taking care of the promotion of Lottoland website. On the other hand, Lottoland is a well-established website that gives players access to more than 30 lotteries from all over the world. Some of the most popular lottery games you can find here include the US-based PowerBall as well as a few popular lotteries that come from Europe like EuroJackpot and EuroMillions. Of course, most of these lottery games are available to players from around the globe. In addition to lottery, Lottoland has scratch cards, instant win games, slots, table games, card games and even live dealer games which make it easier for affiliates to market this site.
When it comes to commission plans, the program provides access to revenue share, CPA and hybrid solutions. Every individual (even the ones that don't have a website) can apply for affiliate status and these requests are processed fast. The net revenue share plan is between 25% and 35%. Affiliates are paid once a month via Skrill, Neteller or wire transfer. It's worth mentioning that Lottoland Affiliates has licenses issued by the UK Gambling Commission and the Government of Gibraltar.
Marketing Lottoland is easy because you have access to many modern marketing assets. They are designed to maximize the number of sales and make marketing campaigns more effective. Affiliates can use HTML5 banners and text links that are updated all the time. They can also get email templates and landing pages.

Lottoland Affiliates review
Join Lottoland Affiliates
Lottery Partner
Multilingual support
In-depth reports available to affiliates
Markets some of the best lotteries in the world
You can get paid in Bitcoin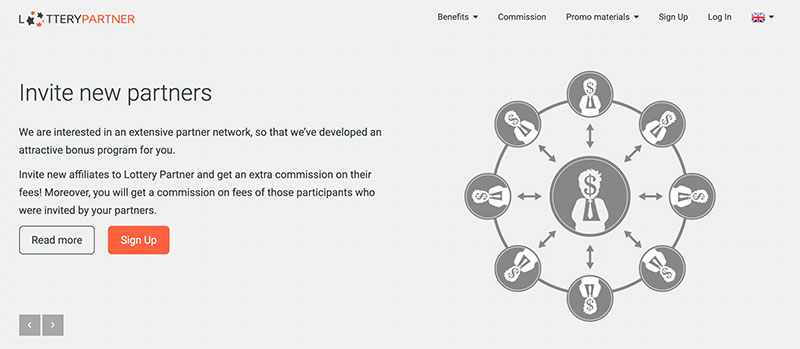 Lottery Partner is the official affiliate program of Lotto Agent. This means that as a registered affiliate who is part of this program, you will be able to market a well-established lottery website. Lotto Agent was founded in 2012 which means that this is a website with a long history. EuroMillions, SuperLotto Plus, Powerball, Lotto America, MegaMillions, and El Gordo are some of the international lotteries available on this website.
Just like in the case of other online lottery affiliate programs, Lottery Partner allows affiliates to choose from three different commission models – revenue share, CPA and special hybrid plan. The most popular is the revenue share plan that promises between 10% and 20% depending on the number of active players referred per month. Lottery Partner has a wide range of promotional materials available to affiliates including banners, text links, landing pages, dynamic widgets, page peels, and promo codes. The earnings are paid on a monthly basis via PayPal, Skrill, bank transfer, MasterCard, Visa, WebMoney or Bitcoin. There are no hidden fees on the transfers which take place once a month. The interface of this website is available in eight languages.
Lottery Partner review
Join Lottery Partner
TheLotter Affiliates
Fast payouts
Different commission options to choose from
Friendly and professional support

TheLotter Affiliates is an online lottery affiliate program that's focused on TheLotter. This is a website that was established in 2002 and one of the first websites in this niche. Thousands of people from all over the planet have won rewards with the help of this lottery site. At TheLotter you will find more than 50 international lotteries including MegaMillions, EuroMillions, US Powerball, and EuroJackpot. What affiliates can use as a strong selling point too is the fact that players can keep 100% of their winnings from the tickets bought via TheLotter.
Every affiliate is welcome at TheLotter Affiliates. Once they become registered members, they can choose one of the three commission options available at this affiliate program. These options include CPA, revenue share and custom-made hybrid plan. For the most successful affiliates, there's a chance for a specially designed commission plan.
There are some really great marketing tools at TheLotter Affiliates that can help you attract new players. Many of these tools are available in different languages. Some of the most used tools include pop-ups, mailers, video ads, and banners. Registered affiliates have access to in-depth analytics tools that can help them optimize their work. Whenever you need assistance, you can reach this program's customer support agents via email, phone or chat. This support is available 24 hours a day, 7 days a week. Their customer support agents are trained and knowledgeable and they can be of great help in any situation.
TheLotter Affiliates review
Join TheLotter Affiliates
Multilotto Affiliates
High revenue share commission rates
Multiple secure and fast payment options
No negative carryovers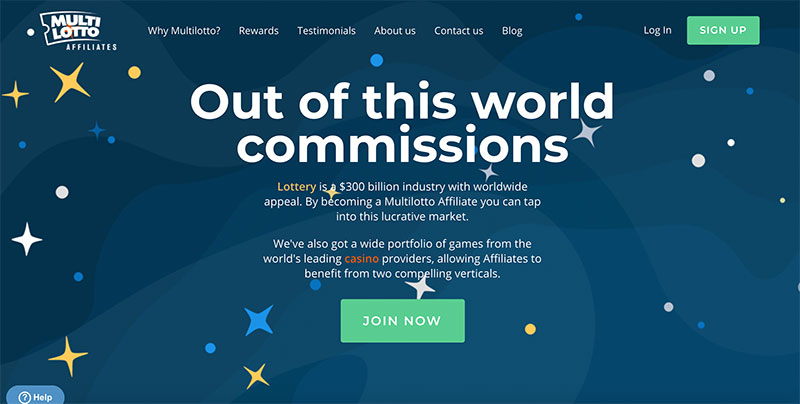 Multilotto Affiliates was created for the marketing needs of Multilotto. This brand that's managed by Multi Brand gaming Ltd. has a license issued by the Malta Gaming Authority. From US Powerball and Italian SuperEnaLotto to California Super Lotto, EuroMillions and Viking Lotto, Multilotto is the place where players get access to dozens of lotteries available worldwide. Many of these games have special jackpots including Bitcoin jackpot. At this site, players will also find scratch cards and a special page dedicated to online casino games.
Multilotto Affiliates is following the steps of many other online lottery affiliate programs and offers three different commission plans – revenue share, CPA and hybrid. Obviously, the revenue share model is the most used model where commissions can get anywhere between 25% and 40%. Affiliates are paid once a month no later than the 5th of the month. It's worth mentioning that there's no negative carryover applied in this program which means a fresh start every month. The good thing is that there is a wide range of payment options available on this site including Neteller, MasterCard, Visa, Trustly, Entropay and Paysafe Card.
With the help of Multilotto Affiliates, affiliates will get access to a personal account manager. This is a great advantage because these professionals can help you maximize profit. With their help you will be able to create offers that are tailored for your target audience. In some cases, affiliates are focused on promoting lotteries to specific categories of people like younger people or people that live in specific areas. The experience that personal account managers have will help them develop the right marketing strategy to reach these categories of players. Finally, Multilotto Affiliates comes equipped with a collection of tools that can help any affiliate optimize the results of their work. On the dashboard they can find information about impressions, sales, etc. You get real-time stats here.
LottoElite Affiliates
Marketing materials in over 12 languages
Detailed reports
Good CPA and revenue share commissions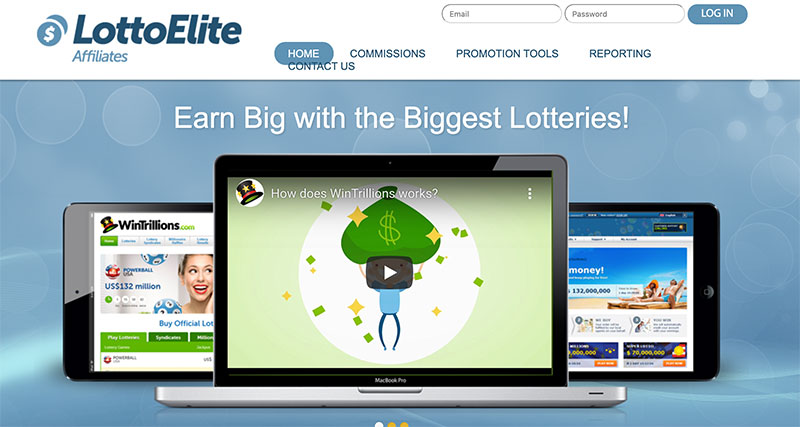 Instead of one online lottery, LottoElite Affiliates allows affiliates to promote three different well-established lottery brands – Trillonario, WinTrillions, and LottoKings. Actually, Trillionario is just a Spanish variant of WinTrillions that's used by players from Spain as well as from players from South and Central America. All of these lottery brands have multiple lotteries in their offers like EuroMillions, MegaMillions, and Powerball. They also have scratch cards and other types of games that might attract players looking for something different.
Every person regardless of their location (as long as an activity like this is legal in their country) should feel free to join this affiliate program. LottoElite Affiliates allows affiliates to get paid on the first day of each month. They can use different payment solutions for this including PayPal, Payoneer, Skrill, Neteller and bank transfer. Affiliates are paid in Euros or Pounds if they use bank transfer.
At LottoElite Affiliates, players will find different marketing tools. Some of these marketing tools include landing pages, newsletters, mobile ads, and banners. The good thing is that you can check the results of your campaign in real-time. You get access to a modern stats system that provides information about every aspect of your campaign. With LottoElite Affiliates you will get quick reports, traffic sales information, and transaction reports all in one place.
We should also mention that affiliates can choose from two commission programs – revenue share and CPA (Cost Per Acquisition). The revenue share deal provides between 10% and 15% depending on the number of monthly sales. There's no negative carryover here. The CPA deals are promising fixed payment per newly register player (between $35 and $45).