5 Questions from Stan James Affiliates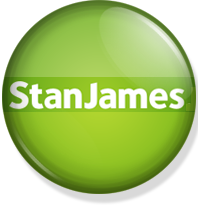 1. Tell us about the history of Stan James sports book
Stan James was founded in the UK in 1973 and has become one of the best-known gaming brands in the UK.
Our brand has a history and reputation as being betting and gaming pioneers – Stan James were the first to introduce the world to In-Play betting.
Stan James is a family-owned and operated company, and has built its reputation on integrity, product innovation, and social responsibility.
We offer a comprehensive sports betting offering, as well as a hugely popular casino and poker product.
Our integrated mobile telephone application and 24/7 call centre and website (www.stanjames.com) guarantee access to a dynamic product range in multiple languages, while empowering customers to ensure they can play within their means.
2. When did Stan James launch their on-line products?
StanJames.com went online in 2003, since when the company has gone from strength to strength.
After the aquisition of the BetDirect business in 2007, StanJames.com increased its sports book offering to include a now-popular In-Play Betting platform as well as a leading mobile betting platform.
The Casino and Poker products have gone from strength to strength too, with a recent Casino redesign giving StanJames.com Casino customers even more playing choice than ever before.

3. Do you think the conversion and retention rates are better because Stan James has land based betting shops?
To a certain extent it helps, undoubtedly, because a high street presence helps build and maintain brand association.
However we do place great emphasis on our conversion and retention programme, which means that the lifetime value of our customers is above what we believe to be the industry standard.
Our customers know they can rely on market-leading product and great customer service.
4. Many on-line sports books have been promoting their casino almost more than the sports book itself, like bodog or bet365. Is Stan James looking to grow their on-line casino in a similar way so it stands out on it's own?
We have plans in the future to do more explicit advertising of our Casino as we seek to increase the size and scope of our Casino product, but in the short term we firmly believe that the recent improvements we have made to our online Casino will lead to strong organic growth, a process which is already underway.
5. What can affiliates expect when working with Stan James Affiliates?
Stan James Affiliates is the affiliate program for the entire Stan James brand, including casino and poker.
The site also offers mobile betting and gaming.
Affiliates can earn up to 35% revenue share, with starting commission rates set at 25%.
The commission structure applies to casino, poker and sports book.
Affiliates can be paid in a variety of ways, including Moneybookers (Skrill) and Neteller for e-wallets, plus bank wire, cheque and through the player account.

Join the Stan James Affiliates program and get 35% revenue share promoting sportsbook, poker, casino and bingo.
Update: Stan James Casino is now part of Unibet Casino & Sportbook, if you were a player of Stan James Casino your account is available at Unibet and you can even log in, however, we recommend you to contact one of their live chat agents to get more information and do not forget to read the terms & conditions of Unibet.
Also, Stan James Affiliates website seems to be down too, meaning that this program probably is not working anymore, but please feel free to check out our other affiliate program reviews.