Interview of Vadim Potapenko, Head of Sales at Turbo Games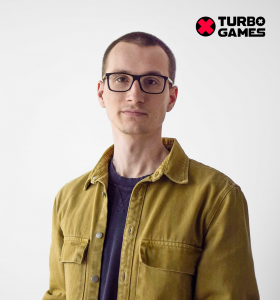 Tell us about the history of Turbo Games, and what was the idea behind launching a casino games company?
Turbo Games company was launched with passion and love to gambling. There was a team with big experience in gambling and game development and a big wish to shine on the iGaming arena.
Crash X was the first game, and it was a victorious start that pushed the development team to work harder and produce new sensations. Catchy design and simple mechanics have been the keys to success.
Now Turbo Games has 10 games and more than 20 operators live now, and it's only one and a half year has passed. It gets better and better.
For the casino and slots affiliates reading this, tell us what makes Turbo Games stands out from the crowded market of casino games software makers?
We have something new for the gambling business. Only 3-4 games suppliers have such games that we provide. It means that we give a uniqueness and a fresh content for the operators.
We already have a big pipeline of the upcoming integrations and new licenses, because casino managers already see how they can promote our games and what their players want these days. There are thousands of slot games, so there is a need to bring something different to the market.
In addition, our games have good retention because of the mechanics, and it gives a stable amount of loyal players. It solves the main task for both: operators and affiliates.
Can you explain how Provably fair games work, and what does this mean?
Thanks to Provably fair, the player can check the result of each round and make sure that it was generated honestly. To form the result, we use 3 values: Server Seed, Client Seed, Nonce.
Server Seed is a random value generated by us, Client Seed is a random value generated by the user, Nonce is just a number that increases after each bet. After all 3 values have been generated, they are encrypted in a special hash in the SHA256 format, which cannot be changed and with the help of a specific function we get the result based on this hash.
Until the results are obtained, the user does not know the Server Seed, and the provider does not know the Client Seed, that means that the provider could not tweak the result because it is generated exceptionally with the participation of the player.
What markets are you seeing emerge that you think affiliates and operators should pay attention to?
I have an experience of more than 7 years in gambling and I can tell that you can make money and bring traffic from any country. It's just a fact. I saw cases, when 1 affiliate (not a company, 1 person) did more than a company with 100 employees.
So, the same works for markets. I can give you the list of "trendy countries", although it's something that everyone knows. My suggestion is to check fast-growing regions like Africa, Central America, South America. There are a lot of operators there, although these are still markets where you have low competition.
How has the industry responded to your company knowing that your company and people are Ukrainians, and do you think this will make your company stronger in the future?
It's already done, and we're stronger than we were. I would like to add that now all Ukrainian companies have no other option than to work harder, just because we have this motivation and there are no more "problems" or "issues" after we faced the war.
And regarding support, yes, there was a company that took us onboard faster after 24th Feb, because they understood that with more volume the company can help the team's families and army more effectively.
If someone wanted to become a partner and be an operator, what can they do with Turbo Games and what can they expect?
As a young company, we're very flexible, and all questions are solved almost immediately. And we have individual offers for every partner as for working conditions and promos and bonuses.