7 quick wins to increase your website traffic today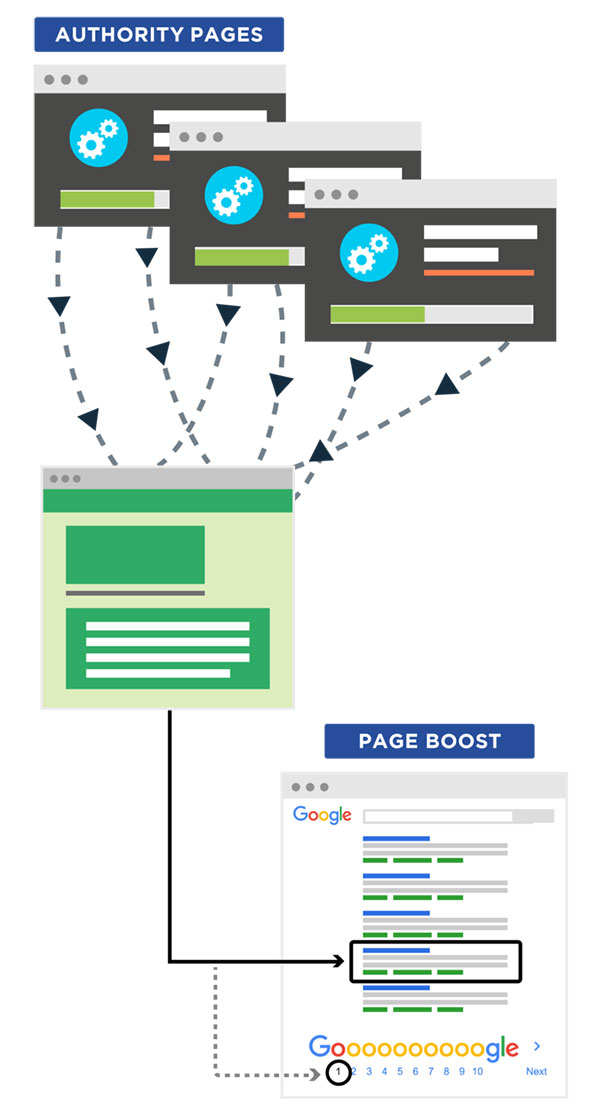 No matter how much traffic we get to our site, we always want more. But, is it that easy to increase your site's traffic?
I say yes.
I will explain 7 quick changes you can make to your site that will supercharge its SEO and increase its traffic Today!.
Optimize your Site's speed for an instant SEO boost
Google has indicated that it analyzes site speed as one of the signals used by its algorithm to rank pages. Although there are a myriad number of guides and ways to speed up your website, I will tell you the three most common speed-suckers for travel blogs.
The top three problems and the plugins to fix them up are -
No browser caching - W3 total cache
No Gzip Compression - W3 Total Cache
Using Unoptimized images - EWWW image optimizer
Google penalizes slow sites and ranks them lower. So make sure to fix these issues to stay in google's good books :)
Send links to your posts on Google's 2nd page and flood them with traffic
You may be oblivious to the fact that you have many pages on the 2nd page of Google.
And leaving them on 2nd is like leaving money on the table as they don't receive any traffic, but with a little elbow greasing we can bring them to page 1 and flood them with traffic.
And to bring them to page 1 is simple too.
Just point 3-4 of links to these articles from your other related articles with the target keyword and its long tail variations as the anchor text.
You may be wondering how to find the posts ranking on the 2nd and 3rd page.
Well here is how:
Signup at k-meta.com
Enter your domain and then click search.
Switch to domain organic from domain overview
Click on Filters and in the positions column, enter 11 to 29
Click the update button
Bada Bing Bada Boom, you have the URLs of all the posts ranking on the 2nd and 3rd page.
All you got to do now is point some internal links to these pages. This process will hardly take 15 minutes but will give you a huge spike in traffic.
Use schema markup for Reviews for better click-through rate

As a blogger, I guess you do a lot of reviews on your blog.
They are long and detailed but often lack one critical thing - Schema markup for reviews.
Imagine looking for a review of some product, and Google shows you ten results with one of them showing a star rating like this in the results itself. Out of the ten, which one are you more likely to click.
I bet it is the one with the star review.
You may be wondering how to get this star rating thingy on your posts.
Well, there are two plugins to help you get it. One of them is free, and the other one is paid. Whichever you end up using, here is a guide which teaches how to set up both of them.
Change Timestamp from "posted on" to "updated on"
Let's say you search for "how to get more traffic to my travel blog."
Out of the ten results presented to you, which one would you like to check out first?
The one that has that "updated on 19 Feb 2017" next to it or the with "published on 22 may 2016" next to it.
Don't know about you but I will want to the know the newest guide first as it will have the latest strategies that are working.
Even if the article which was published in may 2017 was updated a week ago, it would not get my click.
Why?
Because it still shows the published date, not the updated on date. And this is the date that is picked up by Google and shown in the search results.
Wordpress does not show the last updated timestamp by default unless you force it too. This tweak is as simple as copy and pasting a piece of code in your theme files.
You can grab the code here.
Whenever you update a post, you get the latest timestamp in Google and as a result a higher click through rate which is a ranking factor as well!!
Use Pushcrew to notify users of New Posts and get readers on demand
Do you know what is one of the biggest assets for a blog? It's the subscribers!
Getting subscribers is in your hands, unlike Google traffic which depends on over 200 ranking factors.
You publish a new post, it may or may not rank in Google depending on the competition for that keyword.
So you can't say if you ever will get traffic for that post from Google. But if you have got subscribers, your new posts are bound to get read by most of your subscribers who will like, share and may even link to it.
Puch crew is the easiest way to get subscribers. You may have seen some people use this functionality on their blogs.
Here is how it works -
You visit a site
You get a notification that you can get notified of new posts if you click allow.
If you like the content on the site, you will click allow. Otherwise, you will click block.
If you clicked allow, the next time the blogger publishes something, you will get notified through your browser when you open your desktop.

Here is how it looks
Pushcrew has a free plan which can notify up to 500 people. Great to get started!
Do you want to make your readers read your posts from start to Finish? Do this
I know this sounds click baity but bear with me. Most of the readers do not read your posts from start till the end if you have the following two problems -
Poor content which no one likes to read
Problem with readability
I hope you already are producing good enough content and lets address readability. While many factors affect readability - spacing, font color, etc., the two most important are - font size and font type.
A study was conducted by two researchers Hyunjin Song and Norbert Schwartz where they gave one group of people directions in a simple font, and the other group received directions in a fancy font.
What happened?
The people who received the simple font estimated that it would take 8.2 minutes to complete the directions whereas the people who received the complex font estimated that it would take 15.1 minutes to complete.
So you must have understood by now that simple font is the way to go.
If we talk about font size, the best size is 16px. And I am not pulling this number out of thin air. If you take smashing magazine's advice, which by the way is a top publisher of web design and development articles, anything less than 16px is a costly mistake.
Check your blog's font size right now with whatfont chrome plugin and if you find it on the smaller side then use the TinyMCE Advanced Wordpress plugin to increase it to 16px.
Enable this one little setting and unlock massive Pinterest Traffic
One of the greatest thing about being a travel blogger is having a lot of original images. But most focus on Instagram and ignore the other visual platform. No, I am not talking about Snapchat. I am talking about Pinterest - A social media Giant.
One of the main reasons people pin a picture is because it is pleasing or good looking.
And what is more good looking than chilling at a hidden beach in thailand!!
The easiest thing you can do right now to tap into Pinterest's traffic is enabling the "Pin it" button on your blog's pictures. Even ytravelblog and journeyera have it enabled. ( just hover over any image, and you will see the Pin it button )
Here is how you implement this Tweak:
Installing the following plugin - Pinterest pin it button on image hover and post ( I know it is a mouthful, right )
Or if you use Sumome's social sharing plugin ( like most people do), just follow the following steps.
Click on the "My Apps" section from the Sumome Dashboard.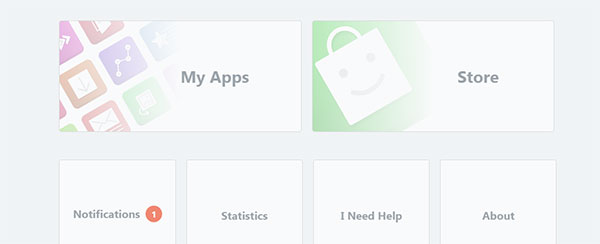 On clicking the My Apps section, You are presented the list of all the apps. Find the "Image sharer" app and enable it.

After enabling it, Click on the app to open its settings Menu. Just drag the Pinterest button from the available services to the selected services leaving all others behind.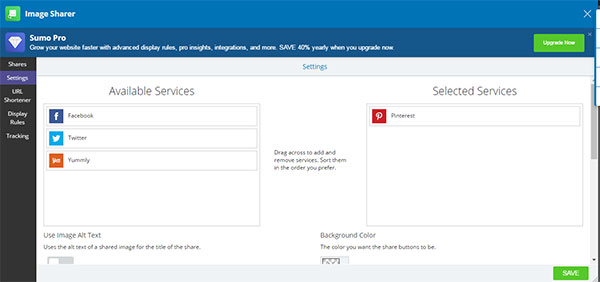 Don't forget to click the Save Button.
Pinterest is a traffic treasure waiting to be unlocked. If you want to learn more about Pinterest marketing, you should read this in-depth guide from our very own Sally Cochrane.
Well there you have it. Seven quick ways to increase your site's traffic today. If you have got some similar tips to share, please comment below!
About the author
Shaurya Jain is the founder of Attention Always Marketing, an agency International brands outsource their link building to. Shaurya sucks at writing Bios and all he can tell about himself is that he likes Marketing, Ancient History and Yoga.