9 Business Card Tips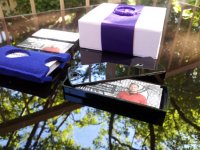 Business cards are important to promote your business and share your contact information. We have 9 quick business card tips to help you get things done right.
1. Proofreading
Make sure you proofread your business cards and get your friends to proofread it.  There is nothing worse than printing hundreds of business cards to only find a spelling error.
2. Campaign Based
If you are going to a conference try to make your business card campaign based to get more reaction out of the people you meet and give the business cards to. You could even run a special promotion and advertise it on your business card.
3. Have a purpose
Does your job title explain enough of what you do. What about your company, is there enough of a description to explain what your company does?  If it doesn't considering adding another line to be a bit more descriptive so people don't have to ask.  If you are handing out business cards at a conference, they might forget what you do so this is your chance to make sure they don't forget.
4. Add a Photo
Having a picture on your business card helps people to match names with faces.  At conferences when you meet many people, it isn't fun to run into people you have met before and you have forgotten their name. If their business cards had their pictures on it, it would help you remember who they are. Likewise, you'll help others remember who you are and more importantly, it will help them remember your company by association.
5. Design standards
If you are getting someone designing your cards, try to use existing templates that have guides to show the bleed areas plus the safe areas.
6. Use both sides
Make full use of your business card on both sides. People almost always check the backside of a business card and when they see the other side empty, it is as if they were disappointed. As much as it is nice to have space for them to leave notes on your card, you can still make good use of both sides.
7. Print Professionally
Don't use home business card printing kits. They look terrible. You have many printing options and plenty of places to print.
8. Quality
When making business cards, you are representing yourself and your company. Think quality when making cards. This can be on the quality of printing, the design and even the thickness of the card and the card material. If you want someone to do business with you, your business card is the introduction to your company and yourself so make a good first impression.
9. Be Creative
Not all businesses need to have creative cards to stand out but if it makes sense for you and your business, try to think outside the box and think how your business card can be different to capture the imagination of others. Many print company offer various solutions for printing, cutting and folding and sometimes they have templates for unique business cards.

MOO Business Cards
MOO.com
is a printing company located in the United States that offers
fast printing and fast shipping
.  You can upload your designs online or use their many print templates.
MOO focuses on quality
so although their cards might not be the cheapest, they are certainly not over priced and they are quality all the way. A few of their standout products include mini business cards and they are planning to launch NFC business cards so people you meet can just tap their phone to add your contact information to their phone.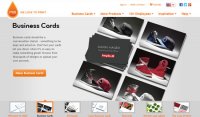 MOO takes paypal and credit cards. They are an excellent company to deal with and you can get cards shipped to you in about a week if you get fast printing and priority shipping.