VoltCasino shutting down effective immediately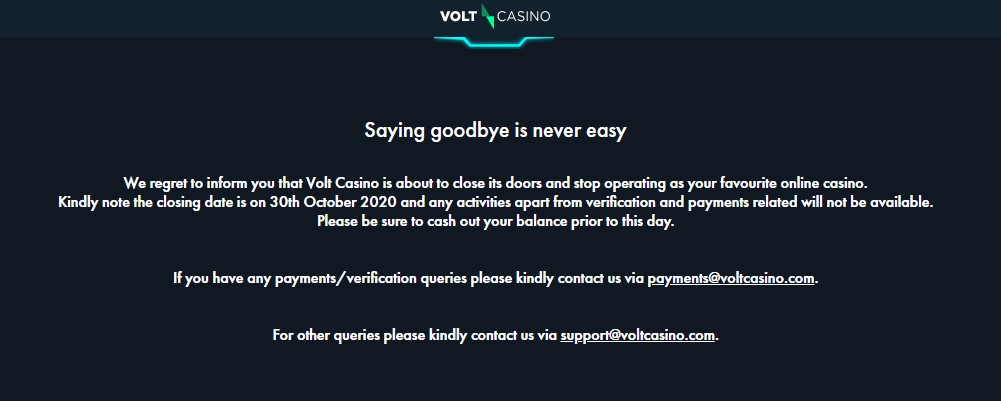 News came in recently about the sudden shutdown of yet another online betting platform, this time the hammer came down for VoltCasino.
Users in several forums are starting to report that emails are being sent to them with information about the imminent cease of their services:
"Dear Partner. Please be informed that within the past hour, Digital Fuel Marketing has been made aware that Volt Casino (owned and operated by Fair Play Bets Ltd, Malta) is closing with immediate effect.
As you know, Digital Fuel Marketing is an external marketing agency which oversaw marketing activities on behalf of FairPlay Bets Ltd. It is with regret that we have no other details we can share with you as of yet."
The statement continues, "We advise, however, that you take your Volt Casino affiliate tracking links/marketing tools away as soon as possible. As and when we hear more information from Fair Play Bets Ltd, we will let you know immediately. We are sorry for the inconvenience that this expected news may cause"
If anyone tries to visit their webpage, they'll be greeted facefirst with the following message: "Saying goodbye is never easy. We regret to inform you that Volt Casino is about to close its doors and stop operating as your favourite online casino. Kindly note the closing date is on 30th October 2020 and any activities apart from verification and payments related will not be available. Please be sure to cash out your balance prior to this day"
Volt Casino was operated by Fair Play Bets Limited, incorporated and registered in Malta under registration number C51902 on the 3rd of February 2011, with the office at 227 Triq Salvu Psaila, Birkirkara and was licensed in Malta and regulated by the Malta Gaming Authority. Fair Play Bets Limited is licensed to operate remote gaming business by the Malta Gaming Authority under several licenses issued on the 28th of March 2011. Additionally to that, Fair Play Bets Ltd is also licensed and regulated in the United Kingdom by the UK Gambling Commission.
The imminent changes caused by the current crisis worldwide
Sadly, VoltCasino is yet another victim of the current crisis that the whole world is going through.
Despite the fact that no official statement on the real reasons behind the closure have been given, the whole iGaming community assumes that it was caused by the current global crisis that has struck all the industries.
It is a true that the iGaming industry has been one of the few sectors to generate extra income since the beginning of the crisis. However, it does not mean that all the betting operators and partners have increased their profits.
As a matter of fact, many betting platforms and affiliate programs have had to close down since the beginning of 2020. Most of the critical victims of the crisis have been the newly launched betting platforms.
These inexperienced companies invest their entire budget on their platforms and the offers that they have available for the players without assessing how competitive and hard-fought the iGaming industry is in all aspects.
Eventually, the whole crisis and the lack of budget to compete against the already settled betting companies leave them with no choice but to close down after a short period of time.
VoltCasino has been working for almost 9 years now so clearly the lack of experience was not the real issue behind the closure, reason why the whole industry was not expecting such horrible news from the site's operators.
What comes next for Fair Play Bets Limited
As of this moment, Fair Play Bets Limited operates a total of 3 online casinos, them being VoltCasino, VegasPlay Casino and Diamond World Casino.
As it is known already, VoltCasino will be closing down in October of the current year. But, there is no information whether the remaining two betting platforms will keep on operating or not, so a lot of speculation has been circling around about the possibility of Fair Play Bets Limited closing down all of its online casinos at once.
In the drastic case that it turns out to be true and all the betting platforms under Fair Play Bets Limited close down, a lot of affiliates and players will be left frustrated and sad, being forced to migrate to other sites.
It is not recommended to believe rumors until proven to be true. Nonetheless, it is advised to search for online casinos and affiliate programs that might interest you.
That way, you can be ready in case everything turns out to be a reality.
The disappearance of Fair Play Bets Limited
Given the sudden and drastic news of VoltCasino stopping its operations for good, it is not extreme to think that Fair Play Bets Limited might be leaving the iGaming industry altogether.
Sadly, the firm is going through a hard time where there are not enough funds to face the difficulties and obstacles that exist nowadays in the iGaming industry.
It may be a time for the company to take a break and hopefully reopen its doors in the future when the storm has finally passed and it is a good time to offer gambling services once again.