Affiliate interview with Michael Shackleford from WizardofOdds.com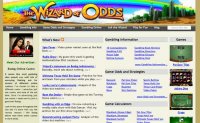 1. For those that might not know about your sites, list them and tell us the purpose of each site.
Wizard of Odds: Odds and strategies for casino games.
Wizard of Vegas: Information about Las Vegas.
Wizard of Macau: Information about Macau.
2. When you got into gambling and having your gambling affiliate sites, how did friends and family react to your career path?
Everyone knows that I've been a gambler at heart my whole life.
Shortly after I learned to read I was reading John Scarne's books on gambling.
It was never hard to get me to bet on anything.
So, I don't think it came as any big surprise to those who knew me from childhood.
It isn't many people that work doing what they love, so I think my family is happy for me.
3. Now with all of the gaming experience you have, have you ever thought about getting involved in politics in any form perhaps as a gaming consultant?
I would very much like to enter politics.
However, I consider myself a centrist, and there isn't much love for centrists in Washington these days. If I were in politics my primary objective would be Social Security reform, which I know a lot about from my nine years as a Social Security actuary.
4. On WizardofOdds.com you list only one advertiser: Bodog. How has this partnership helped your site and is it something you would recommend other gambling affiliates worth considering instead of listing hundreds of casinos?
I have made much more with one advertiser than many.
However, this model will not work for everybody.
I think the viewers need to trust the person behind the site to care about the endorsement.
5. It seems in the past 5 years that many online casinos are trying to out compete each other with larger percentage bonuses and no deposit bonuses which of course imply that only slots count. If you had to start manage the bonuses for a new casino what bonuses would you setup and how would you structure the terms and conditions?
I have done some consulting in this area, and I always recommend to my clients to not follow everybody jumping over the cliff with big, yet difficult to fulfill, bonuses.
Personally, I advocate more of a Las Vegas model, based on rewarding players after they play, according to how much they play and on what games.
Alas, nobody agrees with me, saying that they have to compete with what everyone else is doing.
If I must do a new player bonus it would be simple and small, with no restrictions on games.
I'm sure I would take a loss on the bonus abusers, but that is a cost of doing business.
6. How often do other affiliates-webmasters steal your strategy charts and content?
All the time.
Legitimate land-based casinos do too.
I used to get angry about it, but I've become numb to it.
7. How do you stop this or do you give other webmasters permission to use and reference your content?
I take it on a case by case basis.
Basically, I allow for limited use of my material if proper attribution and a link is given.
8. We checked the seo visibility data using searchmetrics tools and it shows your site tends to have more traffic than some other big name domains like slots.com, blackjack.com, gambling.com and casino.com. We know these sites have changed hands numerous times over the years. Why do you think your site has had more success and stability over these domains?

Graph generated by SearchMetrics
Thanks for that graph.
My philosophy is that ultimately quality content is what matters.
If you have it, the world will find you.
Gambling.com and blackjack.com are pretty much portals, in my opinion.
The emphasis at my sites is teaching players to be better gamblers.
The advertising is in moderation and an unfortunate necessity to put rice on my table.
Having a good URL and a clean site help, but in my opinion 90% of what brings traffic is having something worthwhile to say.
9. You have built probably the best site related about casino game strategies and information. What more can we expect from you and your websites in the future?
Thank you for the compliment.
I'm fairly happy with my Odds and Vegas sites for now and have no immediate plans for major changes.
I'd like to return to Macau and then make some improvements to that site.
However, my next big project will be a gambling site in Spanish.
I've been working hard on my Español for a year now, but will still need a good translator.
I'm exciting about starting a new site from scratch in a new language.
Look for that in late 2012.
About WizardofOdds.com
Michael Shackleford is an actuary and gambling expert who started the Wizard of Odds website.
Wizard of Odds has been online for over 10 years and has the best gambling information and game strategies around.