Affiliate interview Mitko from e-sportbets.org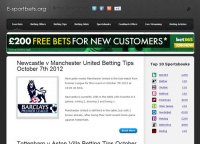 1. How long have you been an affiliate for and why did you create e-sportbets.org?
I have been an affiliate since August 9th 2009, so for about 3 years and 2 months.
Out of those 3 years, I believe the first year and a half was my learning year, where I was mostly exploring the field than anything else, or with simple words, I was just working not making anything.
The sole purpose for creating e-sportbets was to start working on something that was fun, gave me the benefit to do it from home and make me enough money to live off it.
Later on it evolved to help others, while doing something you enjoy and it has been like that ever since.
2. Over the years, list some of the improvements you have made to the site that has brought in better results including more players and more traffic
Over the years I think I have changed at least 10 templates, until I had found the one I liked, and haven't changed it ever since.
I believe this is an important step to take care of as otherwise you will constantly distracted and tempted to change your themes.
A good theme will definitely raise your average visitor time and conversion.
In addition I switched from internal links -> open in a new page to internal links -> open in the same page.
This brought a dramatic increase of conversion, over 73% it literally stunned me. I know it doesn't work for everybody, but I was willing to test and I am glad I did it.
3. What are your planned improvements for the site.
I don't have a certain plan, as I usually act on the moment. I see how the site evolves, which parts are falling behind and I focus on them.
I try to clean up old pages, that can potentially have low or not as good quality and can harm my rankings, so I constantly try to get rid of things that are of no value to the user.
That I usually figure out by looking at the conversion ratio, the average visitor time and the amount of visits.
If an article has gotten 3 visits for the last year, and all 3 had an average time of 3 seconds, and the page is like 300 words or less I would most likely get rid of it as it's obvious nobody wants to read it and it's of no use.
Last year, I got rid of over 800 pages like that.
I try to come up with new ways to include links and advertisement in my posts.
There's no 'one fits all solution' so one has to always experiment to see what works and what doesn't.
No matter how much I change there will be always room for improvement.
I believe the more you are in the industry and the more knowledge you gain with the years, the more you analyze and the more you change and improve.
It's an ongoing process that cannot be predicted as you do not know, what you will know in a year, because you don't know it yet.
4. Since e-sportbets is mainly focused on football, tell us what the Euro 2012 tournament did for you.
Euro 2012 was a major boost in terms of revenue for the site, but it wasn't as good as everyone was expecting to be.
I believe that the current shape of the national teams reflects on the fans and their willingness to bet, and considering I am focusing the UK market, things weren't that great.
Overall I can say I was satisfied with the traffic and the revenue.
5. What did you do to prepare for the Euro 2012 tournament that brought in the results.
I had a big page on Euro 2012 with all of the different books and regions they were suitable for, free bets available for different players, outright odds for all teams as well as odds for each game.
I think the free bets worked the best, as most new players were looking for special deals on the games and/or a good sign up bonus. Basically the bigger bonus the book had the more players it got.
6. What would you do different in planning for the next major football event, World Cup 2014.
I would focus on previews and odds in an earlier stage.
Basically for Euro 2012 I started preparing some 2-3 months before the event, but it was a bit late, or i think. I believe for WC2014 I will start at least 6 months earlier so the posts can rank well.
I will focus on email subscriptions, so I can gain a bigger audience, it doesn't matter if they are just fans, readers or punters. Any visitor is more than welcome and helps the site grow.
7. Up to you if you want to share, but what pages on your site tend to the best results for getting conversions.
When it comes to sports it's always about free bets.
It's no mystery that sites solely focused on free bets do well, so I created some of those and they do very well.
What's important about those (especially if you can't rank in top 10 in Google for the keyword) is to sprinkle those around your website so people get to see them.
Be honest in your reviews. People really appreciate when you give them the good side of the bonus and the bad side.
After all nothing is perfect, therefore there's no perfect bonus.
8. Which are your favourite sportsbooks to work with and why?
I try to avoid having favorites, but I can't help when bet365 sticks out.
An awesome conversion rate and great odds which are perhaps the two most important things when it comes to sports betting.
My manager Adam Webber is the fastest to respond manger I've ever had, and it didn't even matter how much I was making, he was always there to take care of my inquiries.
That's something I'll always appreciate, that every affiliate is treated equally.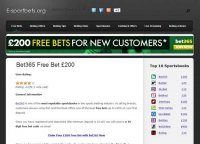 Payments are incredibly fast, in fact I have the payment from September already in my bank account and it's 4th.
Of course as all books they do have things that can be improved like the negative carry over, but overall they are my top performer and take good care of my traffic.
Betfair is the other book I work with a lot.
Although I don't promote them heavily I have a few posts that generate at least 10 players a month.
I know that most people do not like this program because when it come to sports their commission comes from winnings, but the thing is, they do a great job at cross-promoting.
I can say that over 95% of my players play casino/poker and games, which adds up to a nice revenue each month.
On top of that each channel is separate, so a negative revenue in casino will not wipe your sports earning this month, and there's no negative carry over.
My manager Scott always takes care of my questions and it's just a pleasure working with them.
Mitko's website for e-sportbets.org is a Gaffg trusted affiliate.