Affiliate programs warning affiliates over using Coronavirus for marketing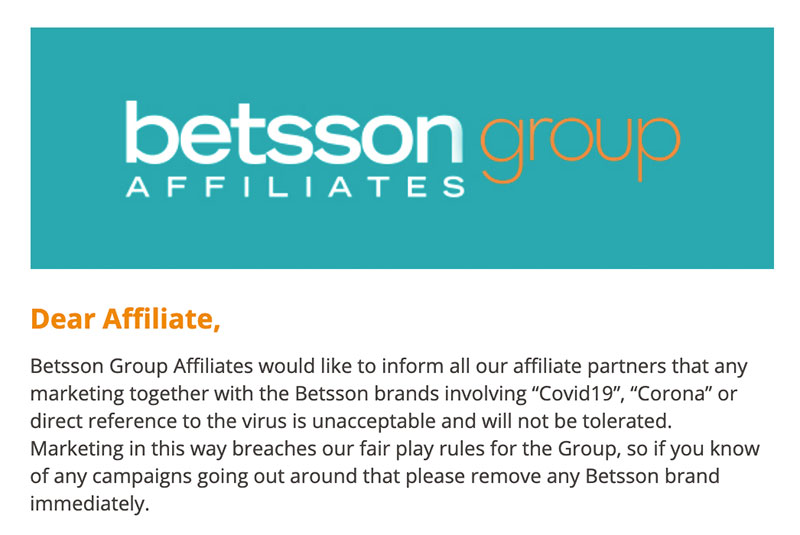 Since the beginning of the year 2020, it seems as if every few days we are experiencing new world-changing, earth-shattering chain of events.
The most recent game-changer (and most impactful I would say) has been the Coronavirus outbreak (or COVID-19). Affecting people and companies worldwide, the virus has not only affected the way we live our day-to-day life but also the way businesses have been able to operate in these difficult times.
This global situation has brought out the best of some people, showcasing heart-warming solidarity.However, this is not applicable in every case.
Affiliate programs have seen themselves forced to pronounce statements condemning their affiliates of using the coronavirus in their marketing. It seems that some individuals have been using keywords related to coronavirus in their ads with efforts to boost their marketing campaigns.
Betsson Group Affiliates recently sent its subscribers a newsletter email warning that the use of the words coronavirus, COVID-19 or any direct reference to the virus was unacceptable in any form of marketing with the Betsson brands.
Betsson Group Affiliates would like to inform all our affiliate partners that any marketing together with the Betsson brands involving "Covid19", "Corona" or direct reference to the virus is unacceptable and will not be tolerated. Marketing in this way breaches our fair play rules for the Group, so if you know of any campaigns going out around that please remove any Betsson brand immediately.

Affiliate partners using the coronavirus crisis to mop up casino customers in any form can be assured that this will weigh heavily against any future collaborations with the Group.

Thank you for your co-operation as always,

Should you require any further information, kindly email us on [email protected].

Kind regards,
Betsson Group Affiliates Team
They went so far as to say that "affiliate partners using the coronavirus crisis to mop up casino customers in any form can be assured that this will weigh heavily against any future collaborations with the Group."
As stated on their website, Betsson "is today the largest online gaming company operating on the island of Malta." They also provide, through their website, many tools so that their affiliates have all the resources necessary to "attract players and increase revenue".
"Increasing revenue" could be the main excuse for certain individuals to take advantage of the coronavirus to attract players to the betting sites, but Betsson and others have shown their disapproval of such tactics.
Betsson Group Affiliates is one of the many affiliate programs to condemn these practices as Catena Media, Finance and GIG have also adopted zero-tolerance policies over coronavirus affiliate ads.
Many companies in other industries have also taken measures to prevent the abuse of coronavirus in marketing, advertising, and byproducts.
Amazon had to warn sellers of increasing prices of face masks and other products that have seen an exponential increase in sales amid the coronavirus.
Even Google has restricted brands from buying certain sensitive keywords. They state that Google is "dedicated to following advertising regulations for healthcare and medicine, so we expect ads and destinations to follow appropriate laws and industry standards." Find more info here.
Affiliate programs and all brands, in general, are being very careful about how they approach the crisis. Let's all make sure we are acting ethically when approaching marketing in such sensitive topics, best we avoid them altogether.