Amaya Gaming Group
has just bought
PokerStars
which also includes Full Tilt Poker. The deal is worth $4.9 billion US and is the largest online gaming acquisition ever.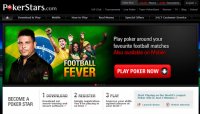 The deal makes Ayama the largest publicly traded online gaming company around. On the Toronto Stock Exchange, the shares gained $5.96, or 42.3 per cent, to $20.04 which is a significant increase. The news has significantly spiked the stock value of Amaya which you can see on the
Toronto Stock Exchange AYA
. Rational Group Ltd. is the Isle of Man based company that sold the poker companies has been around for 14 years building PokerStars into a small poker website that eventually took over Party Poker as the number one poker room around. PokerStars still remains the largest online poker room and they have a strong presence around the world just not in the United States. PokerStars has a series of popular poker tournaments around the world and run many satellites online to promote them. You can read more about the
official press release from Amaya
.
About PokerStars & Full Tilt Poker
PokerStars probably never would have sold or would be worth a whole lot more if the site wasn't
seized in Black Friday
. The company in it's best days was probably making a few billion per year in income. Full Tilt Poker was the strong #2 in online poker but nearly crumbled from Black Friday as it was later proven that the company didn't have the proper bankroll in place required to keep the operation stable for events like Black Friday.
About Amaya Gaming
Amaya Gaming Group is based in Montreal, Canada and makes casino games and slots for land based casinos as well as creating online gaming software.