Are slots affiliates sites a good casino niche market?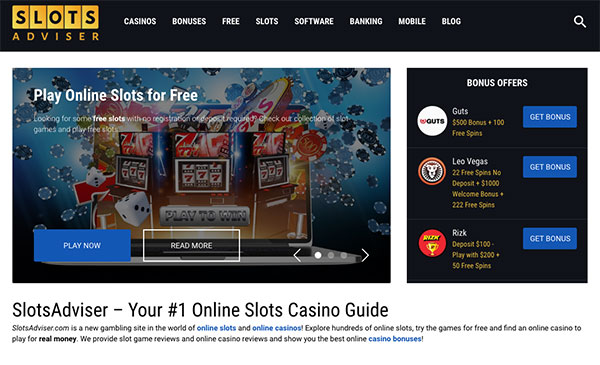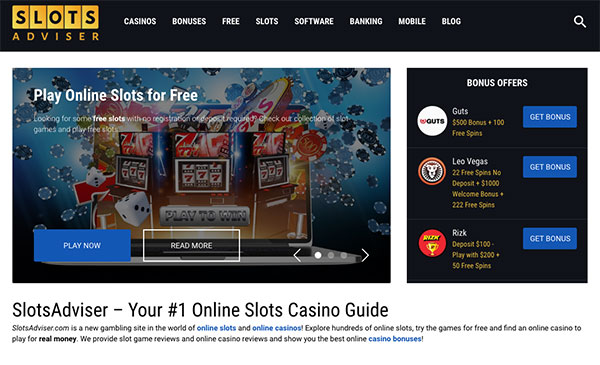 Online casinos are the top of the food chain when it comes to the online gambling industry. For the thousands of casinos that exist, you have about 100 to 200 bookmakers or bingo rooms to play at, maybe under 100 online lotteries and maybe 5 online poker rooms worth playing at. For gambling affiliates, picking a core vertical is important but for those that are looking to start an affiliate website, people need to go more niche.
Are slots affiliates sites too competitive of a niche?
The short answer to this is yes! It is already a crowded space and will only get more crowded as people flock to this space thinking it is an easy niche to target. If anything 'slots' as a topic is almost as generic as 'casino' or 'casino bonuses' and a sub niche would be ideal for any new affiliate to get started in the business.
A short list of popular slots affiliate sites
Slotsadviser.com
Vegasslotsonline.com
Slotsup.com
Slotsroom.com
Slotzar.co.za
Slotsonfire.com
Zzzslots.com
Slotozilla.com
The list goes on and on, just Google search for 'online slots' or 'free slots' and you'll find some decent sites in the first 5 pages of the results.
Characteristics of a good slots portal?
Having a look at SlotsAdviser we can see this would be the standard of what a good site should do. It should at least look professional and easy for users to navigate. Let's check off all the core features they have and what your site should have if you wanted to jump in this ultra competitive niche
Excellent design and UX
Geo-targeting for users
Categories and listings of slots
Detailed casino reviews
Long-form content
Plenty of slots reviews
Let's break down SlotsAdviser's site
Excellent design and UX
SlotsAdviser has a great design. It is easy on the eyes, not overly complicated and doesn't have too many intrusive ads. Their mobile version of the site looks just as sharp. There isn't a whole lot happening on this page where everything is fighting for the user's attention.
It isn't just the homepage design, if you look at other pages, you'll see the customization effort that has gone into it. Casino listings page, slots listing pages, list of blog posts, the blog post itself, static content pages, online casino review pages and of course online slots review pages. None of this was quickly thrown together, it was carefully laid out and well designed.
Geo-targeting for users
This is a must-have for any affiliate site. No need to show casinos to players that won't be able to play them. It is just wasted traffic and surely going to be a drop in anybody's conversion rate.
Categories and listings of slots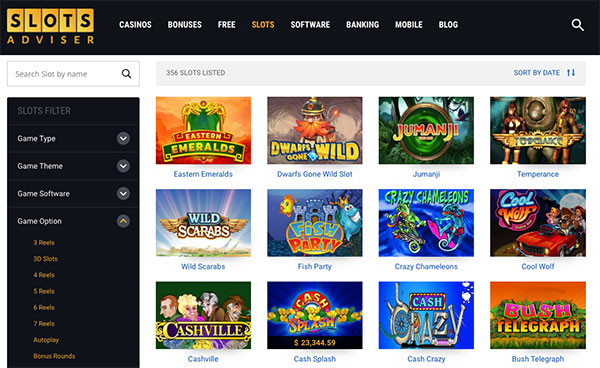 Who doesn't like a list? People scan before they read and if they want to search for 'online slots' or click on your slots page, they are probably expecting to see some type of list whether it is presented as just text or in a more visual format. SlotsAdviser has a lot of categories and these pages are always important for users to help them find what they want.
Detailed Casino Reviews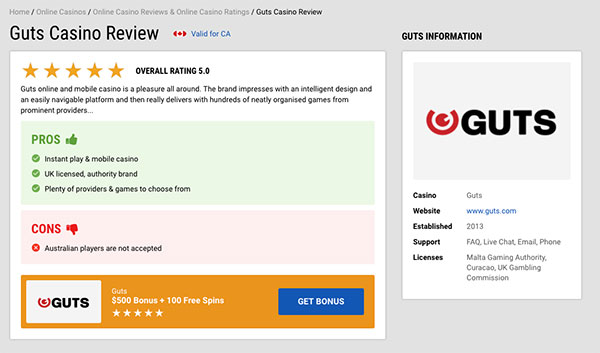 This is almost another must-have for content. Even if you don't rank for this content, your users might want to read some reviews before they click on your links or banners taking them to a casino.
Long-form Content
Check. This site has a lot of content. We know that many users probably won't read it but for those that want to read it, they'll spend more time on the site and Google is going to know your site put more effort into content than your competitor. Of course make sure the content is quality and not just long. Just check out their casinos list page and see how much content they have written. It certainly is way more than the old standard of 500 words you used to hear. Speaking of 500 words, this is how long this blog post is so far! Maybe 600 words.
Plenty of Slots Reviews
Check. They have almost 400 slots reviewed at the time of writing this article. Also those are not short reviews either and writing 500 words or more about an online slot game is a lot harder than you think. In reality, there are thousands of online slots that exist and online casino software makers are producing slots at almost a rate of 1 a day. Just check sites like SlotsMillion or Videoslots that have over 2000 slot games each and you'll see how often they continue to add new games to their casinos.
Niche Ideas for Slots
If you were thinking of launching your own slots review portal, you might want to get back to the drawing board and reconsider. At least make it a niche website and give yourself a chance to rank for some long-tail keywords. If you try to compete with any of these top rated slots portals we listed, you'll be swimming against the current.
Look at these competitor attributes and ask yourself do you want to compete against them?
Custom website designs
Custom programmed backend for automation
Monthly budget for SEO
Dedicated writers
Experience
So what are some niche alternatives within slots you could consider?
Languages other than English
Focus on a specific software
Focus on a specific theme
Focus on a specific country
One of the biggest mistakes some affiliates make is they choose English as their target language thinking that it is the biggest piece of the pie when they ignore a local market. The English gambling affiliate segment is almost over saturated so you'll want a great niche idea to stand out and give yourself the ability to rank if you need search traffic to grow.
There are many sites that have focused on specific softwares. Languages and countries are great ideas and could help you rank locally. There are not many theme focused sites but this is another avenue for starting small and getting some short term wins. If you go big right off the bat, it either might take a long time to see any wins at all and it is possible you just might not get off the ground to begin with.