AskGamblers launched Subscriptions and Notifications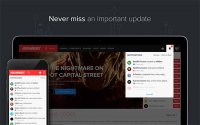 We interview Marko from AskGamblers whom is their CRO specialist and gives us an insight on the new features and notifications launched by AskGamblers.com
1. AskGamblers has just announced their new notifications system for casino players. How do you expect your players to react to this new system feature?
The main intention with the new notification system at
AskGamblers.com
was to enhance the way players get the latest information on the site. Not only can they now see all the updates instantly within the notification screen, but they also can fully customize what and how they will be notified about, depending on their personal preferences.
Basically, this came as a result of the interaction and communication we have had with our users on all levels. After we ran various analyses and evaluations, we decided to find a solution which would let them funnel theflaw of information in a way they like. Therefore, we expect the players willtake the advantage of the new feature and make the most from it. Since we are aware of how valuable this is for players, we are sure many will find it exciting and useful. Also worth noting is that this change will help the casino managers and representatives as well, since we created a special notification and communication system according to their purposes and needs.
2. Was this feature a lot of work to rollout into production?
The sole implementation, including the testing, took several months. However, the final concept corresponds to many years of dedicated practice and feedback we gathered along the way.
3. Normally when AskGamblers does something new, other affiliates like to follow. Are you expecting other affiliates to add these features given that AskGamblers has a history of having their designs copied?
It's true that many have tried to copy our ideas. It's something we encounter all the time, but we can't evade that, nor we put much effort to fight against it. Our goal has been to focus on what we can do best for the players and industry, and never stop being creative and practical, no matter what others do. Pushing ourselves to the limits and standing out from the crowd with unique ideas has always turned out as a benefit for everyone.The players and the entire community love and respect what we have done so far, so perhaps other affiliates would be more successful if they were led by a similar working policy.
4. The casino affiliate landscape appears to be changing at a fast rate with some affiliates not able to adapt to change or are getting swallowed up by larger affiliates. Do you feel that affiliates should be focusing on unique services for their players and focus on adding value rather than the standard content generation with seo?
Yes, exactly. Even though sometimes generated processes might seem to be useful, they definitely don't last long, especially not in this industry. Therefore, original features and services, curated content, and personalized interaction is a must. Take AskGamblers as an example. There have been a number of changes since we started. These included constant fine-tuning of the design, structure, content, marketing, and all other fields of our company's identity. Affiliates and others in this niche should also take the following into account: creating evergreen solutions, launching out features that users find helpful (rather than attractive), tracking and interpreting/analyzing the signals from their visitors, developing strong communities and relationship with players, and building trust with users and the industry.

5. What other features are you planning to launch or is this strictly top secret?
There are various new features and ideas we plan to rollout, but hey, why not use our newly implemented notification system to find out first.
Click here to learn more about the new notifications system at AskGamblers