Interview with Jelena Isakov 2 time Gaffg Award Winner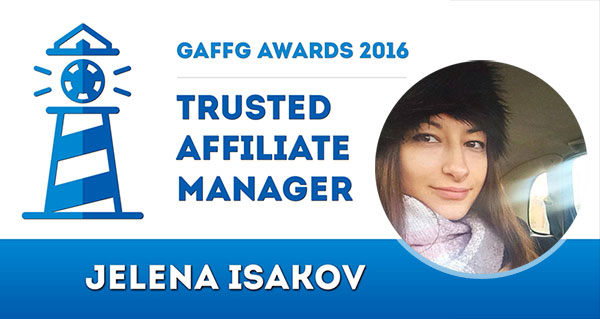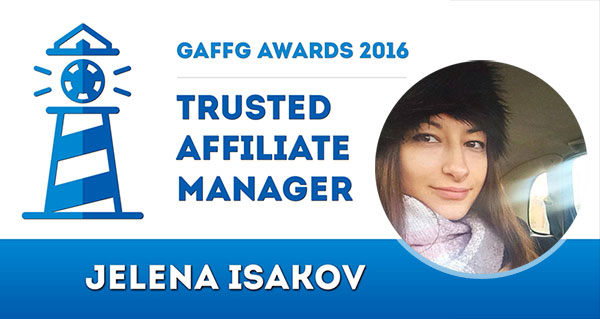 1) How do you feel about winning your 2nd Gaffg Award in a row for Trusted Affiliate Manager?
I am really happy, honored and really motivated!
Being an Affiliate Manager is not always easy and smooth, as it might seem to other people, but it's surely challenging.
So, occasional compliments, commendations and especially notable awards like this one, coming from the people I work with, are always welcome and embraced as an important achievement and proof of being on a good way!
Happiness is even bigger when you repeat the same success 2 years in a row!
2) Fruity Affiliates has also won an award for Trusted Affiliate Program, what do you think affiliates like about the affiliate program?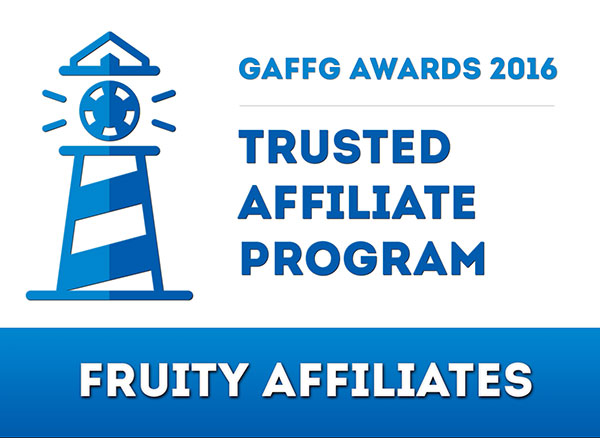 Yes, this makes my excitement doubled and me proud of my award looking inseparable with the one granted to Fruity Affiliates this time. Great feeling is experiencing yourself and a brand you represent growing and improving together!
I think that our affiliates like always being paid on time, they prefer affiliate programs without negative carryover and activity quota, they like having a person whom can contact anytime for all the questions or assistance and who responds promptly and exactly, user-friendly marketing tools and system with fresh stats, then as low fees on NGR as possible (ours is among lowest in the industry), fair and transparent business, dedicated and friendly approach and of course brands that convert.
3) Fruity Casa is definitely a unique name for a casino, do you think the branding helps differentiate the casino from the hundreds that exist?

Surely does! I'm glad that online casinos started paying much more attention to their look, name, reputation and the whole idea and concept.
Name Fruity Casa is appealing, original and noticeable and literally means house of fruits (casa = house in Italian and Spanish language) and fruits have always been one of the trademarks of slot machines and casinos.
Sometimes, people mix the name Fruity Casa with NetEnt's game Fruit Case, but I don't see that as a bad thing. Might be even a plus!
4) You now are the affiliate manager for PlayGrand Affiliates, TwentyOne Affiliates and Netgaming Solutions (Amsterdams Casino) too. Are these programs managed by one company and what do affiliates need to know about the group and their accounts?
In October 2016th, Fruity Casa casino and it's affiliate program merged with 3 other existing and affirmed brands: 21 Casino, Amsterdams Casino and Playgrand under the same company named Branders Limited.
For now, each of the brands has it's own affiliate program (but all using the same software Egass), and also unique welcome offers.
They share the same affiliate team which is part of the Branders company, meaning that each affiliate has one person, Affiliate Manager for all 4 brands. Also, their commission is paid on the same day for all brands and they don't bundle.
5) How did you first get into the online gaming industry?
It was over 5 years ago, while I was still a student of the Law university. Started working for, at that time already big affiliate, AskGamblers, first with bonuses and forum, later in accounting, sales and interviews as well (but forum remained my favorite part).
Gaming industry was love at first sight! I finished my college meanwhile, but lost my passion and interest for law, because I found myself here.
6) Your role at AskGamblers should give you a lot of experience as an affiliate, has this experience help you do your job better as an affiliate manager?
Yes it's true, almost 4 years with AskGamblers is a lot of experience and connections. It did help me with understanding the industry in general, then learning about what affiliates (and players too) might expect from operators and affiliate managers.
It's very flattering when affiliate asks me, as someone with previous experience in that sector, for opinion or even tip.
My Askgamblers role also helped me to build up my name and reputation, so some affiliates have already heard about me before I switched to the casino side.
As an affiliate, I mostly worked with affiliate managers, so I learned some things from them and many of them gave me good and friendly advice when I was staring in their role.
There's still and always a lot to be learned, since trends are changing and affiliates are different from each other.
7) What does the casino and affiliate program have planned for 2017?
Fruity Casa and Fruity Affiliates are planned to go through some improvements and upgrades during Q1 of year 2017th, first of all.
It includes a re-design, new creatives and custom unique welcome offers.
There's a lot of interesting campaigns and promotions coming up, lots of new games of course, softwares and probably some additional payment methods.
Also, we're preparing for the London Affiliate Conference in February, where we'll be exhibiting with a big booth under the name Branders, gathering all 4 brands. Come visit us! :)
8) What are your tips for new affiliates wanting to be successful in this industry?
This is not easy to be answered at all!
Secrets of success and SEO nowadays are mysterious in many ways, in crowded and competitive affiliate and igaming world.
Anyway, I'd advice newbies to try being different and innovative, maybe even to work in the smaller niche and target more specific audience and traffic. They can try putting themselves in players' position - what would they want to see, to be offered with and what kind of service they'd like to experience.
They should do a research about everything before they take a starting step, including keywords, servers, brands they plan to promote, competition, and read a lot about it on websites and forums like GAFFG, GPWA, Affiliate Guard Dog, APCW, Casino Affiliate Programs etc (there are some really good tips and topics from many great affiliates).
Website visitors expect fast loading website and pages, easy navigation, exact answers they've been searching for, fresh offers, fresh daily content - so those are the things to work on as well.
New affiliates shall target the keywords which are still in demand, but not saturated.
I personally respect and prefer affiliates who write their own content themselves, from personal experience and point of view. All in all, try being unique and original, work hard but don't expect overnight success and stick to your idea if you truly believe in it!
9) For all those affiliates that have yet to join the affiliate programs, what are they missing?
They're missing everything I said for questions 2. and 4. :)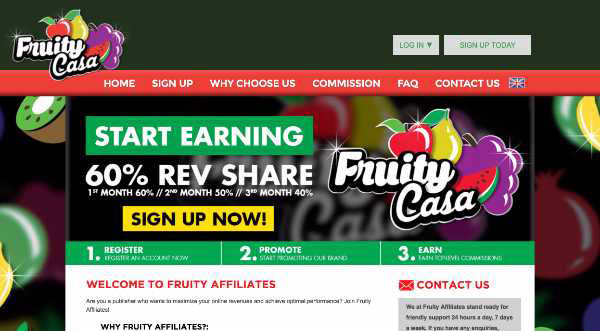 Visit the Fruity Affiliates review or join Fruity Affiliates now!