Betting Exchanges Explained: A Basic Guide for Affiliates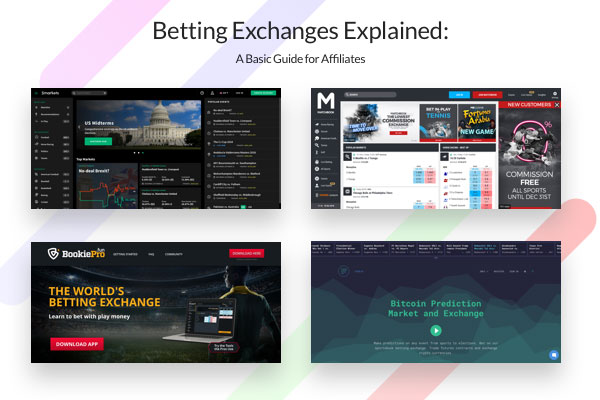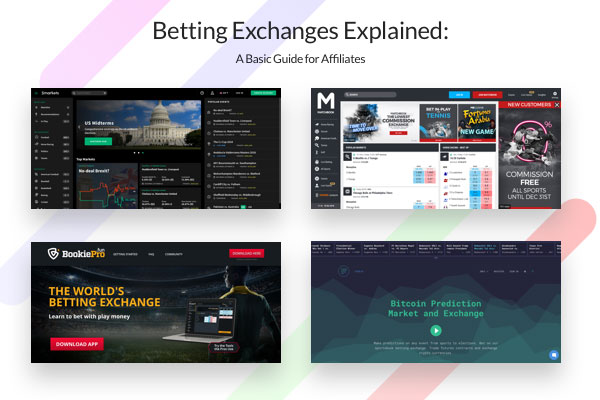 The world of gambling has witnessed huge changes in the last two decades. Most of these changes were introduced thanks to the Internet. For instance, people have started placing bets online. What's even more interesting is that the Internet has allowed people to come up with a new form of betting that was not available before – a betting exchange.
What is a betting exchange?
There are many people who think that betting exchanges are the same as bookmakers, but they are wrong. Betting exchange works in a unique way. Think of it as a match making services that have one goal – to match bets from so-called backers and layers. The first betting exchange was introduced almost 20 years ago. Today, experts agree that this unique concept is great for bettors because there's no direct competition between an individual and the betting exchange trying to handle these specific bets. In other words, conventional bookmakers want players to lose their bets. On the other hand, betting exchanges want punters to place as many bets as they can and don't mind whether the punter won or lost because they are taking commissions on bets.
If you are placing a bet via betting exchange, you will be betting against another punter or a market maker. That's why the odds when you place a wager on an exchange of this type will be much better compared to a conventional bookmaker. It's a good idea to compare these betting exchanges to stock exchanges. Instead of buying and selling stocks, you are buying or selling the outcome of an event, typically a sporting event.
How are betting exchanges different from sportsbooks?
We have already mentioned a few things that make betting exchanges different compared to sportsbooks, but we will now focus on the most important differences. The majority of betting exchanges are making a profit by charging a pre-determined commission. This commission is based on the percentage of net winnings for clients on specific events or markets. So, punters with restricted accounts on popular betting sites (because they've won too much money) can place bets of any size on betting exchanges. The only thing that they need is at least one other bettor who wants to oppose their prediction.
In addition to these differences, it's good to mention that you can expect different odds for the same events. The same goes for the bonus offers and promotions. Multiple bets (accumulators) are an option offered by almost every sportsbook, but it's really difficult to find an option like this on a betting exchange.
The benefits of using a betting exchange
The introduction of betting exchanges and this new, original concept has revolutionized betting. As a matter of fact, ever since 2000 when the first betting exchange was introduced, many punters have left the classic bookmakers. According to some experts, the number of users of these websites would be higher if people take some time to learn more about the basic rules of this type of betting. One of the best ways to attract new betting exchange users is to highlight the benefits of using betting exchanges.
Much better odds
Prior to the emergence of betting exchanges, bettors were practically forced to use the odds offered by the bookmakers. The worst part was that bettors had to wait for a long time before the odds are shown on the website. These odds are usually based on the profit margins determined by the sportsbooks. After making their calculations they are offering certain odds that you should accept as a player. Thanks to betting exchanges, things are different now and you ask better odds if you are not satisfied with the suggested. The latest studies have confirmed that the odds offered on betting exchanges are usually between 15 and 25% better compared to the odds found in the best bookmakers.
Bet on a negative outcome
If you are using a traditional bookmaker then you are probably aware that you are betting on a certain outcome that will happen. On the other hand, the bookmaker is betting that the outcome won't happen. There's nothing wrong with this type of betting, but what if you want to place a bet on a player or team that won't win the tournament or competition? For instance, if you want to bet that England won't win the next FIFA World Cup, you will have to place bets on the rest of the teams if you are using a conventional bookmaker. On the other hand, betting exchanges allow users to bet on something that won't happen.
Live betting
This is something that you can get from conventional bookmakers too, but it's good to know that betting exchanges are now offering live betting options.
No limitations
We have already mentioned that betting exchanges don't come with any limitations. You can bet on as much or as little money as you want to on any event. It all depends on finding a backer somewhere on the Internet who is ready to oppose your bet.
Betting exchanges: Affiliate Programs
In case you are a sports fan or you are running a website dedicated to sports, you should consider using a betting exchange affiliate program. Similar to online bookmakers, online betting exchanges are offering an affiliate program and pre-determined affiliate commissions. So, these sportsbook affiliate programs pay promoters in two ways – cost per acquisition or a special revenue share percentage for every new client you get to them. So, the first option includes a fixed sum of money for every new player while the second option will get you commission for the lifetime based on the bets placed on the player you've introduced.
Now that you know what betting exchanges are and how their affiliate programs work, it's time to share a few good betting exchanges with decent affiliate programs.
Betdaq
Betdaq is one of the first betting exchanges in the world. This is a Gibraltar-based company which was acquired by Ladbrokes in 2013. Betdaq was launched back in 2000. Today, this platform relies on ultramodern software that is completely protected by copyright in the EU.Betdaq provides access to a wide range of markets including many popular and less-known sports. As one of the leaders in this field, it's quite natural that they also have one of the best affiliate programs. This is a professional marketing partnership program used by organizations and individuals. This program is open for all individuals and organizations that have websites, blogs, Facebook or Twitter accounts focused on sports and/or betting. By joining their program, you will be able to add banners, logos, links and content to promote Betdaq. Users will earn revenue for every new player who deposits and plays at their site thanks to their promotion.
Betfair
Betfair is the largest betting exchange in the world. It was founded in 2000 just like Betdaq. This company is based in the UK and it's currently owned and operated by Paddy Power Betfair company. Betfair provides access to a wide range of sports events.
Every owner of a website which has visitors that are interested in betting on sports can join the specially designed Betfair affiliate program. All you need to do is to submit an application and wait for their response. It usually takes no more than 48 hours to get an answer and they are quite liberal when it comes to accepting new affiliates. With the help of this affiliate program, affiliates can earn 30% revenue share, avoid negative carryover and get more. The sports exchange reward plans depend on the date when the referred player has joined the site. You will get the highest revenue share in the first year (30%), In the next year, you'll get 20%, and 15% after every year in the next three years. To put it simply, the revenue share rewards will end after five years. Of course, they are providing modern marketing materials that can help affiliates market Betfair easily. .
Bookiepro.fun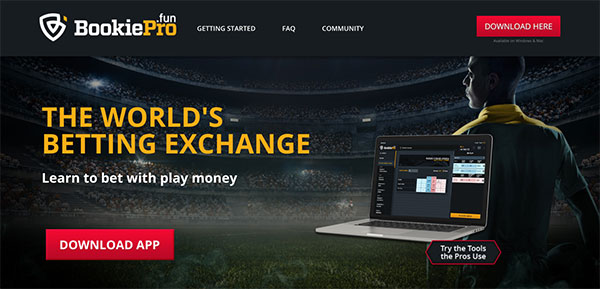 Bookiepro.fun is a new decentralized sports betting exchange with thousands of users. It was launched in 2018 and relies on BitFun tokens as a payment method. Their primary focus is football matches, but their offer is growing fast. Even though they have still not launched their affiliate program, they have confirmed that they are planning on creating a unique program. Namely, their affiliate program will use blockchain technology.
They said that they will be focused on fair affiliate commissions as well as complete transparency, customized tracing and automated guaranteed payments. What's great is that the payments will be issued in cryptocurrencies.
Matchbook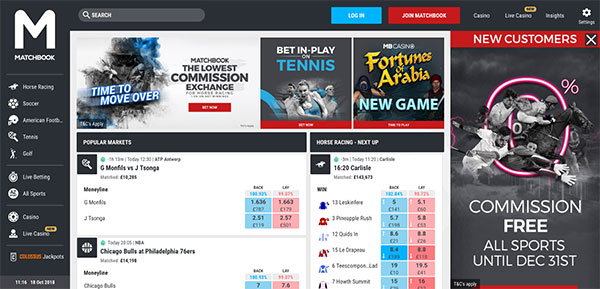 Matchbook is another example of successful, reliable sports betting exchange platform. One of the things that users like about this website is the fact that it always implements the latest trends in its system making betting more convenient. They are covering a wide range of sports and include live betting events too.
When it comes to the affiliate program, they are offering 30% revenue share in the first six months on 0+ new depositing bettors. After six months, you will get a 25% revenue share or 10% revenue share depending on the number of new players that have become members thanks to you. At this moment, they have a special commission free on all sports. This is a specially designed program for new users. Similar to other betting exchange sites out there, this affiliate program created by Matchbook includes very creative banners, XML and API feeds as well as landing pages that should be able to help you attract new users (referrals).
Smarkets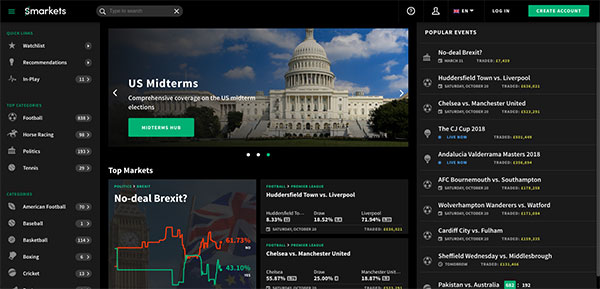 After starting as a small group of knowledgeable investors, this website has become one of the leaders in the world of betting exchanges. Smarkets is based in London, UK. Their website is focused on simplifying peer-to-peer (p2p) trading not only on sporting events but also on political events. They have excellent commission rates which allow users to set their own odds without any limitations. With years of experience in this field, it's quite natural that this betting exchange has so many satisfied users.
As expected, Smarkets has an affiliate program which offers many great things. This program is similar to the rest of the programs when it comes to becoming a member. You have to apply in case you have a social media profile or website focused on sports. After receiving your application, their team will review the application and approve or reject your application. They are offering a 25% revenue share of all commissions earned by the clients you've redirected to the site. Affiliates will keep getting a revenue share on all their referred clients as long as they keep promoting this betting exchange. They have bespoke banner design and no minimum targets which makes the affiliate business easier. Another great thing about Smarkets is that this website doesn't come with any minimum target. You can get paid directly on your account at the start of the month regardless of the size of your earnings. Finally, affiliates will also have access to the live odds fees.
Ladbrokes Exchange
Ladbrokes is one of the largest gambling and betting companies based in the United Kingdom. This company is a very old brand which was launched in 1886. It introduced the betting exchange website in 2013. Just like their online sportsbook version, their betting exchange is offering a wide range of sporting events. When it comes to commissions, they have an equal commission rate like Betdaq and Betdaq. The modern design, good offer, and fair rates are attracting thousands of bettors every day.
Ladbrokes has an affiliate program which pays more than one million dollars per month. You can join their affiliate program at any time by submitting your basic information including the information about your website/blog where you want to promote their services. They have a special revenue share plan that doesn't come with a negative monthly carry over. Ladbrokes also has modern affiliate software which uses the latest campaign management and tracking tools. They are updating their promotional materials on a regular basis and once you become their member you will get access to their experienced support team. It's also worth mentioning that Ladbrokes Affiliate Program guarantees prompt payment cycles and exposure reports. Overall, this is a good option for website owners regardless of the number of visitors they have.
BetBTC
The name of this betting exchange website tells us a lot about the concept behind it. Found in 2015, BetBTC is a cryptocurrency platform which was designed for players who like to keep their anonymity. The commission on this website is 4% which means that it's slightly better compared to the most popular betting exchanges. BetBTC users can place bets on soccer, basketball, baseball, ice hockey, tennis, and many other sports. This website supports live betting too. With hundreds of active users on a daily basis, this is one of the most popular Bitcoin betting exchanges in the world.
The only downside is that BetBTC doesn't have an affiliate program. So, promoting this website will not bring you any financial benefits at the moment.
Fairlay
Fairlay is another excellent example of a cryptocurrency betting exchange platform. So, players can freely place bets without worrying about their privacy. It's really easy to create bets that other people may find attractive. You can start playing even without providing your email address which is another great thing for anonymous players. We should also highlight the fact that Fairlay has very low commission fees. You can take advantage of live betting even though it's still in beta.
Although they have been in this business for four years now, they have still not developed an affiliate program.