BigBang Affiliates Interview with Ron Emmerink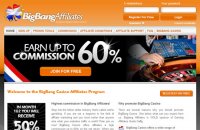 1. What is your role at BigBang Affiliates?
- Recruiting and keeping in contact with our affiliates - Business development (searching for new games, web sites look and feel for our brands, working close together with the graphical and technical department) - Main contact for the 3rd parties we work with like game providers etc - responsible for consumer marketing
2. How did you get involved in working in the online gaming industry?
- In 2007 i was working in the regular affiliate business and came in contact with Reload NV (the mother company of Bigbang Affiliates). Who asked me if i could take them in as a customer. In the time that passed i came more and more invloved in the gaming industry as we saw it as a grow market. Some where around 2009 i started to work for myself as a freelance consultant. With Reload as one of the bigger customers. I also worked with Unibet for the betting solutions when I was head of marketing and sales at Sanoma (one of Europes biggest online publishers)
3. For your role as affiliate manager, what tools or help can you provide to affiliates?
- Next to the standard solutions one can find in our affiliate program we offer custom made solutions as well. Like special made display ads etc. Always deliverd within 12 to 24 hours depending on where the affilite is based. This due to time differences that may occur. Also we can make customized agreements as long as they are in line with the agreements made with Gaffg.
4. Tell us about BigBang Casino including it's history, software used and features that matter to players.
- Bigbang Casino originally started out around 2007 first concentrating on the Benelux market. Around 2011 we ventured out worldwide (exluding the US market for now) and added new game providers. Originally we worked with PlaynGo, the we added Microgaming. For the live gaming experience we added Betgames TV who have special and exclusive betting games like: betting on live lottery, Poker and dice. Also we have Art of Games who make classical casino games as a provider.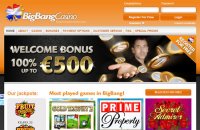 At Bigbang casino we do a lot to keep in contact with our players (and off course affiliates). Its needles to say this is very importat to keep the business going. We send out weekly promotion emails with free spins offers, special contest in corporation with our game providers etc. To keep the players playing or for new players to try out the casino and it's games we reward them with instant real playing money next to the standard welcome bous offerd.
5. What can players and affiliates expect from the program this year and beyond in terms of improvements?
_ At Reload we aim to keep improvements going. Based on feedback from players and afiliates we asses and see if we can improve. We are constantly adding new games (next to the 400+ we have already). Also our promotions program for recruiting new players and affiliates will be expended. We are planning sponsorships (sporting events etc). This will give us good exposure and brand awerness. Because mobile play is a growing market we developed our own HTML5 platform. So players can enjoy games everywhere and at any time. 6. For affiliates that haven't yet joined the affiliate program, why should they join and what can they expect? Why should one join our program? Well i can say that next to on time payouts we are approachable 24/7 for questions or special wishes. At bigbang affiliates we don't apply a negative carry over. Every month after the pay outs start at zero. So an affiliate doesn't have to supplement his or her's account. So every monthe we start out fresh. Special wishes for materials, reviews or other things that may be of importance can be met in almost all cases. Support for our affiliates is a 24/7 service. We have a live chat option (that's open on certain times) and of cours skype, email or telephone can be used to contact us. As a special welcome we offer new affilates a high commission 50% for the first two months. I fan affilate does well we lenghten this period in certain cases. After that we go over to 35% commission that can go up to 60% rev share. When an affiliate can prove he has good quality traffic CPA deals or fixed deals are possible. And last but not least in case an afiliate has an briljant idea to earn together we are always open to suggestions
About BigBang Affiliates
Simply put,
BigBang Affiliates
is the affiliate program for BigBang Casino, licensed in Malta & in Curacao using Microgaming software as the main casino product.