Why did you decide to become a bingo affiliate and do you play bingo yourself?
I have played bingo online before quite a few times, but I do not consider myself a huge bingo player who plays constantly.
The reason I became a bingo affiliate was due to the fact that my Mum plays the game, so I knew how the game was played (which got me playing it), and due to me being an SEO, other SEOs talked about how they had affiliate sites and were making money.
I then thought to myself why not start one myself.
Why do you think bingo is so popular in the United Kingdom?
Without doing official research I cannot say the definite answer.
I know with the smoking ban and the convenience of the internet, bingo has grown a lot and is constantly getting bigger.
In the UK bingo halls are dotted around everywhere, I am unsure if this is the same in the USA.
There are no casinos as far as I am aware of in the UK too, so bingo is the only real form of gambling, it is a very social sport too.
How long have you been working on your site and how long did it take to earn your first commission payment?
Well, I bought the domain Love to Play Bingo around a year or so ago and I just threw up a really poor template that was pink and I did nothing to it, apart from the odd affiliate link and article.
About 6 months after that I started on the domain properly.
My first commission was for around £5 three months after, which was too little to withdraw it.
I then made around £20 the month after and was able to draw the £25 or so out.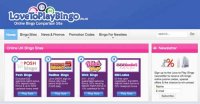 What have been some of the helpful resources you have found outside of the gaming community for becoming a webmaster?
SEO forums are always helpful, although people can give out bad information on these sites without knowing themselves, so you have to be careful when following people's advice.
It is not as such a resource, but I own a bass website and that was my first domain.
Testing on that with learning trial and error with HTML and CSS, writing, SEO, and how to set a domain name up with hosting really helped.
Someone who knows nothing about a site will have a hard time buying a domain, never mind becoming an affiliate.
Name a few webmaster tools you can't live without.
Google Analytics and Webmaster Tools are great tools and any webmaster should sign up to these as soon as you start a website up.
Do you think mobile bingo will become an important market to focus on?
I have never really thought about this, but yeah, I reckon it will definitely become bigger.
Making an affiliate site mobile friendly would probably be the wrong way about it, as the sites that you promote will not work on older phone models and new phone may not.
Making a dedicated WAP domain with WAP enabled affiliate programs (if they exist) would be the best method.
If the big bingo brands made phone friendly games then that would help us affiliates more.
Visit
lovetoplaybingo.co.uk
or on their
lovetoplaybingo affiliate profile
.