BrightShare is a casino affiliate program with mobile casinos and their marketing team took the time to answer questions about the mobile gambling business, popular slots and their tools for affiliates.
Back in 2005 it seems everyone in the online gambling industry thought mobile casinos and mobile gambling would be huge. Now in 2011 it seems to be picking up but the hype is gone. Why do you think mobile gambling has been slow to take off?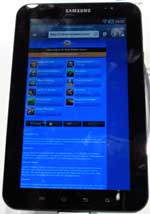 Up until 2 year ago most of the public used regular java based mobile, the java based phones have limited features and were not user friendly as smartphones.
The older mobile phones are like dialup was for PC marketing several years back – too slow, too complicated to work, screens too small, mobile search costs were too high.
In the past 2 years the smartphones market has evolved and grown ten folds, stats show that every day there are 300K new users around the world.
Smartphone adapters, specifically iPhone and Android are easier to find and much cheaper than they used to be.
The main movement here is the merger of web and mobile through WebApps and this is what we offer. The fact that the Smartphones are Web based and accessible makes the Smartphone a great alternative to pc or Laptop.
How big do you think the mobile casino business will be in the near future?
Smartphone search is currently around 3% of total web search and will double this year.
Within next few years smartphone search is expected to be as big as, or if not larger than PC search.
We believe that this is the best time to go in to this market and adapt your website to be readable via smartphones.
On the All Slots mobile casino what are the more popular games played?
Thunderstruck II – the only video slot game with sound on mobile, BlackJack and then Roulette.
From the mobile casinos what percentage of the players are using iPhone?
iPhone and Android smartphone users are by far our fastest growing segment of the mobile market.
The percentage of players using the WebApp platform is ~60% and is showing a steady growth trend.
What are some of the mobile tools that BrightShare has for affiliates and in what ways can affiliates make better use of their mobile traffic?
Smartphone site – We provide affiliates with a PHP code, for integration on their websites, which automatically detects smartphone visitors and redirect them to a bespoke HTML page.
We provide two templates optimized for Smart phones – best mobile casinos and top mobile games.
Both pages are fully customization and include the options for inserting affiliate header, footer, additional brands, and of course changing the content to the affiliates needs.
The new Smartphone sites are now available in Marketing tools > Mobile resources > Smartphone Sites.
We also provide a wealth of mobile marketing resources, including: Iframes for web, mobile and web banners and links, short codes and keywords for SMS marketing, game static and dynamic graphics.
Become a BrightShare Affiliate
BrightShare Review - Promote their online casinos, mobile casino, bingo room and online sportsbook in multiple languages and currencies.