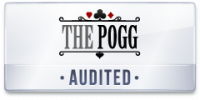 ThePOGG.com
has been around for a few years and is better know for handling
casino complaints
as well as their fairness testing reports. This week they have announced the launch of a new service aimed at casino operators which is their
Auditing Service
. The purpose of the auditing service is to thoroughly review every aspect of an online casino to ensure that the information to their users is correct, up to date and makes sense. Some key points that the auditing service covers are:
terms and conditions analysis
bonus terms and conditions review
compliance and content consistency
Their first audit was from the
Trada Casino audit
and it features page and pages of content and highlights a few issues with the terms and conditions of the site including the user experience feedback. The audits themselves don't hold back on highlighting any errors on the site and that is the best part as the audits highlight the issues before hand and give a further understanding of the changes made by the casino.

This means that Trada Casino now holds The POGG Deposit Guarantee seal where they refund deposits of players if they encounter problems with the casino in the event of a dispute. Trada Casino can now boast they have endured the casino audit from The POGG and the audit has resulted in positive changes to improve the user experience for players as well as fix important errors to keep the casino accountable. To learn more about the casino auditing service visit
http://thepogg.com/auditing-service/
You can also read our review of
Trada Casino Affiliate program
.