WordPress is the most popular CMS in the world and it is no surprise that it is also the most popular CMS for gambling affiliates. There are a few options that affiliates have when it comes to choosing a theme to use.
By the way, we use the word theme when talking about the template used for WordPress.
You can find a lot of free themes at https://wordpress.org/themes/ and believe it or not, all of these themes are really free! There are a few exceptions, many themes are free but some contain upgrades which you have to pay for. We are talking like $50 to $100 more for enhanced features which is not bad for building a site on a budget.
How can you tell a casino website is using WordPress?
We have a look at the page of free spin offers on Casino Bee at casinobee.com and the website looks fully custom from start to finish. And it is too but it happens to be a custom WordPress theme.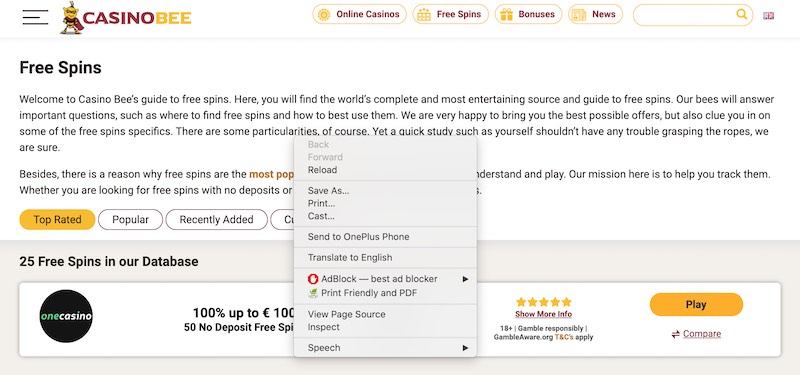 First thing you do is right click on the content of the page and look for "view source code". After clicking on that, you'll end up on a page of code that looks like this:
If you don't have any programming experience, this might be intimidating but we are only here to see if we can find the phrases for "WordPress" used and you hit Ctrl + F and you'll be a search box. Use this to look for keywords, type in "wordpress" and if you see multiple results then you know you are on a WordPress website.
What casino theme are they using?
Just go back to the source code, hit Ctrl + F and search for "theme" and you'll see the name of the theme used. Here you can see they used their own custom WordPress template.

What other casino affiliate themes are out there?
There are not many but there are a few on the market where the most common theme anybody knows is Flytonic.
FlyTonic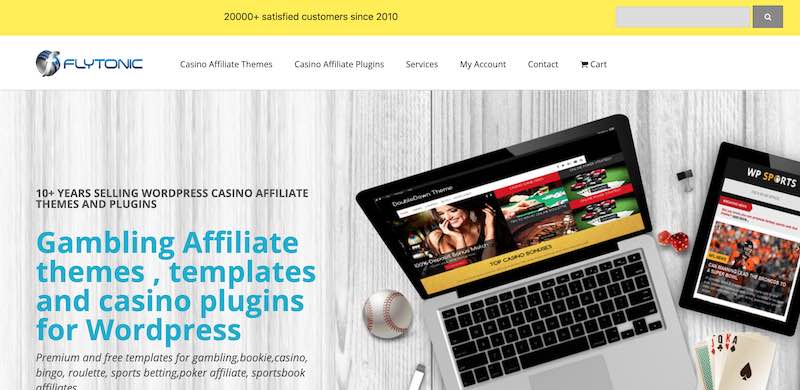 FlyTonic have been around for a decade and they have listed over 20,000 happy customers. These themes will set you back around €249 if you buy their 20+ themes which includes casino, slots and sportsbetting.
PokaTheme
A relatively new player on the scene, PokaTheme lists 2000 customers and their themes will set you back around $58. It is a big cheaper than FlyTonic but you end up with similar looking websites. Overall they do the job and work. Ideally you would want your own customized website but this is the next best thing.
Other WordPress alternatives?
The sky's the limit when it comes to alternatives. Overall WordPress is recommended for a lot of reasons.
WordPress is very easy to learn
Being the #1 CMS, it has the most free tutorials and communities
So many programmers focus on WordPress development for customizations
There are not many alternatives to casino themes like FlyTonic and PokaTheme and you really have to build your own custom version like casinobee.com. How much does that cost to make? You can find designers and programmers that will do a custom template starting at $500 but they certainly can become more expensive. For everyone else, themes are an easy thing to purchase. If you are on a budget, there are thousands of free themes you can install so just have to pick something based on a design.