Casino Themes for WordPress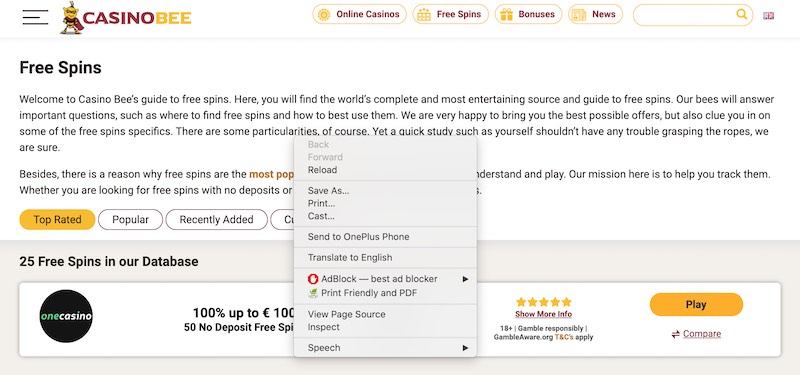 WordPress is the most popular CMS in the world and it is no surprise that it is also the most popular CMS for gambling affiliates. There are a few options that affiliates have when it comes to choosing a theme to use.
By the way, we use the word theme when talking about the template used for WordPress.
You can find a lot of free themes at https://wordpress.org/themes/ and believe it or not, all of these themes are really free! There are a few exceptions, many themes are free but some contain upgrades which you have to pay for. We are talking like $50 to $100 more for enhanced features which is not bad for building a site on a budget.
How can you tell a casino website is using WordPress?
We have a look at the page of free spin offers on Casino Bee at casinobee.com and the website looks fully custom from start to finish. And it is too but it happens to be a custom WordPress theme.
First thing you do is right click on the content of the page and look for "view source code". After clicking on that, you'll end up on a page of code that looks like this:
If you don't have any programming experience, this might be intimidating but we are only here to see if we can find the phrases for "WordPress" used and you hit Ctrl + F and you'll be a search box. Use this to look for keywords, type in "wordpress" and if you see multiple results then you know you are on a WordPress website.
What casino theme are they using?
Just go back to the source code, hit Ctrl + F and search for "theme" and you'll see the name of the theme used. Here you can see they used their own custom WordPress template.

What other casino affiliate themes are out there?
There are not many but there are a few on the market where the most common theme anybody knows is Flytonic.
FlyTonic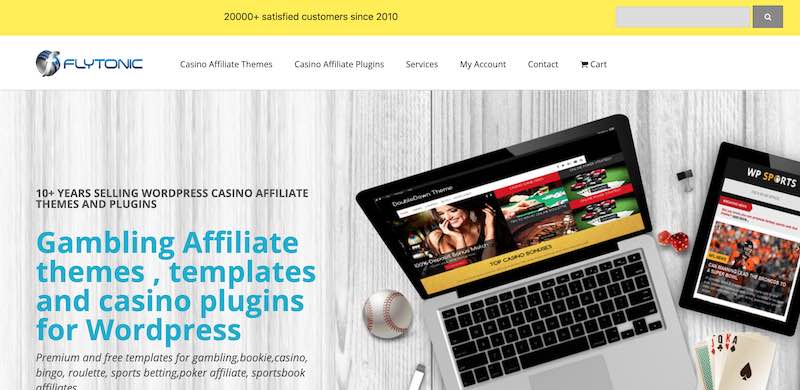 FlyTonic have been around for a decade and they have listed over 20,000 happy customers. These themes will set you back around €249 if you buy their 20+ themes which includes casino, slots and sportsbetting.
PokaTheme
A relatively new player on the scene, PokaTheme lists 2000 customers and their themes will set you back around $58. It is a big cheaper than FlyTonic but you end up with similar looking websites. Overall they do the job and work. Ideally you would want your own customized website but this is the next best thing.
Other WordPress alternatives?
The sky's the limit when it comes to alternatives. Overall WordPress is recommended for a lot of reasons.
WordPress is very easy to learn
Being the #1 CMS, it has the most free tutorials and communities
So many programmers focus on WordPress development for customizations
There are not many alternatives to casino themes like FlyTonic and PokaTheme and you really have to build your own custom version like casinobee.com. How much does that cost to make? You can find designers and programmers that will do a custom template starting at $500 but they certainly can become more expensive. For everyone else, themes are an easy thing to purchase. If you are on a budget, there are thousands of free themes you can install so just have to pick something based on a design.
Why is WordPress so popular?
While WordPress began as a blogging platform, it has now developed into a sophisticated website builder and a complex content management system (CMS).
So, if you are wondering why it is so popular and constantly recommended, here are some of those reasons why:
It is completely free
WordPress is a free piece of software. It means that you may download, install, use, and change it to suit your requirements. It may be used to build pretty much any type of website you can think of, including of course, an online casino or an affiliate platform.
While the WordPress software is completely free, you will need a domain name and web hosting to get it up and running.
A domain name is the internet address for your website. This is what your visitors enter into their browser's address bar to go to your website (for example, affiliateprogram.com). All the domains are paid, and they are owned by many companies dedicated to it. You must get in contact with any of them and get the domain of your preference after paying.
WordPress is very easy to customize
A big proportion of WordPress users are neither web designers nor programmers. In reality, most people begin using WordPress with no prior experience of designing websites.
WordPress is the ideal choice for non-tech savvy individuals because there are hundreds of free website designs (themes) to pick from. There is a WordPress theme suitable for almost any type of website (whether it is a blog, a company website, or an online store).
WordPress' themes are simple to edit since many of them have their own options panel that allows you to change colors, add logos, change the background, build stunning sliders, and fully personalize it to your needs without writing a single line of code.
Plugins may also be used to add unique functionality to your WordPress site. WordPress's plugins function similarly to applications for your website, allowing you to add sophisticated features such as analytics, contact forms, membership areas, and more.
WordPress is SEO friendly
WordPress is written using standard compliance high-quality code and produces semantic markup. In other words, this means that Google and other search engines adore WordPress.
This is why WordPress blogs tend to rank higher in search engines than others. WordPress is built to be SEO friendly right out of the box. WordPress SEO plugins may also be used to further optimize your website.
WordPress can be managed easily
WordPress includes an update management mechanism. This enables you to update your plugins and themes directly from the WordPress admin panel. WordPress also alerts you when a new version of WordPress is ready, allowing you to upgrade your site with the click of a button.
You may easily use a WordPress backup plugin to automatically make backups and store them safely on a remote site to protect your data from any accident or hacking.
WordPress is safe and totally secure
WordPress is designed with security in mind at all times, and it is often regarded as a very safe and secure platform for running a website. However, it is recommended to keep an eye out for intruders since there will always be some people that will want to steal some ideas and even complete websites from anyone that is not aware.
WordPress can read many media types
WordPress is not only about writing text. It has a media uploader that can handle pictures, audios and video files.
WordPress supports oEmbed-enabled websites, so you can embed YouTube videos, Instagram pictures, Tweets and Soundcloud music by simply copying the URL into the WordPress post editor.