CEEGC 2016 Preview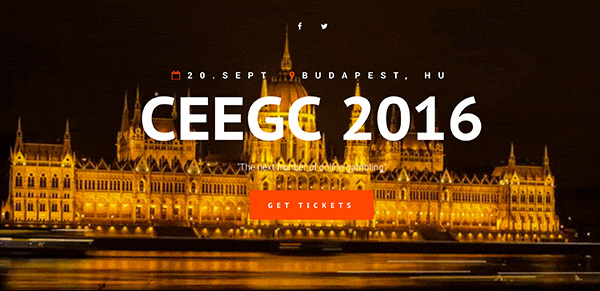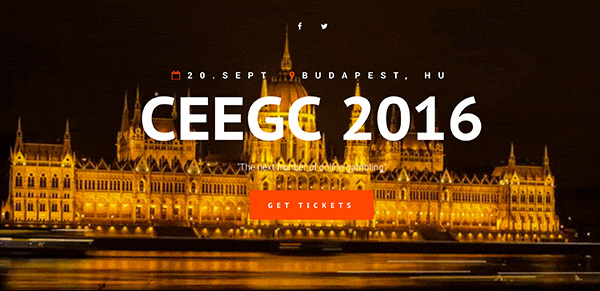 Our interview and preview is courtesy of Zoltan "Hawkie" Tundik, Founder and Head of Business at EEGMedia.
Website: https://ceegc.eu/
September 20th, 2016
JW: Tell us about the CEEGC 2016 (Central and Eastern European Gaming Conference and Awards)
Hawkie: CEEGC 2016 is the result of the +200 queries we have received during last year to supply extra information and in-depth reports on the Central, Eastern and Northern European igaming markets. Given the fact that we have noticed that the presence of such an event is needed and I must say, we need to get the information out there. This is why we have invited other conference organizers to join the conference and speak about their events in the area, among the 20 speakers that are going to stress on gambling law topics.
The mission of conference is to satisfy all informational needs about emerging markets, new legislation amendments and regional analysis reports for C-level delegates, operators, software supplier, investor and all companies or individuals that are based in the region or would like to expand to these markets. Especially, since there have been some additional gambling law amendments added in Bulgaria, Hungary, Romania, Czech Republic, Slovakia, Poland and surrounding countries. This is why the one day conference will explore the key facts and give the better perspective for operators and companies that offer services for the igaming industry.
We have picked the 20th of September, since it's right at the beginning of the autumn session of igaming related events and we hope that this will encourage delegates to book a ticket, which are limited to 150, and join us to receive the most recent reports on the Balkans, Central/Eastern/Northern Europe and of course discuss Hot topic of the online gambling industry in Europe such as Bitcoin in gambling, DFS, eSports, Binary Options, Mobile gaming and VR. We have also added a couple of networking sessions and a specially designed "Seal the Deal" Area for delegates to discuss potential collaborations.
The conference will also feature a Gaming Awards Dinner, called CEEGAwards, which will honor the top 4 companies that are involved in the igaming industry and are the best in their niche.
JW: For those that haven't been to Budapest yet, what can first timers expect while visiting the city?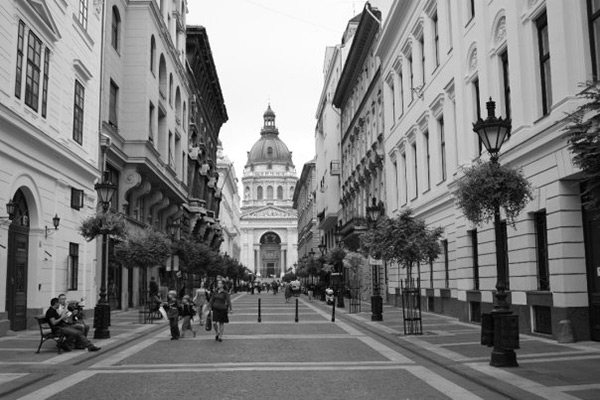 Hawkie: As a Hungarian I must say that this city is magical and it will bring out the tourist in you, every time you visit it.
There are so many things to visit, starting from the Chain Bridge, Buda Castle, St. Stephen's Basilica, Heroes Square, Margaret Island, the famous Andrassy street and we must mention the thermal baths which are world renowned for their therapeutic effects located in elegantly themed in- & outdoor spas and pools.
Given the fact that you will probably get hungry while visiting, among the +100 Hungaricums, you can try the famous Hungarian Goulash, the Langos (fried dough), stuffed cabbages, top that with a famous desert, the Retes(strudel-like log of pastry, stuffed to the max with fillings such as apple, cherry, or poppyseed and topped with powdered sugar) and of course wash it down with the finest Aszu wine from Tokaji. There you have it, I just drew you a small plan for an awesome day in Budapest ☺
JW: Can you give us an overview of main countries in Central & Eastern Europe and what's happening in regards of gaming laws?
Hawkie: For many of this region's residents, hearing the word 'gambling' makes them think about certain parts of the world. Most people will immediately think of glitzy Las Vegas, while others might visualize the elegantly classic casinos of Monte Carlo and France, the sumptuous wealth of Macau, or even the mega-resorts of the Caribbean. And while all those places have certainly earned the right to be considered the capitals of gaming, one particular region is often overlooked – Eastern Europe.
In the recent years, Eastern Europe, Russia, and the Balkan Peninsula have become one of the fastest growing parts of the world for both brick-and-mortar casinos as well as online casino gaming. For many years, gambling in this part of the world stagnated under repressive communist regimes. But with the arrival of freedom and capitalism, gambling has also arrived in Eastern Europe, and in a big way. When talking about Central and Eastern European gaming market, we must mention that these are the top emerging markets and each of them refine the meaning of gaming laws.
These countries have taken small, but cautious steps to regulating their markets for online gambling and while some are struggling to attract large operators, other are ripping the reward from the newly licensed ones.
The frameworks of the gaming laws in the CEE region have been taken from the evolved gaming markets such as UK, Malta or Gibraltar and have been "adapted" with some security aspects, or certain criteria such as blacklisting, 2nd Class licensing for affiliates, etc.
These Gambling Acts aren't perfect, however do lead way for a common goal in Europe, the goal of perfecting a law which maybe one day will be adopted by all European countries.
One of the most successful markets in Eastern Europe that has managed to attract many of the large operators is Romania, followed by Bulgaria. However the Czech Republic is going to start granting licenses for online operators and this will surely catch on to their Hungarian neighbors as well. But, hey! Join us in Budapest and you will get ever fresher reports and in-depth details.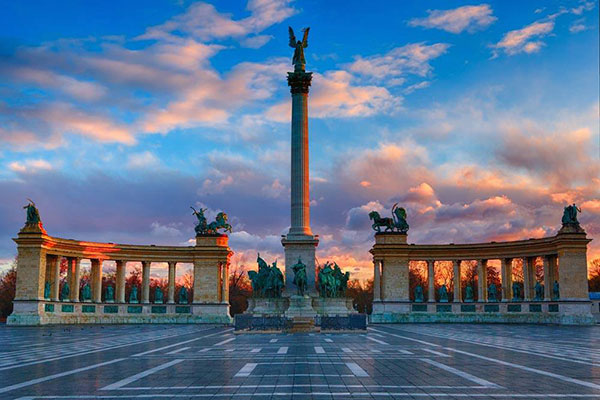 JW: You started off as an affiliate and are now moving into the events space along with being a resource for affiliates with eegaming.org. You have obviously felt there is a need an opportunity to focus on these markets, tell us what you have learned in this process and what you want others to know.
Indeed, I have started off as an affiliate back when Full Tilt Poker was Full Tilt Poker, I'm sure you know what I mean. After Black Friday I have switched to being a sports betting and developed my own statistical algorithm which made predictions to the upcoming soccer matches in Europe based on the historical data. Learning a bit of programimng that way and managed to become a top contender of the market. The project was called EuropeanSoccerStatistics.com
Nevertheless, I have always felt that something is missing, aspects of the industry that weren't covered in the manner iGaming Business covered all Western gaming markets. Even asked around if there is any entity or portal covering the Eastern or Central European region with news, legal updates, interviews, etc. The answer shocked me, there wasn't any company which was doing this exclusively or being able to bring clear and precise information from the local sources. It just hit me, I've sold my affiliate website and started writing editorials about the legislative acts I knew about, read and studied the gaming laws which were in force back in 2014 in the region.
Started the EEG(Eastern European Gaming) project in December 2014 and went live on 13.01.2015. Conducted several interviews with local lawyers and regulators and even was the first person to interview the President of the National Office of Gambling in Romania. I have also topped all this writing with designing the eegaming.org portal and implemented all the SEO rules and techniques I knew about from my experience as an affiliate and reading the iGBAffiliate Magazine.
In just 6 months, eegaming.org reached the no.3 position in google search results about the online gambling industry in Eastern and Central Europe and it climbed to the first position 3 weeks after that. It was an amazing feeling, since we kept grinding ever since the first day to be on the top and bring all the information first. We still do now and we shall keep this up until we can and until our service is needed. Even started our printed magazine which is published three times per year, last August, and we are currently at the 3rd issue with interest being shown towards this publication from the top brand in the industry.
Being an active affiliate in several forums, I have started adding sub-affiliate tracking links and started attracting affiliates towards partner affiliate programs a long time ago. This also inspired us to start consulting for some affiliates, to give them an overview on what should they be looking out for when choosing an affiliate program. Certainly had the experience for it, been in the industry since 2008 and knew most of the Affiliate Managers that are to be trusted. Worked with them day in day out and we became friends.
This is the reason why we have launched GamblingAffiliateVoice.com (GAV), a portal which aims to bring most of the online gambling affiliates together to share their stories and experiences via interviews, posts and forum type Q&A sections. GAV also gives the possibility for Affiliate Programs and Affiliate Managers to add their brands as Sponsors and help us grow our community and make the industry a better place. The common goal is making the online gambling affiliate eco system a transparent and safe one for all rookie affiliates to venture into.
Beside these two project we have also implemented a Recruitment service for companies seeking for employees in the demographic and individuals that are looking to change their career or looking to get hired. The platform is called EEGRecruit.com and we have already managed to find several jobs for the individuals that were looking to move to Malta and work there in the industry.
The move to create an event is as I've mentioned, the result of the hundreds of report requests we have received during our 1 and a half year of activity about the markets from the region about who to contact, which are the best software suppliers and are the newest regulation updates, etc.
After consulting some of our b2b partners and we have come to the conclusion that we need to organize this event and bring together all these professionals who need to get a clear and updated analysis of the markets.
Considering that our team has the necessary experience to organize an international event, we have quickly brainstormed and made the plans to put it in action. We have officially announce the conference on the 10th of May and since then some tickets were already sold and media partners are looking to join and cover the conference. Soon we are going to finalize the negotiations with the first sponsor and going to make the announcement.
We are not aiming to grab the market and create a monopoly, such things only harm the industry, thus as I've mentioned we are giving the chance for other events to invite delegates to their own conference. We already have two large event organizers joining the Event Announcement panel. Our intent is to get the information out there, not to battle each other who tells it first. The markets need this in order to get the message through and make the industry much more appealing for governments and individuals seeking to venture into it.
Each of the conferences target a different aspect and separate topics of the industry. We are just one of the other guys, calls us the underdogs of the igaming events industry ☺
JW: Any excuse to go to Budapest is a good one and having a gaming conference there certainly gives us more reasons to go. Who do you think this conference should appeal to the most and why should people consider attending this event? I'm glad you say this, Budapest is really a nice destination, there were several Budapest Affiliate Conferences held there.
CEEGC is dedicated to anyone that is interested in getting the first-hand information about new regulatory updates regarding the Central, Eastern and Northern European markets that can be looked at as new markets to expand to. We are planning to create 6 panels and usher delegates to attend all of them, since it's going to be a packed day. Especially considering the fact that we are going to have at least 20 speakers highlighting 15 country based reports, regulation updates and business opportunities. Plus, we are going to stress on Binary Options is the European Union, Mobile Gambling, eSports in CEE, Daily Fantasy Sports, Bitcoin in the gambling industry and Virtual Reality.
We are inviting C-Level Executives, Operators, Software Developers, Investors, Media and Legal representatives to attend our conference on the 20th of September in Budapest at the Hilton Budapest City Events floor.
You can check the full updated schedule, buy early bird tickets or read our latest news on the official website:
www.ceegc.eu
It's a must attend conference in you want to get the latest of the industry after the summer in an awesome and elegant atmosphere!