Finding Profitable Niche Markets in Gambling: KickstartMonday

Welcome to the 5th edition of our Gaffg KickstartMonday series where where we help to start your week off on the right foot. You can find all of our KickstartMonday series here. In this edition of #KickstartMonday we focus on niche markets which is meant more for newer webmasters getting into the industry and wanting to know where to get started.
Why Niche
If you are a webmaster that is new to affiliate marketing then you'll want to go niche if you are going to pick a topic in online gambling to work on. There are many established gambling affiliates that are constantly creating new websites to focus on a specific topic. Why? Because it just works. Niche just isn't a buzzword so don't even think about it as being a fad. Within a niche market you can have better converting users and have them as more loyal as well. Every aspect of gambling you'll always be able to find a niche. The more generic the topic, the more competitive it will be and the longer it will take you to earn money from that. So why Niche? Assuming your site will rely on search traffic from search engines, it will take less effort to rank for a niche topic than it will be to rank for a competitive keyword. Not only will it take less effort to rank for that keyword, you'll have an easier time converting that user knowing exactly what they searched for to find out. Let's look at some keyword examples to highlight some points and imagine this is what the user would have searched for in Google. Casino: This is too generic, what does this user want? casino the movie? a local casino? an online casino? casino books, wikipedia? Online Casino : Does the user want to play an online casino for free or deposit? Online Casino Bonus: Could be a value hunter but it does imply someone who would play a casino for real money Online Casino Bonus cashback: This person knows what they want, cashback too implies they would be depositing and want something when they lose. Here search volumes will decrease as you drill down further into a niche but it will take less time to rank as you'll have less competition and you'll have an easier time focusing on the conversion process.
Picking a Profitable Niche in Gambling
Finding a profitable niche won't be too easy but if you do some research you'll be able to find some angles within online gambling that you can target. You probably won't get much help from other webmasters because if they find a good niche they could take advantage of, they'll do it for themselves and have no incentive to help you, in other words you are on your own. You can treat your websites like experiments to see which niche works out for you. It helps if you can match any hobby with your niche so if you have any interest within gambling or perhaps forex or binary options then the work will come a lot easier. It will also be your job to assess what a niche is worth, how much traffic it gets and how competitive it is. You don't know what traffic is worth unless you do it yourself because your competition certainly won't share what it's worth. Aside from using Google search for ideas on what might be worth pursuing, you'll want to use some tools to help you learn more about a business and see what it is worth.
Niche Research Tools
You have many tools at your disposal to help you find a niche if you want to take the time and do the research. Otherwise you can be like many other webmasters which is to just do it impulsively and figure it out later if it works out or not. Your tools available are:
Google Keyword Tool via Adwords & Analysis
Just use Google
Namecheap Bulk Domain Search
Google Keyword Tool via Adwords & Analysis
Google used to have their own keyword tool as a separate service but to use it now you have to use it through Adwords because let's be honest, Google wants you to check out how cool Adwords is and pay for traffic. This tool shows you comparable searches and shows you some of the traffic behind certain keywords and more importantly how much people are bidding for that traffic. So first you get to see how many times certain keywords are searched and you can drill it down to country and languages. Next you can find out what these keywords are worth.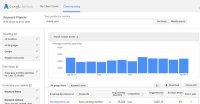 Just Use Google
Seriously part of your research should be seeing which sites rank for what keywords. When you start searching for more niche topics you will find one of 3 scenarios: 1: maximum competition and everyone is doing it, 2: some competition but room to crack the top 10, 3: no competition at all. Rarely will you see no competition at all but there are some niches that are not maxed out yet. Your goal is to get a site up and running and in the shortest period of time get traffic (ideally search traffic) and get your first depositing player. If you go up against the giants in the business then your ability to rank for core keywords will become more difficult.
Namecheap Bulk Domain Search
At Namecheap.com and a few other sites, you can use a bulk domain search to see if some domains are available. You would be surprised at some domains you can still find if you take the time to just enter in a lot of domains you would like to have and see which ones are available. This is an easy way to pick a niche and sometimes the niche can just come to you just by a domain being available.

Short News Weekly Summary
Our Gaffg short news section gives a snapshot of bits of news that might matter to you covering a range of categories from player promotions, affiliate promotions, SEO, conversion and other marketing news and online gambling industry news. Here is a summary of the past week of short news:
EypoBet Affiliates: New Affiliate Program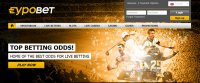 EypoBet Affiliates, the new gambling affiliate program for EypoBet features an online sportsbook and online casino. The sites are in English, Swedish, German, French, Spanish and Turkish languages and licensed in Curacao. Commission Rate: 30% to 50% Affiliate Payment Methods: Neteller, Skrill, bank wire transfer Target Markets & languages: English, Swedish, German, French, Spanish and Turkish License: Curacao Program Features: Casino, live dealer casino, mobile casino, sportsbook, mobile sportsbook
LottoElite: Featured Affiliate Program
LottoElite is a lottery affiliate program and they want you to know that it is never too late to promote lotteries to your players no matter what niche you focus on. Commission Rate: 25% to 50% Revenue Share Affiliate Payment Methods: Bank wire transfer, Neteller, PayPal, Payoneer Target Markets & Languages: Nearly 20 supported languages License: Malta Program Features: Mega Casino, Prime Casino, Prime Slots, Prime Scratchcards
Pumpkin Cheesecake: I'm eating this
Last week it was the Strawberry cheesecake recipe I made for some friends and next week is going to be the pumpkin cheesecake. After making this you'll never want to eat pumpkin pie again.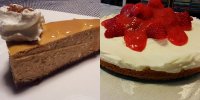 Affiliate Marketing doesn't work in 2014?: This week's LOLorWTF
Welcome to our LOLorWTF segment. You can follow #LOLorWTF on Twitter if you are bored and just want to find more of these. This week is all about some guy that paid money for Facebook advertising first announcing that Affiliate Marketing is dead.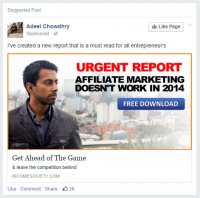 Ok a free download that might get some people to click on it but this ad is targeted I'm assuming for webmasters so ones that already make a living doing it I can't see them believing it, sure enough some of the comments were from webmasters making fun of it. On the flip side, there are many that try to become affiliates wanting the big $ and hope it can be done on little to no work at all so there is definitely a market available for this, like get rich quick schemes. If affiliate marketing didn't work anymore I would say with confidence most of the reasons wouldn't have a job and affiliate programs might as well just stop wasting their time and close shop. But wait they follow up their ads with another campaign: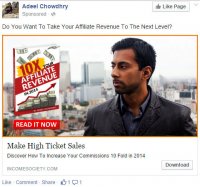 Ok seriously WTF, first affiliate marketing doesn't work and now you want to help me increase my affiliate revenue? Why on earth would you say this when affiliate marketing doesn't work? When you look around to see what their Facebook page is about you get this beauty:

An automated online business, nice one. If it were that easy to automate a business AND profitable then why teach people how to do this and not just do it yourself? There is probably something to buy if you dig a little further. Maybe if you make a YouTube video, post it and collect adsense money that would be an example of an automated online business. My advice is if you want to be successful then you got to work hard. If you don't want to work hard then see what incomesociety.com is all about.
Share or Comment Now!
Join the discussion below and give us your thoughts on this article, if you want to read more KickstartMonday articles then click here. If you think someone else would like to read this article then like or share it. If you have ideas you want to share for future articles just contact us and it would be greatly appreciated. In the meantime may our KickStartMonday help get your week started on the right foot. Have a productive week!