Dropbox is a free file sharing tool that lets you access your files on any computer. See why you should get this cloud storage program and to be more productive on group projects.
Dropbox.com
is a great tool for webmasters and gambling affiliates. It is a basic
file sharing program
that is hosted on another server and you get 2GB free or $19.99 per month for 100GB folder.
You can download the program for Windows, Mac, Linux or put it on your mobile phone using iPhone, iPad, Android or BlackBerry.
You can use the program through the website as well and invite people to share folders where you can drop files.
Dropbox is categorized as a cloud storage service which means the files and folders are stored in the cloud.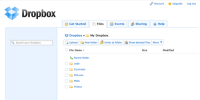 When it comes to collaboration on projects you can share pictures and files in one space without having to email those files back and forth.
When working with graphic designers and coders tools like this certainly speed up the project and make everything run more efficiently.
Of course if you need to access these files from any computer you can just login or install the Dropbox program and get the files you need.
At 2GB this program acts like a virtual USB key and it is free.
You can also make sure files are synchronized and to make sure another person isn't overwriting and saving a different document which can be the case when you play email tag.
You can also set privacy rules on each folder especially if you need to collaborate with more people on projects but restrict access to files and data.
All files are also encrypted when using Dropbox so your data remains protected. You can use Dropbox as an online backup.
Although this is a free basic program it is a valuable tool for any webmaster that has to collaborate on projects, whether it is content writing, contracts, graphic designs, programming and file sharing. It is a recommended tool for anyone working in the online gambling business.