Euro 2012 Affiliate Guide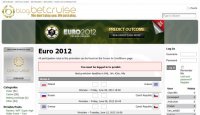 The Euro 2012 tournament is a major sporting event that will generate a lot of betting activity on sportsbooks.
People will be betting in land based betting shops, online and on their mobile phones.
Many sportsbooks will be running contests for players where affiliates can get in on the action and promote them to their players.
Some affiliates have even created dedicated pages covering the event with other affiliates going as far as having domains focused just on Euro 2012.
This article discusses the following:
Euro 2012 promotions from Gaffg sponsor sportsbooks
List of Euro 2012 affiliate websites
Tips on starting a niche website
1. Euro 2012 Player Promotions
The following sportsbook affiliate programs are offering either custom promotions for players for the Euro 2012 or have odds and marketing materials to promote the tournament to your players.
Intertops Affiliate
Join the Intertops Affiliate program or read the Intertops Affiliate review
BetCruise Affiliate Program
Join the BetCruise Affiliate program or read the BetCruise Affiliate program review
Betfair Affiliates
Join the Betfair Affiliates or read the Betfair Affiliates review
Redbet Affiliate
Join the Redbet Affiliate program or read the Redbet Affiliate review
Unibet Affiliates
Join Unibet Affiliates or read the Unibet Affiliates review
2. Euro 2012 Affiliates
Below is a list of affiliates that have either created pages for the tournament or setup custom sites focused on the tournament.
Have a site dedicated to Euro 2012? Send us an email to submit your site.
3. Tips on starting a niche website
Starting a niche website should be a straight forward task but it does require a bit of planning and structure to your site.
Taking beteuro2012.org as an example, their design is simple yet effective and their content is the most useful part of the site focusing on all aspects of betting on the Euro 2012.
After spending a few days setting up and producing good content, you can start your link building efforts and social media presence to help get the site rankings.
An easy way to get good links is guest posting and you can read our guide to guest posting here.
With these examples above you can apply this to any time based betting event such as WSOP 2012, Olympic betting 2012 and if you are ambitious enough World Cup 2014.
Update 2021:
After the events of 2019 the boom of online gambling sites such as online casinos, sportsbooks, bingo sites and other types of iGaming sites, so you can expect that the competition is tough, and it is getting harder and harder each month because believe it or not almost every day there are new betting sites that can easily attract players and even from other brands.
Advices:
We recommend you to check out all the possible affiliate programs in our website or other websites, read all the reviews and affiliate reviews and even player reviews of the brands to know what both sides of the casino think about it.
Don't forget to read all the terms and conditions of the affiliate program that you are about to join, and also don't forget to read the terms of the brand that you will be promoting to know in advance if there is something fishy.
Try to join an affiliate program with casinos operating under gambling licenses and that have many banking options including same day payments, cryptocurrencies such as Bitcoin, Ethereum, Tether and of course lots of bonuses and promotions which guarantee that your referrals will like to join the casino and perhaps tell their friends about it.