Gambling Insider's Trafficology faces backlash over Affiliate Edge article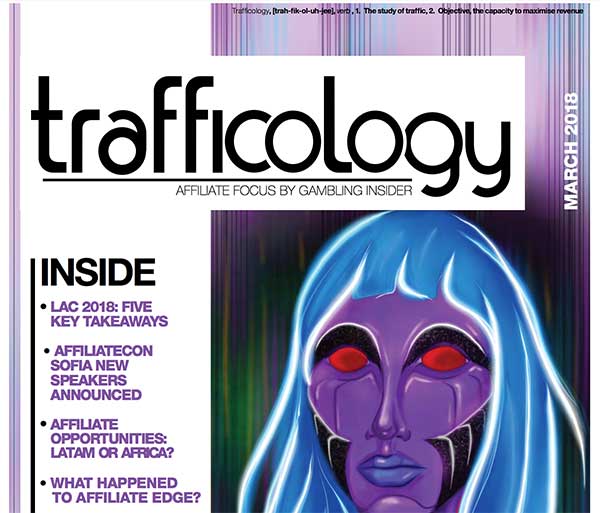 Gambling Insider's digital magazine Trafficology has released their March 2018 edition and there are some affiliates that are not too pleased with the content. You can read Trafficology's latest issue here. So what's the fuss about the interview? Some of the questions asked were about previous legal proceedings against Affiliate Edge by an affiliate, questions about shaving and de-tagging of players from affiliate accounts, about late payments and retroactive changes in the affiliate terms and conditions.
The answers probably won't sit well with affiliates and raises the question of why Trafficology gave Affiliate Edge the platform to advertise and share answers without a place to discuss them nor naming a person answering the questions. CasinoMeister didn't take long to post their displeasure with the article and published this critical article of Gambling Insider. Dave from onlinecasinoreviewer.com was equally critical on Facebook and it was the OCR in question that was the one with the legal challenge, you can read more on the results on the OCR Affiliate Edge legal challenge article here.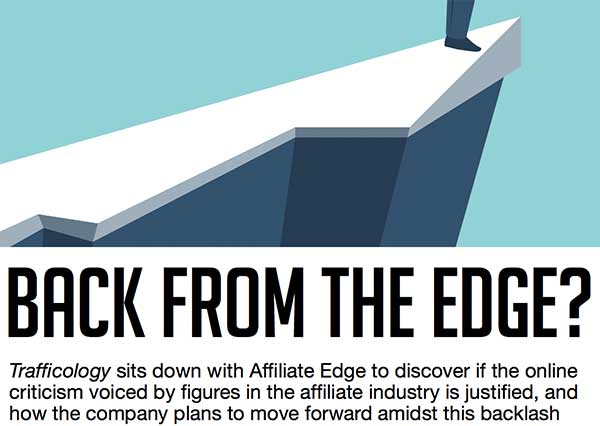 The irony of this article is that it has the potential to alienate the very affiliates that Trafficology wants to try to attract. The questions posted by the interviewer demonstrate that they possibly knew about the issues in question. It is quite possible that the questions were created by Affiliate Edge themselves to attempt to work on PR damage.
Prior to this latest edition of Trafficology, there was a rally behind the OCR to help them pay for the legal costs endured in their court case. CasinoMeister was one of the first to make a donation and a substantial one and other affiliates chipped in to help a fellow affiliate. All of this has lead to a discussion of creating an affiliate union where the union could aim to help affiliates in situations like this in fighting court cases and just working together to ensure that programs don't abuse their power.
For those affiliates that are interested in participating in an affiliate union, you can see more what ThePOGG has compiled for a framework and to learn more you can visit:
https://thepogg.com/affiliate-union/
https://www.casinomeister.com/forums/threads/affiliate-union.83179/
What is Trafficology?
Trafficology is a marketing company that dedicates to publishing newsletter about this specific matter. It was founded in 1999 by Wayne Yeager and then, it was acquired by the company Nitro Marketing in the year 2003.
Trafficology became quite famous in the gambling industry thanks to the fact that it paid cash prizes to the people that sent them interesting and worth reading ideas that could lead to a successful marketing business.
Those ideas were then published in the monthly editions of the site so that anyone that was in the industry was able to read about them and use them to improve their marketing strategies.
Another important trait about this intriguing newsletter is the fact that it has a free version as well as a paid one.
As it can be assumed, the paid version contains the most innovative ideas that could surely make any marketing business a success, while the free version has good and compelling ideas that are simply not as good as the others.
Why the article ended up making a fuss?
The main reason why the article ended up creating so many backlashes is the high reputation that Trafficology has. The company has been publishing and making many marketing enthusiasts happy over a wide number of years, so it came out quite surprising and disappointing to the community that Trafficology would do such a thing.
Trafficology pretty much gave promotions to a site that was known for malicious and unlawful actions. Instead of making the world go against it, it simply gave it more popularity and relevance in the industry.
At the end, Traffic Edge was able to increase its number of visitors and importance, giving it the chance to rise from the horrible moment that it was going through as a marketing company.
What was the real reason behind Trafficology giving Traffic Edge the interview?
Certainly, that is probably something that will never be completely revealed.
It could be presumed that its intention was showing the type of brand that Traffic Edge is to the marketing world and make an even higher number of people be against it.
If that was its intention, it surely did not go as planned at all.
Whatever the reason was behind the opportunity to give Traffic Edge a voice on the industry, Trafficology is now facing lots of criticism, and it has to start turning things around. Otherwise, it could be enough to ruin the whole reputation of the platform.
Is this news going to reduce the credibility of the newsletter?
For some users, it firmly will be the case without any doubts.
Nonetheless, Trafficology has accumulated a massive fanbase over its years of existence and even though this last issue has gotten negative opinions, the platform is still considered a high reputable brand.
With that being said, it is possible that most of the Trafficology monthly readers end up thinking of this news as a simple mistake that demonstrates the fact that Trafficology is made out of human beings.
Is Trafficology going to keep on working as usual?
Trafficology will keep on publishing its monthly issues without any type of change.
However, it is expected that the team behind Trafficology will start reconsidering the interviews and overall content that gets published from now on.
This highly acclaimed marketing newsletter cannot be so naïve as to make the same mistake once again.
Therefore, Trafficology could actually stop giving interviews to any site or brand that has been involved in a legal altercation or negative rumor.
Where can I get the Trafficology monthly issues?
If after having read the whole article, you got curious about this marketing newsletter, you are free to visit its website and get a hold on the current and following issues that get released by Trafficology.
As it was mentioned previously, you can read the free version or make a little investment and get the paid one.