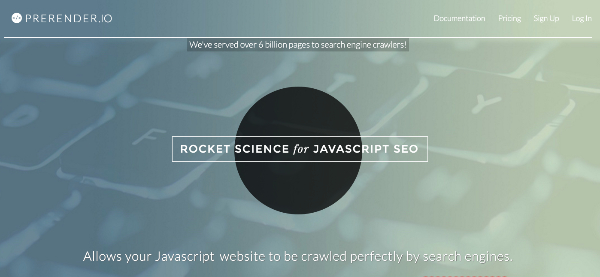 Curious to know how javascript based websites can get crawled by search engines? Todd Hooper is the founder of Prerender.io whom has created the service that makes it happen.
JW: What is prerender.io and what does the site and service do?

TH: Prerender.io is a tool that lets crawlers see the static HTML of your javascript web pages in order for them to be properly indexed. As browsers and websites have been getting more advanced, the crawlers haven't stayed up to date with all of the latest ways to build websites. Prerender.io helps make sure your website is indexed correctly so that customers can find your website, no matter what technology you're built on.
JW: How old is prerender.io and how long did it take for you to take to get the service live after first coming up with the idea?
TH: Prerender has been a company for 3 years. Prerender grew organically from a small project to where it is today, serving tens of millions of pages to crawlers for Fortune 50 companies.
JW: I think technology is changing at a faster rate than most people realize it, given your experience and the nature of what prerender.io does, what do you think webmasters should be doing to stay on top of all of this especially ones?
TH: You are correct that technology is changing at a faster rate than ever. The best thing to do is always be learning new things and always be aware of new trends in the industry. You don't necessarily have to have deep knowledge, but being aware of pros/cons of current trends can be really eye opening.
JW: What are your tips and advice for best SEO practices on websites that are running more on Javascript?
TH: With sites that are running more javascript, you have to be careful that you still return the right status codes to the crawlers. Lots of sites that heavily rely on javascript always return a status code 200 and then the javascript does the rest but it's still important to return 404s, 301s, 302s, etc in the server response. The crawlers use those cues to keep their index up-to-date and send users to the right place.
JW: What are some of your favourite CMS and frameworks for websites to work with?
TH: I'd have to say AngularJS is my favorite framework. Especially with a Node backend, AngularJS is a breeze to work with and lets you move really fast on the development side of things.
JW: For all the webmasters that haven't heard of or worked with some of these newer web technologies and frameworks, do you think this is important for staying ahead of the competition?
TH: It's interesting seeing frameworks like ReactJS and AngularJS 2 thinking more in terms of isomorphic rendering. It seems like that's the way things are headed with newer frameworks trying to solve the issue of first page load time and SEO. I think the main way to stay ahead of the competition isn't to pick the coolest new technology but to make sure that your technology works for your users across all of their devices.