iGaming Super Show Dublin, Ireland May 2011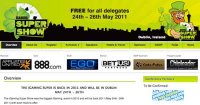 The iGaming Super Show takes place May 24th to 26th in Dublin, Ireland and will be the biggest iGB event for online gaming affiliates and operators. Attend the seminars, iGSOP, Calvin Ayre's 50th birthday party and more.
Shona ODonnell, Head of Marketing from iGamingBusiness, gives all the reasons why you should attend the iGaming SuperShow this May in Dublin.
Every year it seems that iGB events get larger show by show, what are you expecting for a turnout for the iGB Super Show in Dublin?
It's true, this years LAC was our biggest event yet with 2,543 delegates. We are expecting as many as 3,000 delegates for the Super Show. As it covers both affiliates and b2b it has a much wider audience and people seem to be excited at the prospect of coming to Dublin.
Also at every show it seems there are always new people and new operators. If this is an indication of how much the industry is still growing, how many new operators or sponsors will be in Dublin?
The industry is definitely still growing, and while it might not be as easy as it once was to get started there are still great success stories of people who have recently entered the affiliate market.
So far for Dublin on the affiliate side we have 6 new exhibitors and sponsors on board, which is great and one of the best things about having a bigger show is that almost everyone that wants to exhibit can.
On the b2b side we are really please to see a lot of new exhibitors and partners coming on board, so much so we've had to expand this zone already.
Tell us about the iGSOP (formerly Affiliate Series of Poker), why should affiliates join and what could they win besides bragging rights?
The iGaming Series of Poker is now open to everyone in the industry and this is chance to enjoy not only win the bragging rights until our next event but also the coveted Gold and Diamond bracelet and a fistful of cold hard cash.
So many people in the industry started because they have a love of gaming but sometimes we get so busy we don't get the chance to play as much as we'd like, this is the perfect opportunity to see if your Poker skills are what they used to be and where better than live on the Super Show floor.
What seminar topics will highlight the show that affiliates and operators are looking to learn more about?
I think that the US will be huge, especially in light of the decision happening on March 3rd in New Jersey. We have a full day devoted to the US market, what is happening, what is likely to happen and what this will mean for the entire industry.
Any affiliate or operator that is serious about the industry will want to attend these sessions so they can make the right decision about taking their business to the US.
The Speakers we have for these sessions are all very well respected and we are delighted to have Frank J Fahrenkopf Jr, President and CEO of the American Gaming Association as our keynote.
Closer to home on day two the trends, business and regulation track will look at the European landscape.
What is the best way to regulate? What can we learn from France and who will be next using what model?
For those interested in Marketing we have a track packed full of online marketing and acquisitions trends and ideas.
This is great if you are new to the industry and looking for ways to improve your SEO, find new ways to target existing customer or find new niches to exploit.
What other special events will be taking place at this year's Super Show?
This year's event is kicking off with a charity golf day at the amazing K Club, host to the Ryder Cup in 2006, so a great way to entertain clients and support a worthwhile charity, Children First Foundation.
From the first night to the last we'll be bring you some legendary iGaming parties that you'll never forget, or is that remember!
I think the most talk about event is Calvin Ayre's 50th Birthday celebration, this year every delegate will be invited and Calvin himself has promised it will be unlike anything ever seen in the industry before!
Make sure you are registered so you can find out about all of the parties and RSVP for the guest lists.
Any last comments and information about the show you would like to share for our readers?
We have been working on the show since August and really believe it is going to be our best event yet, over 80% of exhibition space is already sold and we still have three months to go.
This is the only event where the entire iGaming industry comes together so whoever you are looking to meet is likely they'll be in Dublin.
One of the best things about the industry is the incredible people that make it the dynamic and exciting please it is and we'd really like you all to come and join us in Dublin for the Super Show and of course a pint of Guinness, after all it's good for you.
iGamingSuperShow.com
Free
for all delegates