GlobalBet and SupaBets set on deal for virtual sports in South Africa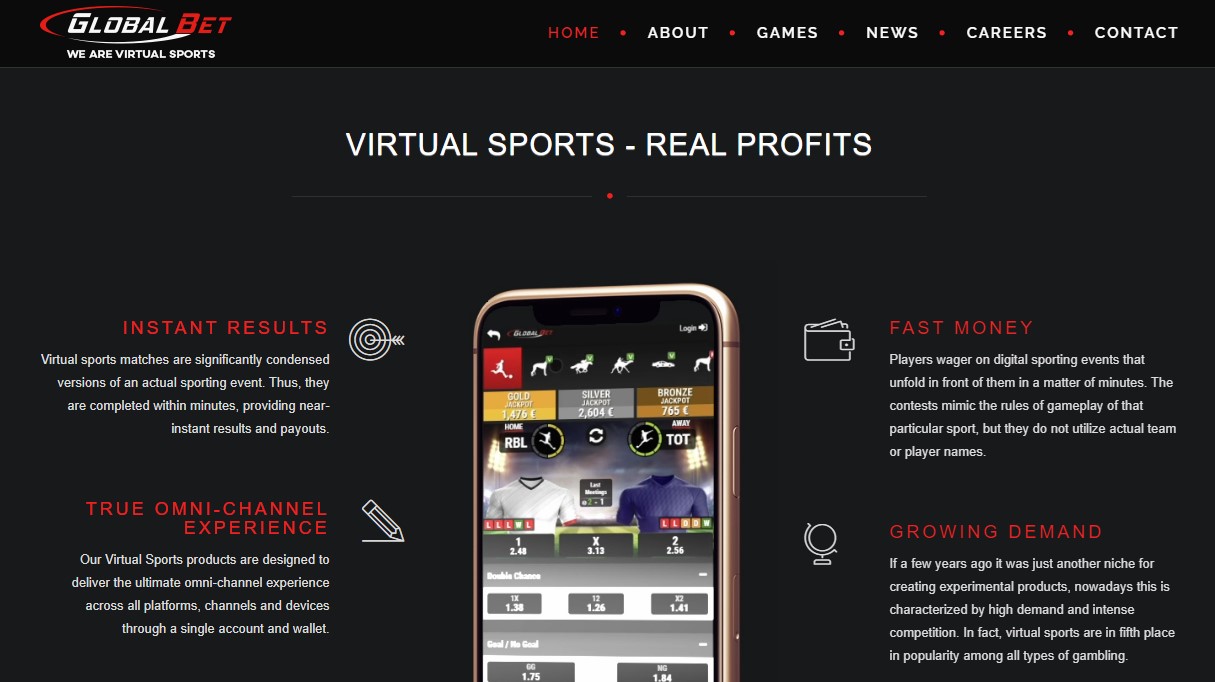 Global Bet Virtual Sports is now live with the tier-one operator Supabets through Intelligent Gaming as part of Supabets Gaming Group's effort to exploit the region's fledgling market.
The agreement with the top betting operator Supabet through Intelligent Gaming comes to aid in its distribution of premium virtual sports products to South Africa.
Users will gain access to pro series games while enjoying amazing features like Instant Play.
The CEO of GlobalBet, Daniel Grabher, commented the following about the deal: "the aim of the agreement is to replicate the success we have archived in other major African markets across the continent. The South African gaming market, known for its strict regulations has a massive potential and is yet to be fully exploited. I'm very confident that our success story will continue in this market, not yet least because we teamed up with the right strategic local partner."
The CEO of Intelligent Gaming, Marc Plaxton Harrison also added: "combing their distribution channels with an already existing operator with the best virtual product on the market is a fantastic idea for us. Considering the current boom of virtual sports globally, we anticipate a big revenue growth and a long successful working partnership."
The virtual company is now partnering with Supabets operators and are looking forward to breading new grounds in the growing market in Africa through its intelligent gaming as part of Supabets Gaming Group.
Supabets is an online sports betting website used in Super Africa and some other African countries like Nigeria, Zambia, Ghana, Tanzania, and Zimbabwe. It is owned by Portapa Ltd and was founded in 2008. It offers its customers a large range of betting markets to explore.
The fight to make the most out of South Africa
Gambling has been a divisive issue in South Africa for a long time, with reformers wanting to expand the industry to generate more revenue and traditionalists wanting to maintain the current restrictions.
As a result, South Africa is one of a handful of jurisdictions that has prohibited online gambling in its most basic form, forcing local players to search for alternative ways to access the few online casinos that still allow them.
The South African gambling history
South Africa has had a long history of anti-gambling sentiment, without any doubts.
In 1994, the government took the extraordinary step of lifting a blanket prohibition on all gambling activities and replacing it with a comprehensive licensing system in the National Gambling Act of 1996.
The National Gambling Board (NGB) was given the authority to start regulating the industry, and the nine South African provinces were given the permission to start licensing both physical casinos and online sportsbooks.
The National Gambling Act of 2004 liberalized the market a lot more, but online casinos remained illegal.
In 2008, a bill was introduced to legalize online gambling as a whole, but it was never passed, leaving casino lovers in a tough situation.
When the courts declared in 2010 that it was unlawful for online casinos operating outside of South Africa to provide services to its people, the issue grew even more difficult.
The regulations in South Africa
In South Africa, sports betting is the only legal form of online gambling available, and all online sportsbooks must be licensed by one of the provinces.
While the new laws allowed physical casinos to offer a wider range of sports betting and other options, this was not the case for online casinos.
It is currently unlawful for anybody with a South African IP address to bet online, except for licensed operators who are regulated, controlled and taxed by the NGB.
Any casino, person, or bank that promotes online gambling might face a fine of up to ten million Rand, ten years in prison, or both if they support it. However, because the vast majority of the providers are situated beyond the country's boundaries, these fines are extremely unusual.
Anyone found earning a profit is required to deposit the money in a government trust account, which now has over 3.5 million Rand.
The most popular forms of gambling in South Africa
While online gambling is unquestionably illegal, it has not stopped a few courageous online casinos from welcoming South African players, with brands like 888 and Mr. Green accepting them with open arms.
The number of gamblers in the country is also on the rise and fans may choose from dozens of famous gambling options. According to the most recent available data, the national lottery is by far the most popular legal gambling form among locals, with more than 80% of the population purchasing a ticket each week.
Every year, hundreds of thousands of bettors gamble on horse racing, rugby and football as well.
Golf is becoming popular in South Africa too, with players like Louis Oosthuizen, Charl Schwartzel and Ernie Els representing the country and attracting new fans.
The future of South African gambling
South Africa's harsh anti-online gambling laws are yet to change as nations across the world look for new ways to make money.
Ministers are starting to explore the possibility of generating extra income if online gambling is authorized and regulated in the same way that land-based casinos are.
While it will be difficult to obtain unanimous support, the 2008 amendment is still alive and some are optimistic that it will be enacted in the future years.