The Mount Kilimanjaro Trek 2012 is organized by Chris Taylor to support the Great Ormond Street Hospital to raise awareness and funds
Chris Taylor and the doctors from the Great Ormond Street Hospital are climbing Mount Kilimanjaro this February to raise money for the hospital and awareness for Eosinophilic disorders.
The goal for £15k has already been exceeded but we know the online gambling community can do more and Chris is hoping to break the £20k mark in honour of his son who suffers from the disease.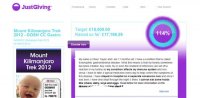 There are plenty of ways you can help by either donating money or sharing the link so that if more people see it, more can donate money.
http://www.justgiving.com/ChrisTKilimanjaro
You can donate with PayPal, credit cards or mobile payments
Help spread the message
You can share the link on your facebook page, post on twitter or even add it to your skype status.
There is a facebook page as well.