Affiliate Interview with CasinoRecommender.com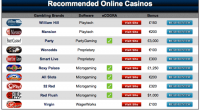 When did you start working on casino portals?
At the beginning of 2004. It was a betting advice site in fact. Started with sports betting recommendations.
At that time, online gambling and betting is legally possible in my country (Turkey). And it was a strong domain name (iddaalar.com) which is directly related with Turkey's National Betting game named "iddaa".
And then, on the 2nd month of 2005, I have added Casinosor.com to my portfolio which is a Turkish casino advisor site.
Then added 4 more Turkish Gambling sites which are specialized in Roulette, slots, blackjack and poker.
After all, due to legal restrictions for Turkish market, i have decided to build a gambling portal that would be global and built CasinoRecommender.com about 2 years ago.
It is a casino recommendations portal for guiding the gamblers for trustable online casinos.
In recent months, I have been dealing with restructuring and redesigning this site.
For the last 2 years, I have been mainly focusing on this "last baby"(after my daughter "Bade" who is 2 years 4 months old :) ). I hope they will together grow up soon... :)
Do you focus on other topics outside of online casinos or gambling?
I have also built technology related 2 websites 5 years ago but realized that they were not as efficient as my gambling sites.
And although tech related issues are in my core area of interest, have dismissed them in a year.
How did you stumble upon the idea of starting a gambling site or becoming a webmaster?
During my university years (1994-1999), me and one of my house-friends were interested in web design and without any lessons or related information, we have learned the basics of html programming.
Then I have built fan sites for Madonna and Bon Jovi.
Let me honestly say that although their design quality is far worse than the recent sites, the 2 fan sites have generated lots of excitement on me.
And then, in 2004 I have offered my cousin (he has good level of knowledge on betting recommendations) a partnership proposal.
I would be the designer and publisher and he would be the betting adviser. We made a good start but then we had to go apart due to his time unavailability.
Then I have decided to continue my way lonely, whole through today.
What are your goals for the rest of the 2011 year and 2012?
At the moment I am a full-time professional in a multi-national company.
But my greatest objective is to totally focus on the gambling affiliation business as a full-time job.
Because it totally fits with my personal characteristics and interests. And I would definitely like to see myself spending all of my time on this sector (hopefully till the end of 2011 :) )
List some of your favorite affiliate programs or the ones that have treated you the best.
32Red, Interwetten, Affiliate Lounge, Virgin, Roxy Palace, Party Partners.
I do not want to miss the other quality programs here.
Of course there are other trusted affiliate programs actually but these programs have never disappointed me in terms of responding time, content supply and teamwork.
At the bottom line, I really believe that a person should live his/her life (personally and professionally) according to things the he/she likes.
According to me, if you are able to do this, there is no barrier for becoming successful...
And my life-time interest is gambling affiliation business.
I would like to make my whole living from this business sector. Because "I love this game!" :)
Get listed in our Gambling Affiliate Directory!
Get your own affiliate profile and trusted affiliate seal by gaffg.
You can read CasinoRecommender.com affiliate profile here or click on the banner below.