iGaming Super Show Amsterdam 2013 Interview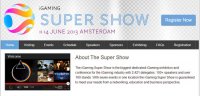 1. The iGB Super Show has recently been announced for Amsterdam. Tell us what you know about the conference so far
The iGaming Super Show has had a rebrand and a move, after many requests we've taken the event to Amsterdam.
The Super show is seven events in one location.
So it's much more than just a conference and exhibition.
The event will encompass a large exhibition floor split into Affiliate and b2b and seven conference tracks including, The mGaming Summit, BeTS, PRiME, The Executive Summit, iGaming Business 4 Business, the Social Gambling Conference, Gaming in Holland and of course The Amsterdam Affiliate Conference.
Whatever area of iGaming you work in this event will meet your business needs.
We are working on the conference session for the Affiliate Track now and would love to hear from anyone that feels they could contribute to these, all of the conference sessions for the other tracks can be seen on www.igamignsupershow.com
2. Amsterdam has been a popular place for conferences. Do you think more delegates will attend this event for the location as well as the time of the year when the weather should be perfect?
I really hope so, while lots of people loved Dublin others were ready for a new location and for a long time people have been asking for an event in Amsterdam.
The event has also move to the middle of June so yes, hopefully the weather will be great and we're looking at some great outdoor venues for the Sunday Session which Intertops have kindly agreed to sponsor once again.
3. Looking into the future, what topics do you think will be discussed more in 2013: forex/binary options, mobile gambling or social games?
We have brought both the mGaming Summit and Social Gambling Conference to the Super Show, so delegates will get the opportunity to find out the latest on these exciting sectors which would normally be part of a paid event completely free.
And we will see session on both of these on the Affiliate track as well.
We have partnered with the Racing Post on BeTS our sports betting track to make sure that delegates get the very latest and most pertinent information on this exciting sector so we expect this to be busy track and this year it will be in a much bigger conference room so more delegates can take advantage of this.
The iGaming Business 4 business track will cover all the latest information on finance and regulatory updates, as well as technology and management.
As we see more financial betting companies move into the space we'll also be covering this as more affiliates look to capitalise on this growth market.
4. Why should affiliates attend this conference?
It's in Amsterdam, the weather will be great, we'll have lots and lots of networking opportunities over four days, giving everyone the opportunity to catch up with existing business contacts and make new deals and gain new information to drive their business forward.
We have already looked at some amazing venues for the parties and we're confident that no one will leave disappointed and as ever its completely free to attend for everyone.
All new developments will be posted on the igaming Super Show website and of course here on gaffg.
I'm really looking forward to it and hope to see everyone there. You can find out more at LAC, so come and say hello and register for the show today.
Affiliates go free at the iGaming Super Show, visit the website for details or register.