IGB Affiliate Coaching panel summary and a few more critiques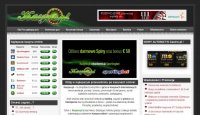 If you didn't make it to the London Affiliate Conference then you missed out on the best show ever.
According to iGaming Business over 2800 delegates attended this year's conference. All of the seminars were well attended with many SEOs presenting including the likes of Bastian Grimm, Dave Naylor, Dave Snyder, Judith Lewis and Peter Young.
Of course one of the seminars was the Live affiliate coaching & advice panel which featured myself along with 2 more SEOs Kay Schaefer of ksom.es and Frank Hohenleitner from Searchmetrics.
This seminar was for gambling affiliates who could get the chance to have their website critiqued on the spot.
Affiliates could get feedback on their website about marketing & strategies, design, conversion and SEO.
For those that missed the panel I will give a summary of some of the topics and requests we handled and also have a longer list of affiliates that have sent in requests but didn't have time to handle at the show.
Summary of Live affiliate coaching & advice panel
This was the 2nd panel we have done on this topic.
We had many affiliates submit their sites in advance and we started off with 2 reviews from that list before we asked affiliates in attendance to submit their site and ask for some advice and feedback.
More of the advice came on the technical and seo aspects and thanks to Frank we were able to use the Searchmetrics tool to break down some websites in terms of link quality and quantity.
kasyno.pl Critique
At the panel this affiliate asked for a critique on design.
While I spent a bit of time discussing the design which I didn't think have much of a problem, Kay and Frank were ready to jump in to discuss seo issues especially from their link profile as analyzed by Searchmetrics tool.
The current link profile had many links coming from non gambling domains and that were from non Polish websites.
The advice was very direct, stop getting more of these links and start adding more Polish gambling links that are more relevant.
When it comes to design and optimizing the page for conversions this setup gets a good mark from me.
They present information in an easy to scan fashion. There are not too many banners flashing in your face and they make use of buttons to guide the user rather than expect the banners to do all of the work.
Perhaps the header takes up too much space and adding social media icons and links would be appropriate.
In this situation the SEO work should be their number 1 priority.
Betcomparative.com Critique
This affiliate asked for a critique and after a few minutes we realized we have critiqued this website in Barcelona.
Thankfully most of the recommendations from the Barcelona Affiliate Conference were implemented but still more work had to be done.
Pre-BAC this site had too many banners and far too many links.
When you have over 200 links on a website it becomes even more difficult to navigate.
They used to have a social media plugin which for some webmasters seems like a great idea but these are just more links on your site and outgoing links as well.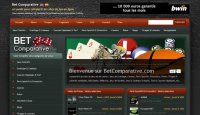 At LAC there were still too many links and we recommended this be cut down and explained that this is also part of an SEO strategy.
That being a website with more links reduces the quality of the link juice passed on internally.
There were also too many language links and the anchor text wasn't optimized either.
At the time of writing this article it appears that most of the suggestions we made this time around have been implemented.
When it comes to design and marketing this is where I spent a bit of time discussing the attributes of successful affiliate sites.
I think this site needs a redesign and more specifically to move away from the all black website with white text.
Most websites of this style are generally seen as being not so trustworthy, secretive (like porn) or something based more on entertainment and less on information.
Most professional websites these days have a white background with black text and this is more or less a standard.
Just have a look at these gambling websites and you'll see what I mean:
Latestcasinobonuses.com
AskGamblers.com
Pokerstrategy.com
pokerlistings.com
whichbingo.co.uk
onlinegambling.com
How about the most visited websites in the world, you won't see them with a black background anytime soon:
bbc.co.uk
facebook.com
google.com
wikipedia.org
USP – This site seems to lack a very strong unique selling point.
The good news for this site is that it is in French and it is far less competitive than in English.
However the issue is that the big 3 gambling types are all focused into one site like casino, poker and sportsbetting.
I guess you can call this a classic casino guide site but the page title keywords at the time were more focused on the big 3 opposed to something more like a gambling guide.
If you stuff all these keywords and focus on the homepage you could be shooting yourself in the foot.
Imagine someone searches for something like "casino guide" or "casino games", if they land on the homepage and start seeing poker & sportsbetting banners, content and keywords they might think they ended up in the wrong place.
Every page has a purpose and the page titles need more care in crafting and ensuring the content matches.
Last comment regarding page titles.
The most important phrase should be at the start of the page title so having the domain betcomparative.com as the opening keyword is not optimal.
70 characters is enough to get your message across and anymore some browsers will cut it off as well as search engines.
Onlinecasinobonuslist.com Critique
This portal has a simple layout and design that my guess is would convert well enough.
Without seeing the bounce rate I can't make too many recommendations for changes, that is if it isn't broken, don't fix it.
When it comes to the domain name and page titles, this site implies that it is about online casino bonuses and that it is a list.
In this situation I would add a table visible somewhere above the fold that highlights the bonuses of some of their recommended casinos. Adding a feature like this could reduce bounce rates and improve conversion rates.
This site doesn't appear to have a blog and is something that will hurt it their rankings over time.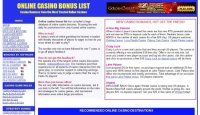 soccerway.com Critique
Kay and Frank were quick to add seo related comments and the first thing they noticed was the redirection of the domain to uk.soccerway.com.
This appears to be an instant duplicate content issue as the site has mostly identical content on 2 domains.
My comments are that both sites have identical page titles and the content is the same more or less.
The UK version doesn't do anything special for UK residents other than the logo features a UK flag.
Most people in the United Kingdom probably wouldn't visit this site much to begin with since they are passionate about football. The word soccer is used more for Canada, America, Australia and New Zealand.
The UK sub folder makes this a different domain and there needs to be unique content on it to make it worth the efforts.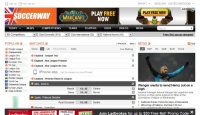 More seo related issues include lack of content on many pages including the homepage.
The term "live scores" is the first item in the page title, is listed in the description and keywords but this term cannot be found anywhere on the homepage!
The homepage has 300+ links and there are too many of them especially in the footer.
Every page has a link for all types of sports but in my opinion these are mostly unnecessary. You are watering down your link quality and giving some of it away to these pages which have nothing to do with football/soccer.
Last issue regarding design and conversion.
The design of this site is great but the conversion elements are questionable.
About 50% of the banners are for sportsbooks while the other 50% I have seen are for World of Warcraft video game, Overstock banner for shoes and something about Adtech.
This is wasting ad space and a giant World of Warcraft banner might turn people off and think they are at the wrong site.
soccerwidow.com Critique
This site is all in German and is meant to focus on football and statistics.
For something that is a bit technical and digs deeper into math and equations I would try to alter the design template a bit so the background of the content is white.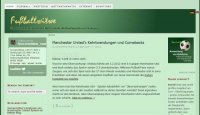 This site is using wordpress and the homepage is set to blog posts instead of a static page. The downside of doing something like this is you have a constant page title but you don't always have this content existing on the homepage as it is dependant on the excerpts of the blog posts.
For example one of the keywords in the page title is "Wettstatistik" but I couldn't find that word anywhere on the homepage.
Another keyword is online wetten and there are no sportsbetting banners anywhere on the homepage and if this content did exist the user would have to scan all the links.
Pokereverything.com Critique
For starters this is a great template and I am guessing it is a wordpress template.
From a quick glance there doesn't appear much to critique without going through the analytics and looking for bounce rates.
Since the site is called poker everything and offers poker rooms, bonuses, training, strategy and coaching, my recommendation is to make your 4 sliders focus on one of these topics rather than 4 poker rooms right off the bat.
Your H1 header is called "Titan Poker" but obviously the homepage isn't about that. I would make sure your slider titles aren't using these headers.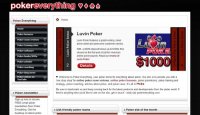 Last but not least the site doesn't appear to make use of blogs & news postings.
This helps to keep the website fresh and overtime adds more visitors to the site. Search engines like to reward an active site.
Looking for coaching help?
If you are looking for help on your website and want to be critiqued send me an email to [email protected]
Looking for an affiliate program to promote?
Look through our list of gambling affiliate programs and find the right program for your website and niche.