iGB raising money for GamCare during London Affiliate Conference 2013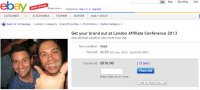 Alex Pratt and Michael Caselli are raising money during the London Affiliate Conference 2013 by auctioning themselves on ebay. Up for bidding is to have Alex and Michael wear your brand during the entire conference with the proceeds going to GamCare.
The London Affiliate Conference 2013 will be the biggest gambling affiliate conference to date.
There will simply be more people and more affiliates attending which reflects that online gambling is getting bigger and bigger.
In one of the most unique advertising campaigns done at the iGB affiliate conferences, Alex Pratt and Michael Caselli have given people the chance to 'own' them during the conference and have them wear your brand throughout the event.
They could have done this for their own personal gain but instead they are raising the money for charity and giving it to a very worthy cause to GamCare.org.uk.
Of course GamCare is a very relevant organization in online gambling as they provide support for people that have problems with gambling addiction and are seeking help and treatment.
GamCare also invests time and resources into research and providing the best support to help players overcome their addiction.
If you want to big on this ebay item you can do so here:
http://www.ebay.co.uk/itm/Get-your-brand-out-at-London-Affiliate-Conference-2013-/251212253664
London Affiliate Conference 2013
This event takes place at Old Billingsgate Market, London, United Kingdom February 7th to 10th, 2013.
Of course affiliates get to go for free and all you need to do is register.
There will be a large number of stands and igaming companies exhibiting plus many panels on marketing, search engine optimization and more.

The seriousness that gambling addiction deserves
The addiction to gambling has sadly been overlooked since its beginnings.
The addiction is actually not even considered as one for many governments and political figures, so there have not been many attempts to eradicate it once and for all.
In most cases, the governments make the decision to prohibit their citizens to gamble on any betting site with the purpose of ending any possibility of one of them getting addicted to any form of gambling.
Unfortunately, that move has been statistically proven wrong, since the countries that do not permit the use of gambling sites are some of the territories with the most active players every day.
Prohibiting gambling is not a solution
As it is known for many people around the world, prohibiting someone to do something will most likely make the person desire to do it even more.
That same principle goes for gambling. Prohibiting and blocking betting sites is not magically going to make the citizens stop investing and playing on the platforms.
Because of that, more practical and useful solutions must come into play so that this horrible addiction can be kept under control.
Gambling in the United Kingdom
Shockingly, according to various British portals, at least 2.7% of all the British adults are troubled gamblers.
That particular rate equals to nearly 1.5 citizens that have been considered or diagnosed with gambling addiction.
The United Kingdom counts with a gambling commission. However, most of the British citizens have accused the authority to be too relaxed and unbothered about the high rate of addicted gamblers.
The citizens claim that the authority has been slacking off and that it has not done its job properly in any way.
Many British citizens have been complaining and wish for the United Kingdom Gambling Commission to start taking strict measurements so that no more players get addicted to any form of gambling in the country.
Gambling in the United States
In the United States, the situation is not favorable either. As a matter of fact, at least 2 million American citizens are said to be addicted gamblers.
The incredibly high number of addicts has surprised many iGaming experts and webmasters, since the nation does not allow the use of gambling sites in most of its states.
Surely, the prohibition to gamble on these sites has not stopped the citizens from looking for them and investing on their favorite games and forms of gambling.
To face this issue, the American authorities have imposed serious and harsh penalties to all the gambling operators and players that are caught red-handed.
Ever since the news came out, the rate of active gamblers have diminished a bit, but certainly, is not low enough.
Gambling in the rest of the world
The gambling industry is growing rapidly across all the corners of the planet. There are gambling players in all the continents. Some of them dedicate to it as a job, while others consider gambling a pastime.
Regardless of that, gambling addiction has not gone unobserved in the rest of the world. For example, in countries like Germany and Sweden, it is said that there are at least 2 million and a million troubled gamblers respectively.
While for South America, Brazil is the nation that has been hit by the addiction the most. An approximate 2% of all adults have been diagnosed with addiction to any of the forms of gambling that exist up to this day.
What can be done against the addiction?
Regrettably, there is not much that can be done to stop the addiction from growing as a whole.
The most useful method that has been performed by many organizations worldwide is seminars and the spreading of information about the many consequences of the addiction.
Education seems to be the ultimate tool against the gambling addiction. Therefore, it is important to spread the word and let everyone know about the dangers of irresponsible gambling.