Intergame 2013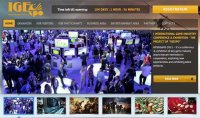 1. What is Intergame 2013?
INTERGAME 2013 INTERGAME 2013 is Conference and Exhibition focused on game industry.
Regional project for annual meetings of game industry participants from Northern Europe, Eastern Europe and CIS countries region.
However, participation and contribution of representatives from other countries would be of great importance.
It is I International Game Industry Conference & Exhibition of the IGExpo project in Estonia!
Amongst other things conference program embraces two significant events: the Roundtable and the Pitch Contest.
The Roundtable will be headed by Malte Behrman, the General Secretary of European Game Developer Federation, who will present a speech on a topic - "Current state of the European gaming industry".
Small Estonia and ambitious project is a right combination.
Geographically Estonia has found itself as a transit country between Northern and Eastern Europe.
Acting as a bridge Estonia stimulates its competitive edge.
We see IGExpo as a platform for annual meetings of game industry actors from considered regions.
Furthermore, Estonia has a rapidly evolving technological sector, prospering in various IT and video games projects.
Estonia is proud of its Skype software developers.
2. Who should attend the conference?
Either professional or amateur of games who have the interest to game industry.
3. What can attendees expect from going
Getting the most updated information, to get a market overview. Opportunity to find new partners, establish beneficial contacts and broaden own business perspectives.
To run a successful business communicating and enjoying time in a relaxed atmosphere.
Amongst other things conference program embraces two significant events: the Roundtable and the Pitch Contest.
4. For those that haven't been to Tallinn, what can people expect from the city.
Tallinn is a Northern European city located on the sea cost of the Baltic Sea.
It is well known around the world for its medieval Old Town that became a UNESCO World Cultural Heritage site and is often mentioned as the "medieval pearl of Europe".
Old Town's well preserved authenticity of Hanseatic origin blended with modern business district makes Tallinn attractive from various perspectives.
In particular winter is a wonderful time to appear in a fairy tale of this cosy city.
5. Do you have other conferences or future events planned?
IGExpo project is not limiting itself solely to INTERGAME 2013, but planning to carry out game industry events on the annual basis. INTERGAME is both, an independent event and a modular one – it can be integrated into any other similar project abroad.
Currently the project of IGExpo considers B2B segment as a focal point. Expansion of B2C sector is our domain of development.

The implementation of conferences and gatherings in the iGaming industry
The iGaming industry has been growing steadily for some time now. It has drawn the attention of many investors, players and entrepreneurs who are looking to be part of an ever-growing industry that allows them to grow professionally without troubles.
Even though it is indisputable that the iGaming industry is evolving and becoming more relevant on the market, it is also true that it is not close to its peak just yet.
As of this year 2013, iGaming brands are still behind retail betting platforms when it comes to the players' preferences. Most of them claim that the iGaming industry is unreliable and needs to grow a lot more to be considered legit.
Thankfully, iGaming brands have not given up on their goals and are still fighting to earn the importance and trust that they need to become widely successful businesses.
One of the great ideas implemented by the brands in iGaming is the conferences and the gatherings that are hosted all year long across the whole world.
These gatherings allow the players, webmasters, investors and developers to interact with one another in a single space without making much of an effort. The conferences are organized with the intention of making it easier for the members of the iGaming industry to make deals and create long-lasting business relationships.
The Intergame 2013 conference is yet another great idea that has come up to improve the trust and relevance of the iGaming industry. The conference is hosted in Estonia, and it is set to welcome entrepreneurs. Software developers and webmasters from the European continent and the rest of the world.
What the Intergame 2013 conference can offer to the attendees
The Intergame 2013 conference is a great opportunity for anyone interested in the iGaming industry. This is because of the great number of important brands and executives that will make an appearance in it.
The attendees will have the chance to meet and have conversations with amazing professionals who can boast an eye-catching career full of success within the iGaming industry.
The event is set to help anyone that attends it. It can also help developers and betting sites make deals with top-notch brands and increase their popularity within the industry easily.
Apart from the chance to talk and make deals with one another, the attendees can participate in fun and interesting games and events that are meant to lighten up the mood and let all of them take a rest from their hectic schedules.
The Intergame 2013 is set to be a total success and the organizers are already thinking about hosting the event every year. That way, different groups of professionals and interested players can get the chance to enjoy the wonderful experience that is the Intergame conference.
The next iGaming conferences to come
2013 and the years that follow are full of conferences and gatherings so that the players and anyone interested in the iGaming industry can attend and learn more about the latest trends and strategies used within it.
iGaming conferences have become widely famous worldwide, so there are plenty of them being hosted across Europe, Asia and the rest of the world.
Feel free to check the iGaming conferences that are set to take place near your location, so you can attend and enjoy the marvelous experience that all of them offer you.