Intergame 2013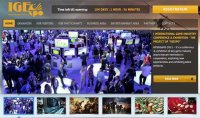 1. What is Intergame 2013?
INTERGAME 2013 INTERGAME 2013 is Conference and Exhibition focused on game industry.
Regional project for annual meetings of game industry participants from Northern Europe, Eastern Europe and CIS countries region.
However, participation and contribution of representatives from other countries would be of great importance.
It is I International Game Industry Conference & Exhibition of the IGExpo project in Estonia!
Amongst other things conference program embraces two significant events: the Roundtable and the Pitch Contest.
The Roundtable will be headed by Malte Behrman, the General Secretary of European Game Developer Federation, who will present a speech on a topic - "Current state of the European gaming industry".
Small Estonia and ambitious project is a right combination.
Geographically Estonia has found itself as a transit country between Northern and Eastern Europe.
Acting as a bridge Estonia stimulates its competitive edge.
We see IGExpo as a platform for annual meetings of game industry actors from considered regions.
Furthermore, Estonia has a rapidly evolving technological sector, prospering in various IT and video games projects.
Estonia is proud of its Skype software developers.
2. Who should attend the conference?
Either professional or amateur of games who have the interest to game industry.
3. What can attendees expect from going
Getting the most updated information, to get a market overview. Opportunity to find new partners, establish beneficial contacts and broaden own business perspectives.
To run a successful business communicating and enjoying time in a relaxed atmosphere.
Amongst other things conference program embraces two significant events: the Roundtable and the Pitch Contest.
4. For those that haven't been to Tallinn, what can people expect from the city.
Tallinn is a Northern European city located on the sea cost of the Baltic Sea.
It is well known around the world for its medieval Old Town that became a UNESCO World Cultural Heritage site and is often mentioned as the "medieval pearl of Europe".
Old Town's well preserved authenticity of Hanseatic origin blended with modern business district makes Tallinn attractive from various perspectives.
In particular winter is a wonderful time to appear in a fairy tale of this cosy city.
5. Do you have other conferences or future events planned?
IGExpo project is not limiting itself solely to INTERGAME 2013, but planning to carry out game industry events on the annual basis. INTERGAME is both, an independent event and a modular one – it can be integrated into any other similar project abroad.
Currently the project of IGExpo considers B2B segment as a focal point. Expansion of B2C sector is our domain of development.