Interview with Franco Buffa, affiliate director of VJ Affiliates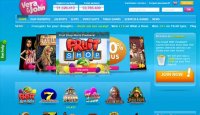 How long has Vera&John / VJAffiliates been online for?
We opened up the 21st of October 2010 with Betsoft, Microgaming and Nyx. We then added NetEntertainment in the beginning of April 2011.
What is the meaning behind Vera & John Casino?
Well the concept has been well though through by the founder and Vera and John are 2 names that works in almost every country and language.
Vera or John are two people everyone can identify themselves with.
You will probably never meet Vera or John but do not be surprised if you bump into an Uncle, brother in law, etc… in the future
Tell us about the features of the casino and the software's used.
There is a lot of new feature with Vera&John Casino.
Just look at the integration to all different social media, the drag and drop function to set up your 12 favorite games so you can access them as soon as you have logged in to your account and don t have to go and look for them.
Vera & John Casino wants people to feel the casino vibe.
Our seamless wallet solution is also something that is greatly appreciated by customer specially that they have 4 suppliers games to choose from, NetEntertainment, Microgaming, Betsoft and Nyx.
Although the casino is relatively new the team behind the program has a lot of experience in the industry. Tell us about the people behind the scenes and why you think the casino will grow while startups have failed.
As you mention the Casino is very young but the people behind it are among the most experienced, skillful and specialized within different segments and have a long history in this industry.
The founders are Jörgen Nordlund and Dan Andersson known for the amazing start, build up and sales to Unibet of Maria Bingo and Carlos poker.
A lot of the people involved in Vera & John are the same people that was part of that amazing trip.
Additional people with great IGaming experience has been added to "the family" and are now part of this fantastic team, the Chairman of The board Jesper Kärrbrink (former CEO of the Swedish state monopoly Svenskaspel), Fredrik Möller the marketing Wiz of Vera&John Casino (with a passed as Chairman of The Board of Sociétè de Béarnaise, Affiliation/marketing Svenskafans and Eurosports TV channel) and myself as Affiliate Director for VJAffiliates (with roots with in AffilateLounge and Redbet).
All this knowledge, experience, passion and feeling of being a big happy family vouches and seems to be a solid base to build something with in this extremely competitive business and succeed.
Not many know that we have also entered the Chinese poker market with a localized standalone solution as well as operators for the Chinese market through our site (www.dfplayer.com) but this I am sure will be something to talk about in another forum very soon.
What can affiliates expect when working with the casino?
Well I would rephrase the question to what is there not to expect from when working with Vera&John Casino.
Being new, effective and concentrated on only one product, Casino, we can act very fast and are always open for new ideas.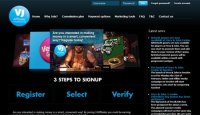 We are young and hungry and not old, fat and happy like many seem to be within the industry.
We have a different new approach to everything and the possibilities are endless top that with experience and creativity of this dynamic team.
But it all comes down to earnings in the end the rest is cheap talk and affiliates would not rank us and promote us as they do if we did not deliver the way we do.
We have crazy conversion, we spend a lot of resources on brand awareness, CRM and retention and we have very low churn, heard that before?
But as I mentioned before. Check the biggest affiliate portals out there and you will see that we rank very high on most and that is according to me my best u.s.p. Affiliates are toughand merciless and wouldn't t have us there if we did not deserve the spot.
Can you share any future plans the casino has or is this top secret?
A lot of new stuff coming up and I am really excited about what 2012 will bring.
One thing will prevail, we have our own style and will keep on going our own way and we will stay "different" and not become main stream like all the others out there.
So keep on following us and jump on board and join us in this marvelous ride: Vera&John Casino.