Factors that influence your SEO efforts 2013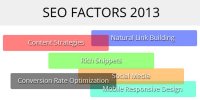 In the past year or 2 there have been many people writing articles that seem to revolve around a specific theme: Is SEO dead?
As if the SEO game has completely changed so much that it is no longer possible to trick google into getting your way with ranking a site with mainly link building.
Well you shouldn't be thinking that you can trick the search engines but mostly gone are the days of launching a new site, loading some basic content, blasting it with links and let the search traffic come in.
These days don't appear to be completely gone but the job of an SEO consultant has certainly been in a state of constant change.
So if you can't just fix a few things of on page issues for SEO and build links to rank then SEO must be dead right?
Well not exactly and now there are simply more factors that need to be taken into consideration to implement any SEO strategy which lately is probably better to be calling it a marketing strategy in general.
With google being the leader of search engines, they are in theory trying to encourage webmasters to be natural with their marketing efforts relating to search and want you to focus on what is best for the user.
With that said there are a lot of factors that contribute towards any marketing and SEO campaign.
These factors may have previously not really been associated with search engine optimization but now are very relevant.
There are a lot of dated guides out there on what you need to do to get your website to rank and unfortunately there are too many webmasters that believe you need to just buy high PR links to achieve your results.
So what are the factors that contribute to your SEO efforts? These factors include:
Natural Link Building
Social Media Marketing
Mobile Optimization
Content Strategies
Rich Snippets
Conversion Rate Optimization
Natural Link Building
Anytime I do SEO work for someone, one of the first things I do is check their current link profile.
Out of all the clients I receive, less than 10% would have what I call a natural link profile.
Maybe 20% of the time the client doesn't have many links at all, sometimes none while about 70% of the time I see their link building efforts as being unnatural and something that has either given their site a penalty or would make it easier for them to get one.
What do I consider unnatural link building?
Little to no social media links
Over 80% of their links are rel="follow" and hardly any nofollow links
Over 50% of their links feature anchor text
Their anchor text when overused features the same keyword with no variation
The majority of their links have nothing in common with their topic
They have many links coming from sites with different languages
The problem is in 2011 and earlier, this type of unnatural link building would have most likely worked perfectly for ranking a website so the ranking game became one of who had the best resources for link building or who had the largest budget to buy links.
I have to admit as of May 2013 I still see this tactic work with a Toronto SEO agency that does this to rank extremely high for 'Toronto SEO' and sure enough they charge clients money to rank for keywords.
How do they do it?
They buy high PR links for cheap that have nothing to do with the webmaster's topic and focus primarily on anchor text.
As long as they can do this to rank they will continue to get business but I have seen one of their sites banned and they repeat the process to get another one up.
Unfortunately for their clients, they will see a short term gain in rankings followed by a crash.
So what is considered natural link building?
You always need links to rank so think of links as votes but links can also be a source of traffic as well.
If you focus on trying to get more traffic this way, obviously it implies link would come from a relevant source that has something in common with your website.
Using a restaurant site as an example, there are plenty of quality and relevant link sources that can be obtained such as local newspapers and magazines, obviously implying their online versions, local bloggers, local restaurant guides and local business directories.
Of course anyone that writes about that city in particular could in theory write about that restaurant. A restaurant is a business that would have too much in common with social media so people would expect to see comments and discussion in social media such as twitter, facebook, foursquare, etc...
Social Media Marketing
You shouldn't rely fully on search engines for most of your traffic and this is where social media can be a good source of traffic however it is being acknowledged as a factor for SEO.
You can read a bit more about this from a study from SearchMetrics:
If websites are going to be linking to your site and talking about you, it makes sense that the same would occur in social media so social media mentions and links should be part of your link profile.
The main reason you should focus on social media is traffic.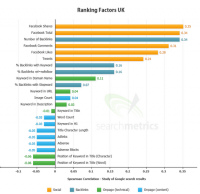 Mobile Optimization
If you have been looking at your analytics data over the past few years, you should be noticing more mobile traffic hitting your websites.
Just to put things into perspective a recent zdnet.com article mentions Android has surpassed 900 million activations with 400 million last year and 100 million activations 2 years before.
You will probably get some mobile traffic and websites are now behind in adapting for these visitors.
Most websites don't look good or are not readable on a mobile phone and if you don't fix this, you are going to get users bouncing.
I typically see 5% to 10% higher bounce rate for websites from their mobile visitors when their site isn't optimized.
If you are getting a new design or a redesign you will want to consider this in the planning stage and perhaps consider responsive web design (RWD) as your means of achieving this.
There are plenty of articles to back up the claim of why responsive design is good for SEO.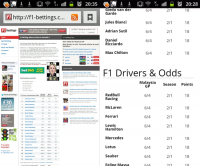 Read our mobile responsive design case study
Content Strategies
Most SEO clients I deal with I can usually find some recommendations on improving their content or creating a content strategy.
As much as link building is helpful for rankings, so is content.
I say no links, no rankings and the same goes for content, no content, no rankings.
One common problem I encounter is sites that are very low on text, perhaps they their homepage features less than 100 words of text and sometimes almost no text at all with most of their text being available in the form of links.
The Google Panda update punished sites that featured duplicate content as well as pages that were too weak on content. More about the Panda update here: http://en.wikipedia.org/wiki/Google_Panda
The other problem I see with content is more from a strategic point of view and I will use 2 examples to highlight how a webmaster can create more pages of content, which can becoming something they can rank for and get traffic.
Casino Affiliate: Many casino affiliates tend to have similar content in common, they have pages like blackjack, Bet365 casino review, casino bonuses, online casinos, etc...
This has become perhaps the standard type of content and when you are one of hundreds of sites with the same content, it is going to become difficult to rank.
If we look at some affiliates that have more content, there are some topics that webmasters have written less about and this all becomes an issue with time and effort.
Those that take the time to do more will tend to get rewarded more. So what are additional pages that casino affiliates could add to their sites?
Slots reviews: There are probably over 5000 of these games available
Casino manager interviews: Is anybody even doing this?
How to fund your Neteller account: with screenshots or maybe a video
Online Casino:
An online casino should also have their fair share of content but not all of them do.
Some might have a page dedicated to banking or deposit methods but not pages on the individual deposit method itself, like Neteller for example.
All their games should have a dedicated page and a blog is an easy way to generate more content and share their promotions on their site.
Writing more content takes more time and this is a chance to get more search traffic away from your competitors.
Those that work hard in theory should get rewarded more.
Rich Snippets
In a previous article I covered Rich Snippets and suggested that this will indirectly have a positive effect on your rankings.
Days after writing it, it was acknowledged by Google's Eric Schmidt that authorship with rich snippets would help your ranking efforts.
Even if that didn't have an effect, your click through rates in the search engine results pages (SERPs) would certainly increase.
Anonymous writers are now going to have a difficult time getting their content to rank.
Just like responsive design, this is something all webmasters should be including to implement in their websites.

Conversion Rate Optimization
I saved the best for last on this topic. Conversion Rate Optimization (CRO) has been around for a long enough time.
CRO is still a foreign topic for most webmasters and the ones that focus on conversion and improving their user's experience will get rewarded more.
Simply put, improving the conversion rate of your website means to reduce the bounce rate.
Bounce rates are a metric that google uses in their algorithms and specifically I'm referring to when users are in the search engine, they find your site and bounce back to the SERPs to find another site.
There are many articles that support that this is important for both Bing and Google but how important is something the search engines probably won't share.
The theory is this: Why would google want to keep giving you traffic if the users are constantly going back to the search engine to find what they are looking for.
Either it implies you content isn't good or not good enough, it is difficult to find your content or simply put, your presentation of the content is just not optimized.
Optimizing your website for conversions is one of the best things you could possibly do.
People are leaking sales all the time and there are plenty of books and companies out there that focus on this field.
Some of the common problems I experience when it comes to conversion are websites that are missing important calls to action.
For casino affiliates I see this for pages that are just full of text.
Paragraphs of text are a bit of an obstacle for most viewers and you have to remember that people scan first before they read.
If you don't make use of images, videos, bold and titles then you are giving the user too many reasons to bounce to find another site.
For sites like affiliate programs or say online sportsbooks, some are just missing 1 significant call to action to begin with.
If you want your users to do something, make it easier for them to find it like a signup button for example that is large and has enough contrast against the rest of the website.
Other times webmasters can do the opposite and have too many calls to action all competing for the user's attention which can have a negative impact.
The design of your website can also have an important influence on bounce rate.
If the content appears too far down on a website you may have made it difficult for the user to find what they were looking for.
Having a good layout to complement the content on your pages is important and this also falls under the name of UI/UX design: User Interface and User Experience.
So once again focus on the user and things will work themselves out in the end. Read our guide on Conversion Rate Optimization
Conclusion
So yes, gone are the days of just buying links and taking crappy websites and pushing them up in the rankings.
What we are learning from all of the changes in SEO is that it is going to take work to get more traffic and to help your rankings.
The good news is not everyone likes to work so there is always an opportunity to do more with your websites.
SEO is not dead and probably never will be as long as people have a reason to search for something.
If you focus on providing a good service and value for your users, this is the first thing anyone should focus on when implementing any SEO campaign.