Interview with JTodd from This Week in Gambling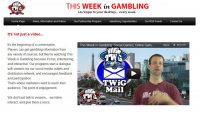 Tell us about your new site This Week in Gambling
Well, this is something I have been thinking about for a few years now.
It's the direction I believe the gaming industry is headed.
This new video series is player oriented and entertainment driven. It still deliver news and opinion pieces, but within the elements of entertainment.
When I look at the American and European markets and compare what I believe the future holds to what I perceive to be my talents and skills, "This Week in Gambling" is simply my attempt to bring these elements together.
I really want to recapture some of that free spirited enthusiasm I used to have in early videos back in 2006 and 2007, but without the conflict or doom & gloom which often went with it back in those days.
In a new, regulated industry I want to get back to what gaming is supposed to be: Fun and entertaining.
Will you be working on both TWiG and APCW?
Yes, my intentions at this time are to continue to do both.
Although I founded the APCW, the company was sold to the Casino City group in 2008.
I remained the creative source of the videos after the buy-out, and am currently producing their weekly shows as an independent contractor.
My departure from the APCW was very amicable.
I have many webmaster friends, and unlike some other advocacy groups I actually was an affiliate for many years... so I understand the challenges they face better than most.
It is my desire to continue providing a quality service for them for as long as it's needed.
I hope by now people realize that the APCW has always been far more than just "J Todd" and a video camera.
It's a team of hard working people dedicated to affiliates, conducting audits, and fighting for fairness and honesty in the gaming industry.
And that's just the way I created it back in 2003.
TWiG seems to be getting a lot of YouTube traffic more than APCW. Why do you think this one is doing so well?
There are a few very good reasons why TWiG has received a lot of traffic from the very beginning.
One of the most obvious is that the audience is much, much larger.
The APCW video is very niche cast and its aim is squarely on affiliates in the online gambling industry.
However, "This Week in Gambling" is geared toward players, both online and land based, and covers topics in peripheral industries such as social gaming and entertainment.
The second reason the show has done well has been simple advertising campaigns across a variety of traditional and social advertising platforms.
I have paid to have the show distributed via blogs, seeding, and a variety of gaming related websites.
Still, I am only scratching the surface of what is possible. And as we build our email database, and start working more closely with webmasters to distribute our content, I think the numbers you see now could be dwarfed.
Online lotteries seems to be lagging behind the other main gambling verticals like casino, poker, sportsbetting and bingo. Do you see online lotteries becoming as normal as online gambling, perhaps buying tickets online or with mobile phones?
Lottery has most likely lagged behind traditional gambling online because of the profits that can be generated from other games.
Also, the states have traditionally run their own lotteries, and as we have recently seen some of those have finally gone online.
I think it's actually quite likely that lottery will become a stepping stone for states to move into full-blown online gambling in America, just as we've seen across Canada.
Of course, having various lottery commissions involved in the regulation process could make an already complicated issue even more overwhelming.
What are your opinions on online gambling in America, will this be regulated soon?
Online gambling is already regulated in America.
There are internet horse racing bets taking place right now;
There are fantasy sports available on mainstream sites;
Americans can buy lottery tickets over the web;
I hear there are even online poker rooms operating on tribal lands.
So the question is not "if" online gambling will be regulated in America, it's when will the government work out the structure and taxes on the games that have yet to be regulated.
Since 2004 I have said the U.S. Government had a three stage plan for online gambling:
1) Villainize;
2) Criminalize;
3) Monopolize.
We saw the first stage pre-UIGEA with the politicians pushing catch phrases like "click a mouse and lose your house".
We heard about the need to protect children and addicts. We heard how internet gambling was like "crack cocaine".
Then, phase two was obviously post-UIGEA when the crusades really started in earnest and decimated the industry.
We had industry executives arrested.
We had payment processors shut down and millions seized.
We had huge fines and payoffs to Uncle Sam while World Trade disputes were fought and never settled.
So many people were hurt and so many lives destroyed, all so that the powers-that-be could have as big a bite of the cookie as possible.
Then, phase three started April 15th, 2011, with what we now call "Black Friday".
Think about what happened in such a short period of time:
The government knew poker could be regulated as a "skill game" and not pure gambling;
They effectively wiped out the four largest poker rooms from the United States market in one crushing blow;
A few months later, Fair Play USA was launched to push for regulate online poker, backed by most of the big Las Vegas operators;
Then, the U.S. Department of Justice "miraculously" had a change of heart and decided the Wire Act only applied to sports betting.
C'mon, people.
There's simply too much money involved for their to be no regulation in America.
What we witnessed was a well planed hostile takeover of our industry which was not too well hidden if you were paying attention. That said, however, I will be the first to admit it was inevitable.
That's just the way the game is played.
So I don't think we should be bitter about the past, but be happy about a future where we will be able to play online in a fun, safe environment.
And who knows, it may even be better than it was before.
Visit
ThisWeekinGambling.com
to see all their latest gaming news and videos.