Affiliate interview about forex and binary options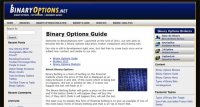 Adam is an online gambling affiliate that has ventured into creating affiliate sites for forex and binary options and he answers some questions about this business
Why did you decide to get in the forex and binary options affiliate business?
Since I started affiliate marketing in 2010, I was operating solely in the gambling/poker niche.
Sometime in Spring 2011, I wanted to diversify into other niches such as spread betting, forex and other finance-type markets in general.
There's a number of reasons why I wanted to diversify into the Forex and eventually Binary Options industry.
For starters, the CPAs are massive.
At the moment I've negotiated CPAs worth $300 - $500 at most of the Forex brands (with the help of a super affiliate mentor), which contrasts heavily with the $75 and $100 CPAs I was used to getting in online poker and sports betting.
I was also running a pretty successful financial spread-betting site, which was a good precursor for getting into Forex.
Secondly, I personally think the Forex and Binary Options markets are much less competitive than poker.
People talk about Forex being highly technical and competitive, but I think compared to poker it's much easier – plus there are so many US affiliates that have completely ignored it for legal reasons.
In terms of competition from other affiliates I'd probably say that poker is 10/10, sports betting is 8/10 and Forex is 7/10.
I was an Economics student at University - learning how to game the financial markets (which is basically what Forex trading is all about) was really interesting to me plus it's easier to add value to the internet compared to bingo or casino affiliate sites.
Tell us about your forex and binary options websites
Both of my websites, ForexAccounts.net and BinaryOptions.net are still very new compared to other projects in my network.
With regards to Forex, I spent weeks researching possible domains and negotiating prices at Sedo.com.
I was really surprised by how expensive and difficult it was to find solid brand domains in Sedo (I almost ended up paying $1500 for ForexListings.com).
When I saw that ForexAccounts.net was available for sale at around 1/3rd of the price of ForexListings.com, I decided to develop that one instead.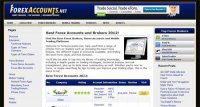 My plan with the site is to review the best Forex accounts based on customers from different countries and with different initial deposit sizes.
For example, Mini-accounts are designed for those depositing less then $500, while the regular live account holders may be depositing up to $10k and looking for different features.
Finally, you have managed forex accounts and VIP accounts, which require completely different platform facilities, margin requirements, spreads and customer support.
With regards to my binary options website, there were susurrations going on across the industry in 2011 about the popularity of binary options, so when I saw this domain was available I jumped at the chance to develop the site.
My plans are to provide a complete binary options portal (strategy, reviews, guides, videos, market news) which will probably be my biggest website in terms of investment, coding and content yet.
Was it difficult transitioning from online gambling content to financial betting?
Not really! I know that might sound cocky, but to be honest I never experienced that much success in online poker affiliating – I made far more money in the months after I diversified into sports betting.
Unlike a lot of other affiliates, I was never a professional poker player, so my strengths were just in SEO and website planning.
When I diversified into finance betting I just used the same affiliate strategies as before – although I have to admit it was much harder finding writers and I ended up teaching myself all about spread betting/Forex so that I could write all of the articles myself.
The other difference was that when I started out in poker affiliating I wasn't making any monthly income and had to write my own content plus write for others in order to raise money to invest in my sites.
When I launched my Forex and binary options sites however, I was making enough to outsource all the content – plus I had much more experience ordering content and hiring/managing writers.
Any tips for affiliates that are considering getting into this aspect of affiliate marketing?
I'd say find a good mentor and understand the market before you get into it.
I know a lot of affiliates who have completed ignored the financial markets because they find it all too technical and confusing.
Once you understand it all however, I'm sure a lot of sports betting and poker affiliates could do a good job in the Forex, spread betting and binary markets.
I'll eventually start writing down more tips at my new blog AffiliateFYI.com
Related articles of interest
ReferPartners interview with Susan Wells
Year in review for e-sportbets.org
Affiliate interview Niko from NHLBettingTips.com