Interview with Kris Harrison, Managing Director of JUMPSEARCH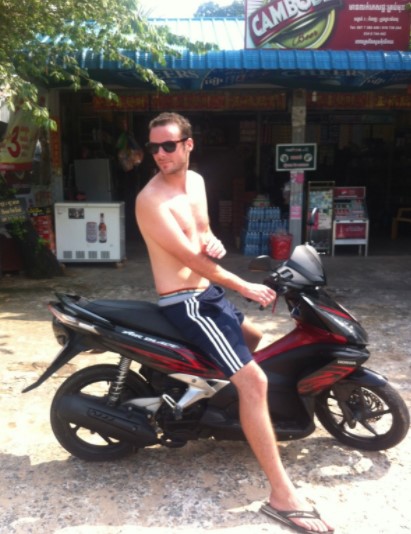 With the pandemic hitting the land based Casinos hard and regulation in the USA and UK in full swing many igambling operators and affiliates are looking to enter new less regulated markets. To see how the Canadian market is doing, I recently did a Google search for "online gambling Canada'', and found a great article on the current climate of the Canadian i-gambling market by Kris Harrison. To learn more, I reached out to Kris to ask him about his history in igambling, his SEO Agency (JumpSearch.ca), and the future of igambling. Without further ado - Here's our interview with Managing Director of JumpSearch Canada, Kris Harrison.
It's great to chat Kris, how are things in Toronto, Canada - that is where your business JumpSearch is located, right?
All things considered, things are well, thanks. Yep, I am in Toronto, where JumpSearch is located. I have been here for most of the pandemic, with a small stint in Montreal for a change of scenery and some business. I have lots of friends leaving the city during all of this and I don't blame them, but I am sticking it out in the city.
Glad to hear you're sticking it out. So I read your article on the Canadian Online Gambling market - I found it very informative, it seems like you have a long history in the industry. Can you tell us a bit about how you got into Igambling?
Thanks. That article gained a lot of traction from Igambling operators and affiliates searching for ways to enter the Canadian market through search engine marketing. It served its purpose for sure.
My journey in the Igaming industry has been a long one, I was actually introduced to the industry by a Fraternity brother (Shout out Theta Delta Chi) who was creating affiliate websites and was making a lot of money doing so *laughs*. He took me under his wing and I eventually quit school, which I rarely attended anyways, and became a casino affiliate full time. It opened a lot of doors for me as I eventually moved to Europe as much of the industry igambling is run out of Malta.
I lived there for a while and then ventured to Asia, and lived there for 5 years while running affiliate online gambling websites targeting the Asian markets, commonly referred to as the crown jewel of Igambling.
Asia? Very cool. Are we going to see an article on how to enter the Asian Igambling markets in the near future?
*laughs* I don't think so. There would be way too much to share, and I would likely need to write a book to highlight those experiences! Joking aside, I learned a lot in Asia particularly about creating local partnerships to enter the variety of markets in Asia. Igambling is all about having partners with influence in the local market you are trying to target.
I also learned a lot about how to scale and hire resources to launch a successful brand. It's important that all your content, support staff, payment processing and SEO needs are local but as I didn't speak the local languages it's safe to say that came with a lengthy learning curve.
No doubt. Looking forward to the book!. You mentioned SEO. How did you get into search engine optimization and tell us a bit about JumpSearch.
No book! *laughs*. Throughout my igambling career SEO was always my main marketing channel, it's equally important for both affiliates and operators. I built strong business relationships with SEO experts over the years, they showed me the ropes and I started learning more and more of its importance. I really come to enjoy search engine optimization as it's a game, and you need to play by the rules, or you could get penalized, so there is a lot of strategy involved inorder to attain success.
As my interest with SEO grew, I realized it's important not just with igambling, but all businesses. So when I moved back to Canada I started JumpSearch as a full service Digital Marketing Agency, servicing clients from all sectors. We have a wide variety of clients now and with each new client I learn about a new industry or niche, which I find enjoyable.
My background in such a competitive market as igambling gave me great footing to mimic the same formula for other businesses, it comes down to understanding what the customers want through understanding their search intent.
You mentioned how Igambling played a role in your SEO career, can you elaborate on that?
As mentioned, Igambling is one of, if not, the most competitive SEO markets in the world so this gives JumpSearch a leg up on a lot of other agencies who do not have experience in this industry. We've found a lot of success in these less competitive markets as it is much less cut throat and we know all the tricks of the trade to get a site ranking in the search results.
Due to my experience JumpSearch has great client retention because we show results. We still work with many igambling affiliates and operators looking to increase their brands search visibility but it just made sense to broaden our horizon to other industries, as the tactics are very similar.
Good to hear you are still servicing Igambling clients. How have you seen the effect of the pandemic on I-gambling and specifically the SEO sector?
As I mention in the article we've seen a huge increase in search volume for online gambling terms and many of the operators and affiliates are doing better. This isn't too surprising, since many land based casinos are closed and people are exploring new ways to satisfy their gambling needs.
This is why we are seeing more and more online gambling licenses being issued throughout the US, resulting in Canada quickly trying to change their draconian igambling laws to better cater to the Canadian online gambling players.
I don't see the laws being changed anytime soon here in Canada and Canadians have played at offshore igambling entities (betway, bodog, jackpotcity) for years now. We have our own provincially regulated online gambling operators, but they are miles behind the big Maltese, Gibraltar, and Kahnawake regulated brands that are free to operate here in Canada.Even on Canadian television you see high budget commercials during hockey games for offshore brands targeting online casino and sportsbook players.
Basically they promote free play games to get around the laws on TV here in Canada and launch a .net site which eventually converts them to real money. It's actually a genius system!
You mentioned Kahnawake. What's their deal, as I see a lot of brands with this license?
Yea, Kahnawake is a First Nations reserve just outside of Montreal. They are pioneers of Igambling in Canada as they are able to operate under different regulations. Many operators who are looking to target the Canadian market attain a Kahnawake license as they have been legally allowed to operate in Canada for many years now.
Cool - So what do you see for the future of igambling, SEO and yourself?
The future of igambling? I see it growing as the pandemic will have lasting effects even after the vaccinations have rolled out. The players who registered for online gambling accounts during the lockdown are still likely to continue gambling online, even once they can visit land based casinos - it's the convenience.
Mobile gaming and even virtual reality games will continue to grow in North America. More and more governments will be issuing igambling licenses and the provincial and state level gaming will become more robust as they scale to compete with UK and European brands that have been operating for many years now. Regarding SEO, every year someone posts that it is a dying marketing channel, but it's still a 65 billion dollar industry and is showing no signs of slowing down.
An SEO tool has recently become listed on the New York Stock exchange! (SEMrush). So yea, I will continue to grow JumpSearch, while focusing on igambling and broadening to more digital niches. We are expanding into crypto currency seo in the near future so stay tuned for that!
Sounds exciting. Well thanks for doing this and good luck with all your future endeavours.
Thank you!