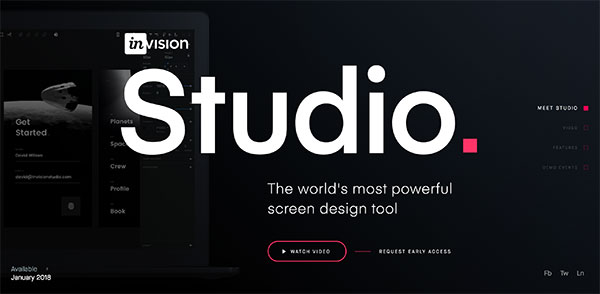 InVision Studio calls itself "the world's most powerful screen design tool" and they are probably right. Without having even tested it, this looks like it is going to be the biggest design tool for website designers since Sketch came along. For those that don't know, Sketch has completely taken over from Adobe's Photoshop as the tool of choice for designing websites. You can check here, here and here for more articles on the Sketch vs Photoshop debate but for the designers that have moved over to Sketch, they are not going back to Photoshop.
Now Sketch has a new competitor to deal with and the InVision Studio app looks like it's going to be the new tool of choice for users. On the surface, just comparing Sketch
Sketch vs InVision Studio
Just looking at the screenshots of the InVision Studio app, it looks very similar to Sketch and that is done on purpose. It's meant give a similar layout and environment that Sketch users are used to so they don't feel like they have to endure another learning curve for a new tool. Once you are comfortable with Sketch, it's easy to look at InVision Studio and have a good idea of how to setup your designs.
InVision Studio for Mac & Windows
The big knock against Sketch is that it is a Mac only application. It really feeds into the whole concept of designers being snobby and thinking that Mac is the only computer that should be used for design. Mac computers are inherently expensive and it just seems like Apple is doing a better job of messing up their new Macbooks and iPhones that these software companies should make their app available on more platforms. InVision Studio is rolling out their app for Mac and Windows computers.
Motion Design with InVision Studio
InVision Studio will let you design the same website that you can do with Sketch but their tools for creating shareable artboards and designing the motion aspect of an interface is the big improvement over Sketch.
Design Trend for 2018: Motion Design
Motion design is already on the rise and if you look at some of the bigger websites, they are building this into their user experience. As more companies put emphasis on user experience, motion design will no doubt be part of that improvement in user experience design seen across websites of all different sizes.