Poker affiliates might want to think twice about working with PokerStars Partners, the poker affiliate program for PokerStars and Full Tilt Poker. It seems that since Amaya Gaming bought PokerStars for $4.9 billion that people wondered what would happen to the site itself and how it would affect affiliates. Well it seems the program doesn't care about the affiliates that helped it to become the #1 poker site online. What does seem clear is that the company is looking to turn itself from one that made a ton of money from the US and worldwide markets, to one that fully obeys the gaming laws of where it accepts players from. PokerStars is long rumoured to want to keep it's image clean and pursue the US gaming markets as they are currently opening up.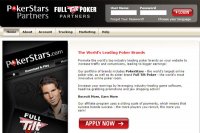 At Poker Affiliate Listings, poker affiliates are already confirming they have received 7 days notice of termination of their affiliate accounts which were on revenue share. In the meantime Rafael Nadal is still probably getting paid to promote PokerStars as he is one of their global ambassadors. If you are looking for a good poker affiliate program you can find every poker affiliate program reviewed or use our affiliate program search tool.
What do you think of PokerStars now? Leave a comment
Are you a poker affiliate that's been affected by PokerStars Partners treatment of affiliates? What do you think of their move to terminate an affiliate agreement?