PokerStars Partners terminating affiliate accounts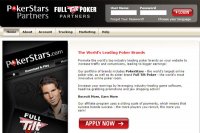 Poker affiliates might want to think twice about working with PokerStars Partners, the poker affiliate program for PokerStars and Full Tilt Poker.
It seems that since Amaya Gaming bought PokerStars for $4.9 billion that people wondered what would happen to the site itself and how it would affect affiliates.
Well it seems the program doesn't care about the affiliates that helped it to become the #1 poker site online. What does seem clear is that the company is looking to turn itself from one that made a ton of money from the US and worldwide markets, to one that fully obeys the gaming laws of where it accepts players from.
PokerStars is long rumoured to want to keep it's image clean and pursue the US gaming markets as they are currently opening up.
At Poker Affiliate Listings, poker affiliates are already confirming they have received 7 days notice of termination of their affiliate accounts which were on revenue share.
In the meantime Rafael Nadal is still probably getting paid to promote PokerStars as he is one of their global ambassadors.
If you are looking for a good poker affiliate program you can find every poker affiliate program reviewed or use our affiliate program search tool.
What do you think of PokerStars now? Leave a comment
Are you a poker affiliate that's been affected by PokerStars Partners treatment of affiliates? What do you think of their move to terminate an affiliate agreement?
Amaya Gaming making changes
Amaya Gaming, the new owner of all the PokerStars brands, did not wait for long to make some changes and impose new measurements to let the world know who is in charge of one of the biggest betting platform available nowadays.
As it was mentioned before, PokerStars and the rest of its brands are set to leave many jurisdictions, more precisely, all the territories were online gambling is illegal.
Among such jurisdictions, you can find lucrative markets such as China and several American States.
At first glance, the new move seems a bit weird and expected, considering how difficult it is to enter those particular countries and states.
As a matter of fact, many iGaming users and experts cannot wrap up their heads around the fact that PokerStars would be leaving such important jurisdictions that have helped it become a top betting platform.
The reasons behind the drastic measurements
It is surely impossible to know the specific and real reasons behind the sudden and extreme move by Amaya Gaming, leaving the whole iGaming industry free to speculate about them.
For instance, one of the main reasons that have been thought of is the fact that such jurisdictions are very expensive to maintain, and the betting company is looking to save up some budget.
It is important not to forget that entering a territory where online gambling is illegal should not be possible, but PokerStars managed to enter and be part of them for some time thanks to many deals and partnerships.
Another reason that has been considered by the industry is that the governments are pushing for the new owners to leave and stop looking for loopholes to enter their borders.
This is another interesting reason that has been circling around the iGaming scene for a while since the news came out.
Amaya Gaming has not made any announcement on the reasons why the company is leaving so many jurisdictions altogether, so the industry will have to keep on digging out the causes by themselves.
The affiliates are losing as well
The ceasing of operations in many countries has made it impossible for the PokerStars Partners platform to work properly and offer the best deals to its registered webmasters.
Unfortunately, the marketing site is set to close down permanently, and lots of affiliates cannot believe the news.
Since its launch in 2001, PokerStars has given many webmasters the chance to monetize the traffic of their respective platforms. For many of them, the betting platform has represented financial freedom and individual success.
With the platform stopping its operations, the affiliates that were already used to the systems and mechanics of PokerStars Partners will have to migrate to other affiliate programs that appreciate their dedication and hard work.
The new horizons for PokerStars
Amaya Gaming has shown how unpredictable and extreme it can be since the moment it bought all the PokerStars brands.
With that being said, it is hard to know what will be its next move regarding this powerful betting platform.
The players that are still active on the platforms are waiting anxiously for any new changes or alterations that could be put in place.