King Billy Affiliates wins best casino affiliate program at iGB Awards 2019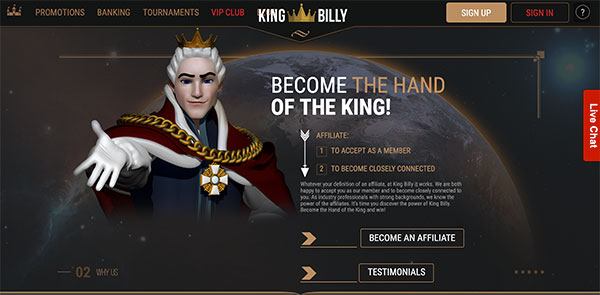 King Billy Casino wins an award fit for a King!
King Billy affiliates wins best casino affiliate program at iGB Awards 2019.
As online casinos multiply faster than germs in a Petri dish, so do online casino awards. There must be a million awards given out there, trophies about everything imaginable, for best online casino to best Instagram online casino employee bikini picture.
But, believe it or not, some awards do count. Enter the annual iGB Awards, held this year on February, 8, 2019, at The Brewery in London. We all know them and we all respect them. Also enter King Billy, First of His Name, Protector of the Realm and Guardian of the Players, with a really prestigious award in his royal, gloved hand.
Yes, King Billy Casino landed a very good one: "Best Casino Affiliate Program Award" at the iGB Awards. And they did it in a lot of style, by beating competition like Betsson and Mr Green. We asked Ruslan Legenzov if this means that a new King is in town and the old guard must now bend the knee.
"Not by a country mile!" Legenzov laughs. "As good as this award makes us feel, we know that we are still, a little bit wet behind the ears. Actually, we are celebrating only our second birthday on March 17, St. Patrick's Day. So, we are still the new "kid in town" in the huge casino industry.
Then, what is the secret of the King? How did King Billy Casino make it, facing such tough competition? Legenzov does not laugh on this one. "When we launched King Billy Casino, we did a thorough search on the various casino affiliate programs. Not surprisingly, it was always commission, commission and even more commission.
However, we felt that there must be, certainly, some other way to win over the affiliates' hearts and at the same time raise their profit. So, we made it our goal: go beyond the commission and offer new, unprecedented services, never before seen in the industry. We probably have done a good job because, all of our 500+ affiliates love what we give them and, obviously, so thought the judges at the iGB Awards!".
And what is it in for the future? More awards? Ruslan becomes thoughtful on this. "Awards are just for us, but market shares are for all of us. We just cannot dwell on having won an award on Sunday, because Monday is a new day. We may have had a small party, but it is hard work and even better services that defines the King Billy Affiliates future!".
Well said words, fit for a King, as fit as the iGB Affiliate Award. However, we strongly believe that we haven't heard the last regarding King Billy Casino and serious industry awards. Love is in the air here!