One week after WilliamHill paid out a huge fee to break away from Playtech, rival gaming company Ladbrokes signs on with Playtech.
Trading for Ladbrokes today has seen a spike as Ladbrokes has signed on with Playtech to boost their online marketing division. This happens just as
WilliamHill buying out Playtech for £424m
to take over their online brand presence. That news wasn't as much as a surprise as William Hill and Playtech appear to have had a rocky relationship with marketing and customer support walk offs planned that disrupted the company back in 2011 which most likely hurt the brand's reputation. You can read more about that article here:
/blog/williamhill-marketing-officer-resigns-support-staff-walkout/
Shares today for Playtech plc increased by 3.4%.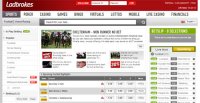 The new deal will see marketing staff from Playtech help the online division of Ladbrokes. Ladbrokes is aiming to get more players online as well as through mobile betting and mobile casinos. The
affiliate program for Ladbrokes
is known as
Score Affiliates
. Nobody knows yet how this deal will affect affiliates. Score Affiliates haven't been popular among affiliates over the past year or 2 with retroactive changes in their terms and conditions as well as shutting down American affiliates which has in effect wiped out their commissions and referred players. At Affiliate Guard Dog the program is listed as rogue with many affiliates not recommending to promote Ladbrokes. You can read more about the threads at Affiliate Guard Dog here:
http://www.affiliateguarddog.com/forums/ladbrokes-score-affiliates-f227.html