Ladbrokes signs deal with Playtech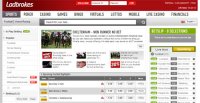 One week after WilliamHill paid out a huge fee to break away from Playtech, rival gaming company Ladbrokes signs on with Playtech.
Trading for Ladbrokes today has seen a spike as Ladbrokes has signed on with Playtech to boost their online marketing division.
This happens just as WilliamHill buying out Playtech for £424m to take over their online brand presence.
That news wasn't as much as a surprise as William Hill and Playtech appear to have had a rocky relationship with marketing and customer support walk offs planned that disrupted the company back in 2011 which most likely hurt the brand's reputation.
You can read more about that article here:
/blog/williamhill-marketing-officer-resigns-support-staff-walkout/
Shares today for Playtech plc increased by 3.4%.
The new deal will see marketing staff from Playtech help the online division of Ladbrokes. Ladbrokes is aiming to get more players online as well as through mobile betting and mobile casinos.
The affiliate program for Ladbrokes is known as Score Affiliates.
Nobody knows yet how this deal will affect affiliates.
Score Affiliates haven't been popular among affiliates over the past year or 2 with retroactive changes in their terms and conditions as well as shutting down American affiliates which has in effect wiped out their commissions and referred players.
At Affiliate Guard Dog the program is listed as rogue with many affiliates not recommending to promote Ladbrokes.
You can read more about the threads at Affiliate Guard Dog here:
http://www.affiliateguarddog.com/forums/ladbrokes-score-affiliates-f227.html
Possible positive changes for Ladbrokes
This new deal with Playtech may be one of the best moves that Ladbrokes could have made to improve their reputation across the whole globe.
The platform has not gone through the best of times lately. The number of active players keeps on decreasing and the offers available to the players are not appealing enough to attract new ones.
After having had such a rough patch, the deal with Playtech certainly comes in handy.
Playtech has a great reputation on the iGaming industry. Plenty of players and operators are always looking for the titles developed and launched by this compelling and reliable game maker.
Thanks to the great name that Playtech has, Ladbrokes may have the vivid chance to grow on the market and become a relevant brand that many players would like to join.
Playtech and its popularity
Operating since 1999, Playtech has been around for quite a good amount of time.
The Estonian developer has shown responsibility, dedication, ambition and professionalism since its beginnings.
At the moment of its launch, the iGaming industry was not considered trustworthy in any way, so Playtech had to overcome the rough times with perseverance.
Once the internet took over the world, the industry started growing and Playtech was already there to start succeeding.
One of the main reasons as to why the Estonian developer is so popular is the wide number of countries where it is accepted, including the United States of America.
Playtech and its games
Playtech has surely made a name for itself by developing and releasing amazing casino games and other incredible inventions for sportsbooks and lottery draws.
Here are some of the most popular titles launched by Playtech:
Irish Luck
Irish Luck is a video slot game that focuses on the most simple and yet amusing features that this type of games can offer the players.
Based on the typical items that represent Ireland and its most famous holiday, Saint Patrick's Day, Irish Luck is full of bright green and yellow color tones that may seem quite appealing to the eyes from the moment you start playing the game.
Irish Luck has 5 reels and 3 rows. The RTP rate is set at a decent 94.26%. There are 30 paylines in total and the game has a medium variance.
The maximum win you can reach is 10,000. The game has a special gamble feature and a bonus free spins feature as well.
Irish Luck is playable on mobile devices as well as PC and Mac. The players can also display it in several languages.
Fortune Day
Fortune Day is a 5-reel leprechaun-themed video slot game that offers a very creative and never-seen-before free spin bonus feature that might make the players feel even more eager to play this title.
Despite having quite a common theme, Fortune Day has enough special traits to entertain the players for long periods of time once they start spinning the reels.
Fortune Day has 5 reels and 3 rows. The variance is medium and there are 20 different ways to win on Fortune Day in total.
The betting range available on this game is quite shocking. You can bet from 0.20 up to a mesmerizing 2,000 per spin. In addition to that, the maximum win goes up to 10,000x your bet.
Full Moon Fortunes
Full Moon Fortunes is a 5-reel video slot game that stands out for its colorful symbols and overall design.
The theme of the game is Werewolves. Therefore, you will see some animations along with some creepy background music that will instantly make you think of this specific fictional creature.
Full Moon Fortunes has 5 reels and 3 rows. The volatility of the game is medium and the RTP rate is not encouraging either, being set at 94.01% only.
The number of paylines is considerably low as well, having 20 of them. The game has a bonus feature, scatters and wilds which are the ones that earn the players the most on the game, a total of 500 points.