Lock poker
is getting in on a slice of the action with their acquisition of
Cake Network.
From June 1st, Lock Poker gamers will be moved across onto the company's own network, which will be rebranded as
Revolution Gaming
. Until 2010, Lock was simply a skin of Cake, before moving to Merge Gaming, so this signals a change for the Malta based online gaming company.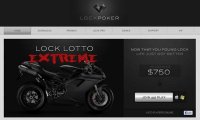 Lock Poker has been around for over four years now, and has made its name with innovations like the first Mac download casino and SharkScope integration, as well as live stats and a custom hand re-player. Their Bluff Online Poker Challenge captured them great recognition and a large fan base. Now they can port their services onto their own gaming platform with the soon to be rebranded Revolution Gaming. They also aim to offer improved, richer, tournament schedules, technology, marketing and player rewards.
Jennifer Larson, Lock's CEO
, said: "We are very excited at the prospect of driving the product, marketing and overall vision of the network. It is a dream come true. Merge was a great stepping stone for us but we have outgrown them. We really need to forge our own path to continued success. The only way to do this is to stay true to our of core philosophy: partnering with our players." Existing Lock players will be greeted with a software update, with the company promising a seamless transition to the new software. All current VIP rewards will remain and increase, while
rakeback players
will benefit from Revolution's increased percentage. Time will tell if Lock Poker can make a success out of Revolution Gaming, but with a large, loyal fan base already in place, there is no reason why they cannot have their cake and eat it. For more poker affiliate programs visit our directory