Lock Poker buys Cake Network, rebrands to Revolution Gaming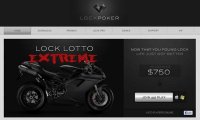 Lock poker is getting in on a slice of the action with their acquisition of Cake Network.
From June 1st, Lock Poker gamers will be moved across onto the company's own network, which will be rebranded as Revolution Gaming.
Until 2010, Lock was simply a skin of Cake, before moving to Merge Gaming, so this signals a change for the Malta based online gaming company.
Lock Poker has been around for over four years now, and has made its name with innovations like the first Mac download casino and SharkScope integration, as well as live stats and a custom hand re-player.
Their Bluff Online Poker Challenge captured them great recognition and a large fan base.
Now they can port their services onto their own gaming platform with the soon to be rebranded Revolution Gaming.
They also aim to offer improved, richer, tournament schedules, technology, marketing and player rewards.
Jennifer Larson, Lock's CEO, said: "We are very excited at the prospect of driving the product, marketing and overall vision of the network.
It is a dream come true.
Merge was a great stepping stone for us but we have outgrown them.
We really need to forge our own path to continued success.
The only way to do this is to stay true to our of core philosophy: partnering with our players."
Existing Lock players will be greeted with a software update, with the company promising a seamless transition to the new software.
All current VIP rewards will remain and increase, while rakeback players will benefit from Revolution's increased percentage.
Time will tell if Lock Poker can make a success out of Revolution Gaming, but with a large, loyal fan base already in place, there is no reason why they cannot have their cake and eat it.
For more poker affiliate programs visit our directory

New horizons for Lock Poker
The acquisition of Cake Network will surely set new limits and expectations for Lock Poker. Having its own network now, Lock Poker will be able to manage its software and the offers that it has available to the players more comfortably.
The deal will most likely allow Lock Poker to grow and reach a point where it can be considered one of the best betting platforms that are operating as of this moment.
Good start, better finish
At the moment of its launching, Lock Poker certainly drew a lot of attention from the gambling media as well as the players from all over the world.
The betting site represented a vivid chance to earn extra money online while betting on the most entertaining games that were available at that particular point.
What made Lock Poker stand out so much at the beginnings was the fact that it offered a reliable and safe platform that any type of player could get familiarized with easily.The players fell in love with the concept, the creative promotions and the opportunity to bet safely quickly.
Lock Poker did not have to do much to promote itself to the world and become relevant on the industry. That good start it had definitely paved the way to the achievement of this incredible accolade that is its own network.
The players win a lot with the acquisition
The main beneficiary of the deal is the players, without any doubts. Thanks to the acquisition of Cake Network, the players registered on Lock Poker will be able to seize an even larger range of offers and betting options that could surely help them earn money easily.
Even though the brand will work under a new name (Revolution Gaming), the players have nothing to worry about.
The transition will be performed effortlessly. There will be no need to think or do much to transfer from the classic Lock Poker to the new Revolution Gaming.
The new software for Lock Poker
Lock Poker is widely known on the iGaming industry as the first innovative betting platform to develop a casino for Mac users.
The great initiative made the world recognize Lock Poker as a strong and fresh betting platform that was about to draw a lot of attention. Lock Poker definitely drew a lot of attention with its user-friendly software.
The Lock Poker software has been since it's launching as a prolific and top-notch betting platform that allows the players to enjoy the online gambling experience to the fullest extent.
Now, thanks to the acquisition of Cake Network, the new software that is set to be released by Lock Poker seems to be mind-blowing in many aspects.
The industry experts and the players simply cannot wait to see what Lock Poker was to offer them through its renovated betting platform.
What Lock Poker is trying to achieve with the acquisition of Cake Network
Lock Poker is looking for more influence and overall power within the iGaming industry. Online betting platforms are becoming quite relevant these days thanks to successful brands such as Lock Poker.
Many new users get interested in the experience and make the decision to join a betting site. The reliable payment methods available have also added to the trust that betting sites can boast nowadays.
Despite its great success worldwide, Lock Poker is looking for more. Development and growth can never be limited according to Lock Poker, so the brand is working hard to set new goals.
Lock Poker wants to become a renowned and trustworthy betting company that offers more than just poker rooms and a few other betting alternatives.
Therefore, it can be said that Lock Poker could be immersing into new and undiscovered markets to make those ambitious dreams come true.