Moore Games warning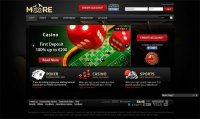 Any affiliates promoting the MooreGames.com website or working with the MooreGames affiliate program should be aware of some recent issues and complaints surrounding the gaming website.
In short the program is accused of retroactively changing the terms and conditions on a player promotion and confiscating player funds in the process.
As well they currently don't appear to be licensed anywhere at the moment.
On their website footer they mention a Maltese company but that doesn't have anything to do with being licensed in Malta.
They have the Curacao gaming license icon on the site but that gaming license appears to be invalid as of May 14th, 2013.
For more information about the player related issues a player filed a casino complaint with ThePogg.com website
http://thepogg.com/complaint/moore-games-changed-allowed-games-4-days-after-a-great-win-of-24k/
The footer text on MooreGames.com says:
Mooregames is a trade name for Massive Group NV, registered in Curacao, and holds the following gaming license issued by Cyberluck, Curacao 1668/JAZ. Massive Group N.V is a subsidiary company to Massive Group Ltd, A Malta company with registration number C-54042. Address: Office 303, Suite A, Dolphin Court A Embassy Way, Ta 'Xbiex XBX1071 Malta.
The license associated with the website is done by Cyberluck which has seen it's fair share of gambling companies go out of business.
On the cyberluck website it states the license for Mooregames.com is invalid.
http://validate.cyberluck.com/validate/4e94ee06-ad4c-4b66-8b8a-7b230a00002a
Things are not looking good for the gaming company. Their live chat appears to be offline as well.
If you have been promoting this gaming group you might want to reconsider updating your links and banners to another program.
The end for Moore Games
It seems that after witnessing so many issues and inattention from this betting platform, it may have to be shut down once and for all.
Moore Games has lost all the trust that the players had in it, in addition to that, the betting site appears to be losing features and options as the days pass by.
In the last month, Moore Games has lost more than 30% of its active players. Sadly for the betting company, most players have found out about all the issues surrounding it, and they prefer to migrate to a different and more reliable platform that offers them complete security.
Moore Games considering ceasing operations
At this particular moment, Moore Games has not stated or announced its intention of stopping all gambling operations.
However, the betting platform has lost a high number of affiliates and players in a short period of time, and many more of them seem to be leaving the site as well.
For many iGaming experts and connoisseurs, the only option left for Moore Games is disappearing from the industry's map before it starts getting involved in strong cases where it could end up getting sued.
On the other hand, Moore Games insiders are claiming that the platform's owner and executives have no intention or desire to abandon the brand permanently.
According to them, Moore Games is going through a rough patch that will be dealt with slowly and steadily.
They are hoping that Moore Games will become a reliable and fully secure betting platform for the players in the future, but patience is important and necessary at these times of despair.
Will Moore Games actually survive the storm and become a trustworthy betting platform?
This is most likely the first question that pops up on everyone's head at the moment.
Surely, that is what everyone that believes in Moore Games hopes for. But, it honestly seems to be too far from reality. The betting company has lost a scandalous amount of affiliates and players.
On this industry, it is widely known that a betting site without marketing support and active players on a regular basis is a platform that is not going to find success in any way, and it is possibly going to shut down.
Therefore, it is nearly impossible to believe that Moore Games could turn the table and overcome all the issues it is involved in before it is too late.
Quite frankly, it appears to be too late already for Moore Games, and it seems that there is not much that can be done anymore.
The players and Moore Games
The players are definitely the victims, and many of them are more than just furious with Moore Games.
Nonetheless, despite the high number of issues and troubles that Moore Games is involved in, a lot of players have come out in support of the betting platform.
For some of them, Moore Games represents a secure way to get distracted and earn some extra money in exchange.
Those players do not consider Moore Games to be a fake and unreliable betting platform that is looking to profit out of their innocence.
Because of that, they have made the effort of creating campaigns and forums to support the betting platform and prevent it from shutting down forever. In addition to that, there are players that are concerned about their deposited funds and collected earnings.
They are scared about Moore Games running away with their money in case it ends up ceasing operations suddenly without providing any type of information about it.
In the meantime, it is all about waiting. The players and the affiliates are advised to migrate from the betting platform since there are too many claims and issues against it.